Plants 2
Page
1
Slide 1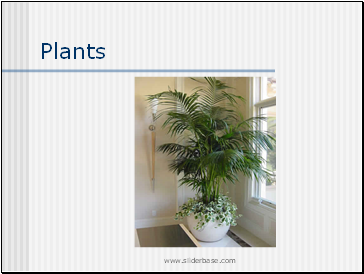 Plants
Slide 2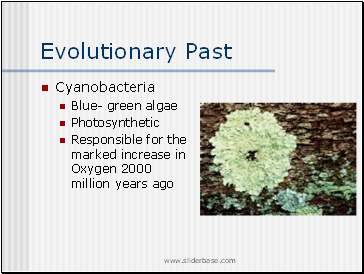 Evolutionary Past
Cyanobacteria
Blue- green algae
Photosynthetic
Responsible for the marked increase in Oxygen 2000 million years ago
Slide 3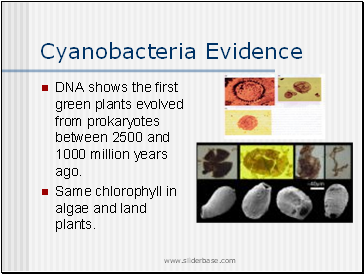 Cyanobacteria Evidence
DNA shows the first green plants evolved from prokaryotes between 2500 and 1000 million years ago.
Same chlorophyll in algae and land plants.
Slide 4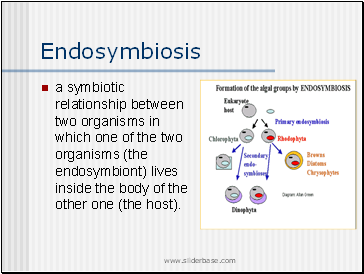 Endosymbiosis
a symbiotic relationship between two organisms in which one of the two organisms (the endosymbiont) lives inside the body of the other one (the host).
Slide 5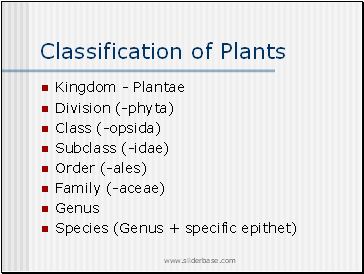 Classification of Plants
Kingdom - Plantae
Division (-phyta)
Class (-opsida)
Subclass (-idae)
Order (-ales)
Family (-aceae)
Genus
Species (Genus + specific epithet)
Slide 6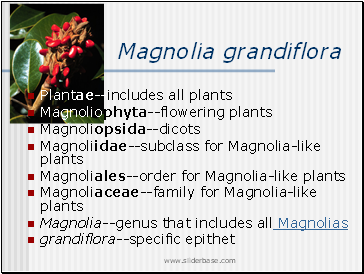 Magnolia grandiflora
Plantae--includes all plants
Magnoliophyta--flowering plants
Magnoliopsida--dicots
Magnoliidae--subclass for Magnolia-like plants
Magnoliales--order for Magnolia-like plants
Magnoliaceae--family for Magnolia-like plants
Magnolia--genus that includes all Magnolias
grandiflora--specific epithet
Slide 7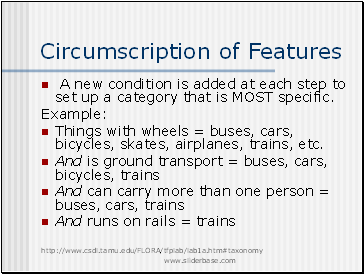 Circumscription of Features
A new condition is added at each step to set up a category that is MOST specific.
Example:
Things with wheels = buses, cars, bicycles, skates, airplanes, trains, etc.
And is ground transport = buses, cars, bicycles, trains
And can carry more than one person = buses, cars, trains
And runs on rails = trains
http://www.csdl.tamu.edu/FLORA/tfplab/lab1a.htm#taxonomy
Slide 8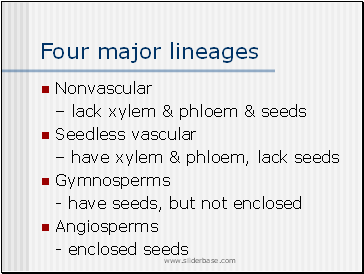 Four major lineages
Nonvascular
– lack xylem & phloem & seeds
Seedless vascular
– have xylem & phloem, lack seeds
Gymnosperms
- have seeds, but not enclosed
Angiosperms
- enclosed seeds
Slide 9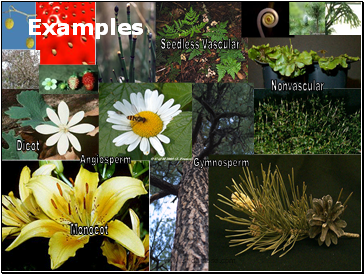 Seedless Vascular
Examples
Monocot
Dicot
Nonvascular
Gymnosperm
Angiosperm
Slide 10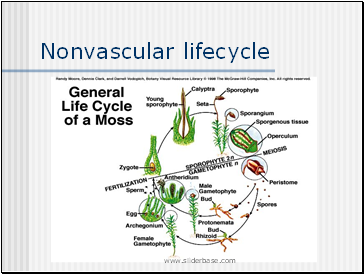 Nonvascular lifecycle
Slide 11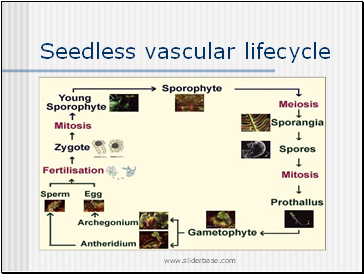 Seedless vascular lifecycle