Heterotrophic Nutrition
Page
1
Slide 1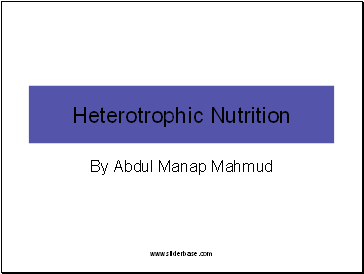 Heterotrophic Nutrition
By Abdul Manap Mahmud
Slide 2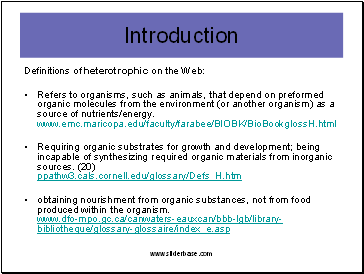 Introduction
Definitions of heterotrophic on the Web:
Refers to organisms, such as animals, that depend on preformed organic molecules from the environment (or another organism) as a source of nutrients/energy. www.emc.maricopa.edu/faculty/farabee/BIOBK/BioBookglossH.html
Requiring organic substrates for growth and development; being incapable of synthesizing required organic materials from inorganic sources. (20) ppathw3.cals.cornell.edu/glossary/Defs_H.htm
obtaining nourishment from organic substances, not from food produced within the organism. www.dfo-mpo.gc.ca/canwaters-eauxcan/bbb-lgb/library-bibliotheque/glossary-glossaire/index_e.asp
Slide 3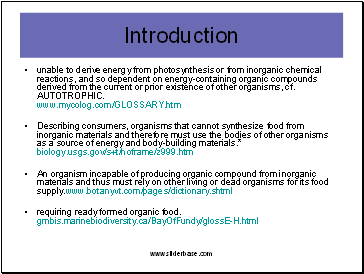 unable to derive energy from photosynthesis or from inorganic chemical reactions, and so dependent on energy-containing organic compounds derived from the current or prior existence of other organisms, cf. AUTOTROPHIC. www.mycolog.com/GLOSSARY.htm
Describing consumers, organisms that cannot synthesize food from inorganic materials and therefore must use the bodies of other organisms as a source of energy and body-building materials.* biology.usgs.gov/s+t/noframe/z999.htm
An organism incapable of producing organic compound from inorganic materials and thus must rely on other living or dead organisms for its food supply.www.botanyvt.com/pages/dictionary.shtml
requiring ready formed organic food. gmbis.marinebiodiversity.ca/BayOfFundy/glossE-H.html
Introduction
Slide 4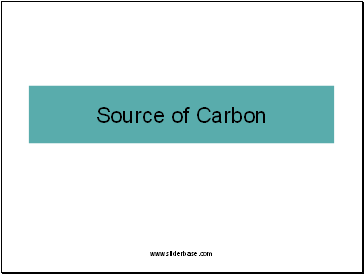 Source of Carbon
Slide 5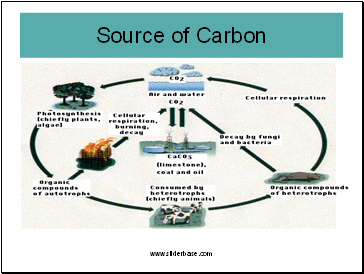 Source of Carbon
Slide 6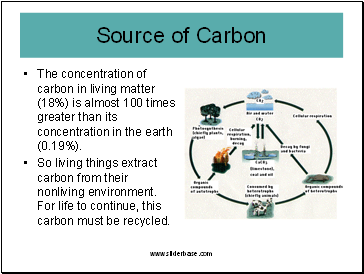 The concentration of carbon in living matter (18%) is almost 100 times greater than its concentration in the earth (0.19%).
So living things extract carbon from their nonliving environment. For life to continue, this carbon must be recycled.
Source of Carbon
Slide 7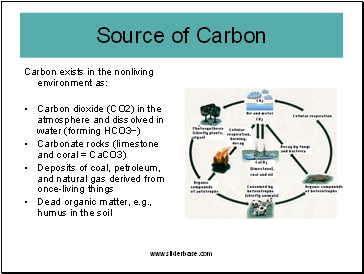 Carbon exists in the nonliving environment as:
Carbon dioxide (CO2) in the atmosphere and dissolved in water (forming HCO3−)
Carbonate rocks (limestone and coral = CaCO3)
Deposits of coal, petroleum, and natural gas derived from once-living things
Dead organic matter, e.g., humus in the soil
Source of Carbon
Slide 8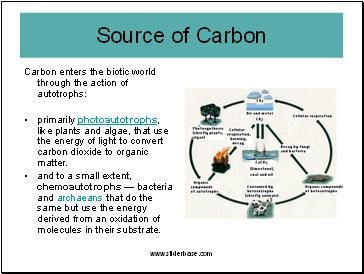 Carbon enters the biotic world through the action of autotrophs: