Elements compounds and mixtures
Page
2
A sample of chlorine atoms (Cl). All atoms in the sample consist of chlorine, so the substance is homogeneous.
منگل، 18 ذو القعد، 1436
7
Slide 8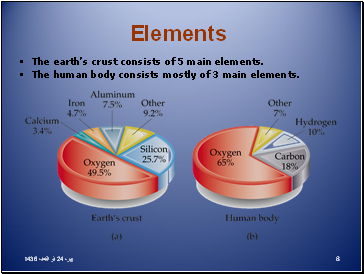 Elements
8
منگل، 18 ذو القعد، 1436
The earth's crust consists of 5 main elements.
The human body consists mostly of 3 main elements.
Slide 9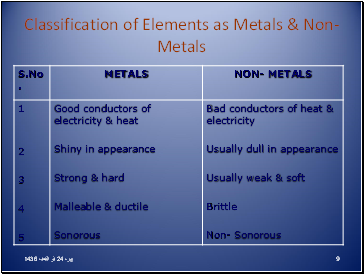 Classification of Elements as Metals & Non- Metals
9
منگل، 18 ذو القعد، 1436
Slide 10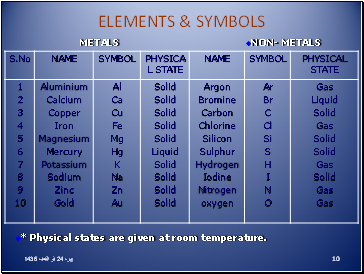 Elements & symbols
10
* Physical states are given at room temperature.
METALS
NON- METALS
منگل، 18 ذو القعد، 1436
Slide 11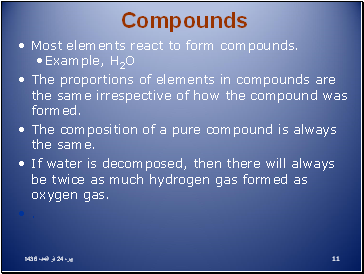 Compounds
Most elements react to form compounds.
Example, H2O
The proportions of elements in compounds are the same irrespective of how the compound was formed.
The composition of a pure compound is always the same.
If water is decomposed, then there will always be twice as much hydrogen gas formed as oxygen gas.
.
11
منگل، 18 ذو القعد، 1436
Slide 12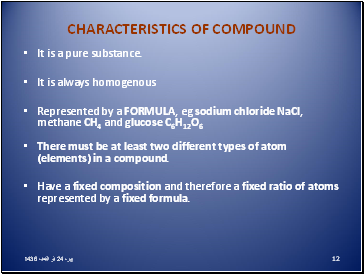 Characteristics of compound
It is a pure substance.
It is always homogenous
Represented by a FORMULA, eg sodium chloride NaCl, methane CH4 and glucose C6H12O6
There must be at least two different types of atom (elements) in a compound.
Have a fixed composition and therefore a fixed ratio of atoms represented by a fixed formula.
12
منگل، 18 ذو القعد، 1436
Slide 13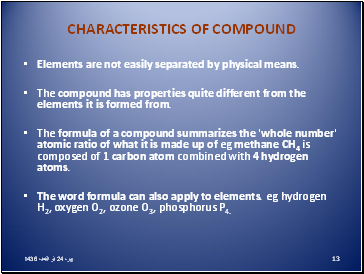 CHARACTERISTICS OF COMPOUND
Elements are not easily separated by physical means.
The compound has properties quite different from the elements it is formed from.
The formula of a compound summarizes the 'whole number' atomic ratio of what it is made up of eg methane CH4 is composed of 1 carbon atom combined with 4 hydrogen atoms.
The word formula can also apply to elements. eg hydrogen H2, oxygen O2, ozone O3, phosphorus P4.
13
منگل، 18 ذو القعد، 1436
Slide 14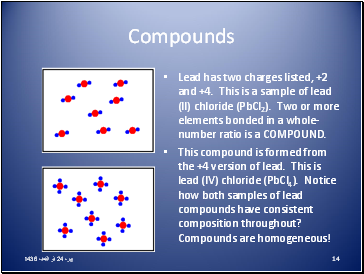 Compounds