Nutrition 2
Page
7
Slide 70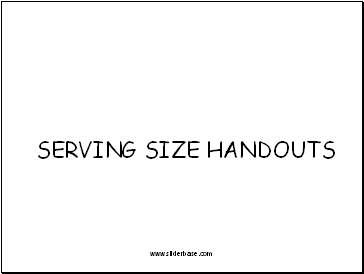 SERVING SIZE HANDOUTS
Slide 71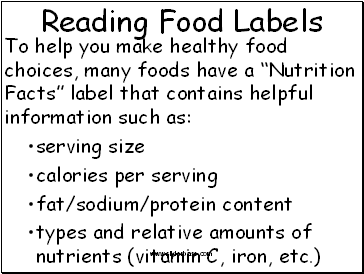 Reading Food Labels
To help you make healthy food choices, many foods have a "Nutrition Facts" label that contains helpful information such as:
serving size
calories per serving
fat/sodium/protein content
types and relative amounts of nutrients (vitamin C, iron, etc.)
Slide 72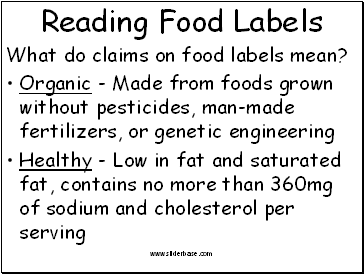 Reading Food Labels
What do claims on food labels mean?
Organic - Made from foods grown without pesticides, man-made fertilizers, or genetic engineering
Healthy - Low in fat and saturated fat, contains no more than 360mg of sodium and cholesterol per serving
Slide 73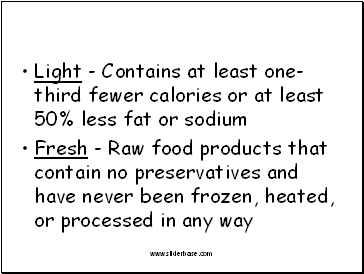 Light - Contains at least one-third fewer calories or at least 50% less fat or sodium
Fresh - Raw food products that contain no preservatives and have never been frozen, heated, or processed in any way
Slide 74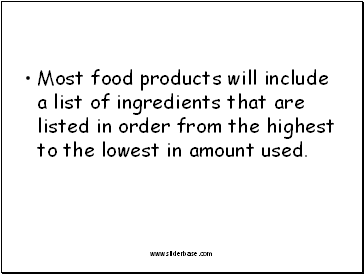 Most food products will include a list of ingredients that are listed in order from the highest to the lowest in amount used.
Slide 75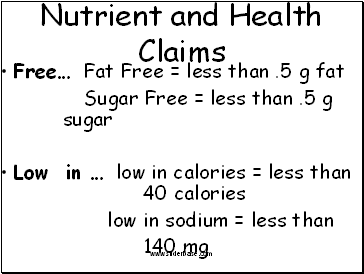 Nutrient and Health Claims
Free… Fat Free = less than .5 g fat
Sugar Free = less than .5 g sugar
Low in … low in calories = less than 40 calories
low in sodium = less than
140 mg
Slide 76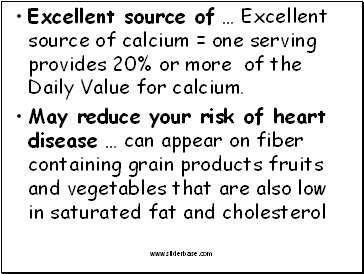 Excellent source of … Excellent source of calcium = one serving provides 20% or more of the Daily Value for calcium.
May reduce your risk of heart disease … can appear on fiber containing grain products fruits and vegetables that are also low in saturated fat and cholesterol
Slide 77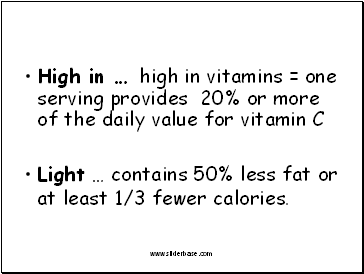 High in … high in vitamins = one serving provides 20% or more of the daily value for vitamin C
Light … contains 50% less fat or at least 1/3 fewer calories.
Slide 78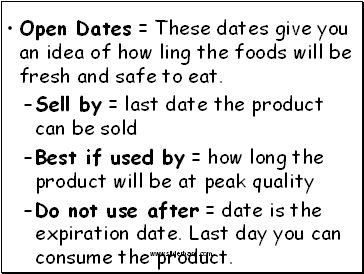 Open Dates = These dates give you an idea of how ling the foods will be fresh and safe to eat.
Sell by = last date the product can be sold
Best if used by = how long the product will be at peak quality
Do not use after = date is the expiration date. Last day you can consume the product.
Slide 79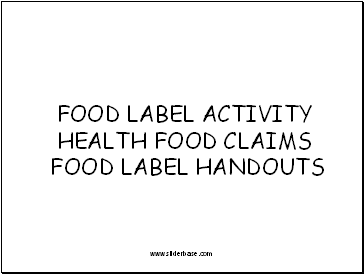 FOOD LABEL ACTIVITY HEALTH FOOD CLAIMS FOOD LABEL HANDOUTS
Slide 80