Atoms and their structure
Page
6
Atomic Mass
Magnesium has three isotopes. 78.99% magnesium 24 with a mass of 23.9850 amu, 10.00% magnesium 25 with a mass of 24.9858 amu, and the rest magnesium 25 with a mass of 25.9826 amu. What is the atomic mass of magnesium?
If not told otherwise, the mass of the isotope is the mass number in amu
Slide 59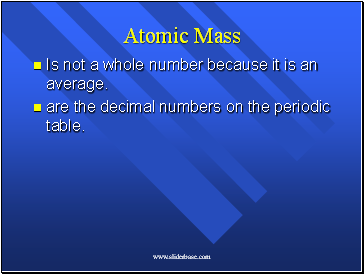 Atomic Mass
Is not a whole number because it is an average.
are the decimal numbers on the periodic table.