Ten Ways of Looking at Real Numbers
Page
6
It must lead to more in-depth text
It must be in a form that is easy to update and extend.
It must help readers searching for a topic.
Slide 42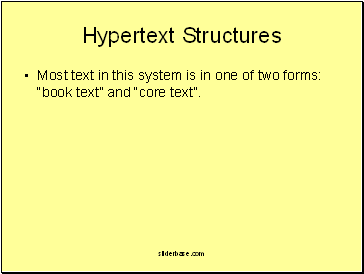 Hypertext Structures
Most text in this system is in one of two forms: "book text" and "core text".
Slide 43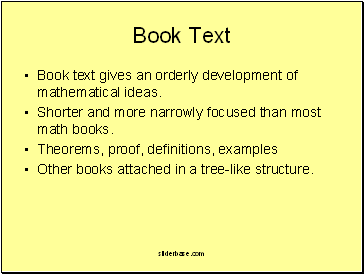 Book Text
Book text gives an orderly development of mathematical ideas.
Shorter and more narrowly focused than most math books.
Theorems, proof, definitions, examples
Other books attached in a tree-like structure.
Slide 44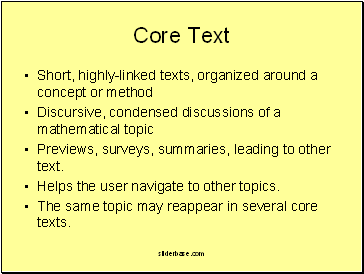 Core Text
Short, highly-linked texts, organized around a concept or method
Discursive, condensed discussions of a mathematical topic
Previews, surveys, summaries, leading to other text.
Helps the user navigate to other topics.
The same topic may reappear in several core texts.
Slide 45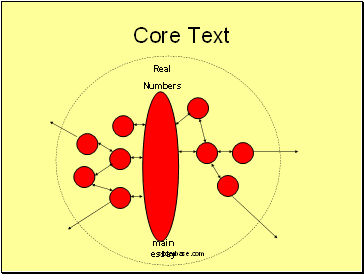 Core Text
Real
Numbers
main essay
Slide 46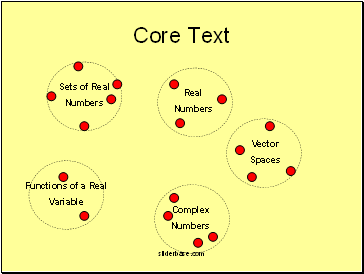 Core Text
Real
Numbers
Complex
Numbers
Vector
Spaces
Sets of Real
Numbers
Functions of a Real
Variable
Slide 47
Core Text and Book Text
Slide 48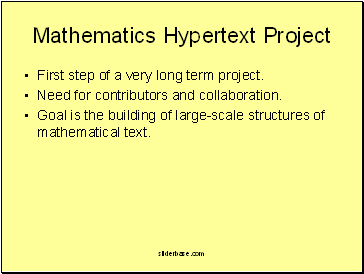 Mathematics Hypertext Project
First step of a very long term project.
Need for contributors and collaboration.
Goal is the building of large-scale structures of mathematical text.