Vertebrates
Page
7
Monotremes are a small group of egg-laying mammals consisting of echidnas and the platypus.
Slide 46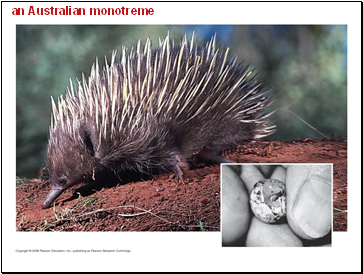 an Australian monotreme
Slide 47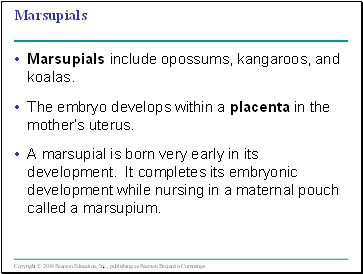 Marsupials
Marsupials include opossums, kangaroos, and koalas.
The embryo develops within a placenta in the mother's uterus.
A marsupial is born very early in its development. It completes its embryonic development while nursing in a maternal pouch called a marsupium.
Slide 48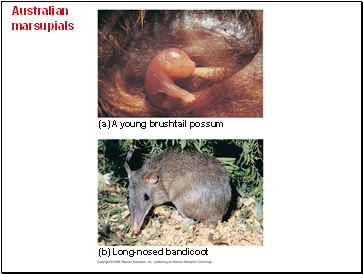 Australian marsupials
(a) A young brushtail possum
(b) Long-nosed bandicoot
Slide 49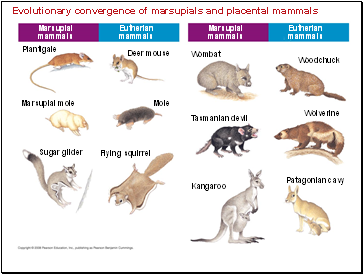 Evolutionary convergence of marsupials and placental mammals
Plantigale
Marsupial
mammals
Eutherian
mammals
Marsupial
mammals
Eutherian
mammals
Marsupial mole
Flying squirrel
Sugar glider
Deer mouse
Mole
Tasmanian devil
Wombat
Kangaroo
Woodchuck
Patagonian cavy
Wolverine
Slide 50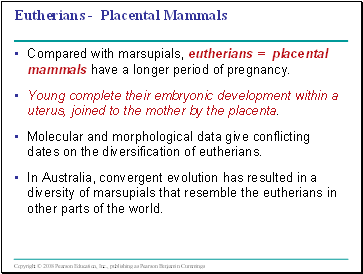 Eutherians - Placental Mammals
Compared with marsupials, eutherians = placental mammals have a longer period of pregnancy.
Young complete their embryonic development within a uterus, joined to the mother by the placenta.
Molecular and morphological data give conflicting dates on the diversification of eutherians.
In Australia, convergent evolution has resulted in a diversity of marsupials that resemble the eutherians in other parts of the world.
Slide 51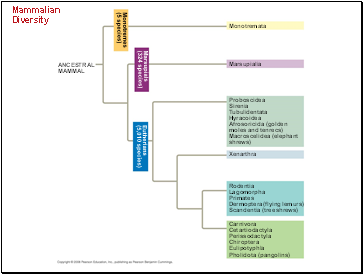 Mammalian Diversity
ANCESTRAL
MAMMAL
Monotremata
Marsupialia
Monotremes
(5 species)
Marsupials
(324 species)
Eutherians
(5,010 species)
Xenarthra
Rodentia
Lagomorpha
Primates
Dermoptera (flying lemurs)
Scandentia (tree shrews)
Carnivora
Cetartiodactyla
Perissodactyla
Chiroptera
Eulipotyphla
Pholidota (pangolins)
Proboscidea
Sirenia
Tubulidentata
Hyracoidea
Afrosoricida (golden
moles and tenrecs)
Macroscelidea (elephant
shrews)
Slide 52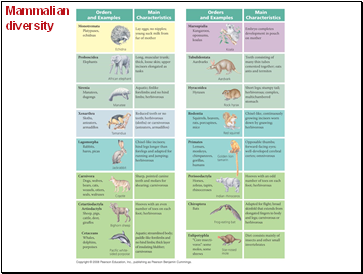 Mammalian diversity
Slide 53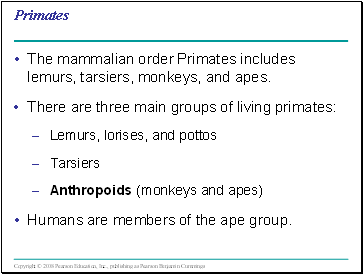 Primates
The mammalian order Primates includes lemurs, tarsiers, monkeys, and apes.
There are three main groups of living primates:
Lemurs, lorises, and pottos
Tarsiers
Anthropoids (monkeys and apes)
Humans are members of the ape group.