Introduction to Constellations
Page
5
Slide 33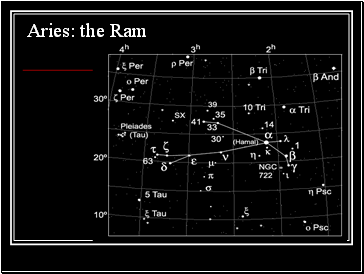 Aries: the Ram
Slide 34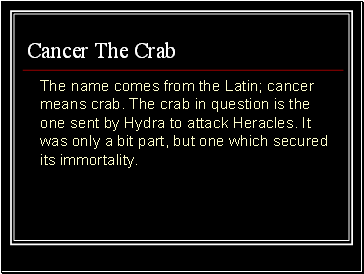 Cancer The Crab
The name comes from the Latin; cancer means crab. The crab in question is the one sent by Hydra to attack Heracles. It was only a bit part, but one which secured its immortality.
Slide 35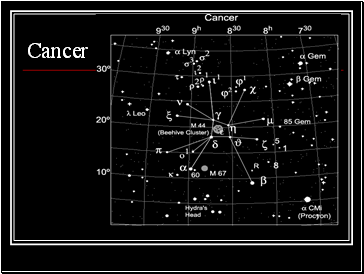 Cancer
Slide 36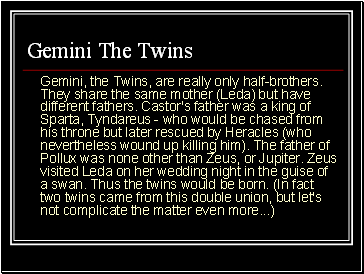 Gemini The Twins
Gemini, the Twins, are really only half-brothers. They share the same mother (Leda) but have different fathers. Castor's father was a king of Sparta, Tyndareus - who would be chased from his throne but later rescued by Heracles (who nevertheless wound up killing him). The father of Pollux was none other than Zeus, or Jupiter. Zeus visited Leda on her wedding night in the guise of a swan. Thus the twins would be born. (In fact two twins came from this double union, but let's not complicate the matter even more .)
Slide 37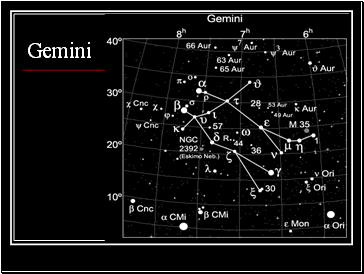 Gemini
Slide 38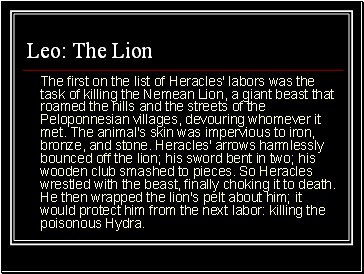 Leo: The Lion
The first on the list of Heracles' labors was the task of killing the Nemean Lion, a giant beast that roamed the hills and the streets of the Peloponnesian villages, devouring whomever it met. The animal's skin was impervious to iron, bronze, and stone. Heracles' arrows harmlessly bounced off the lion; his sword bent in two; his wooden club smashed to pieces. So Heracles wrestled with the beast, finally choking it to death. He then wrapped the lion's pelt about him; it would protect him from the next labor: killing the poisonous Hydra.
Slide 39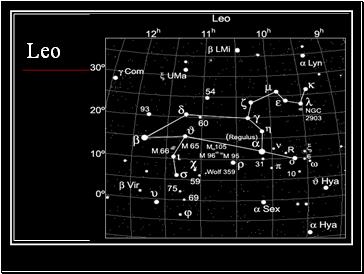 Leo
Slide 40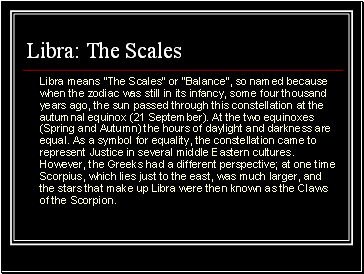 Libra: The Scales
Libra means "The Scales" or "Balance", so named because when the zodiac was still in its infancy, some four thousand years ago, the sun passed through this constellation at the autumnal equinox (21 September). At the two equinoxes (Spring and Autumn) the hours of daylight and darkness are equal. As a symbol for equality, the constellation came to represent Justice in several middle Eastern cultures. However, the Greeks had a different perspective; at one time Scorpius, which lies just to the east, was much larger, and the stars that make up Libra were then known as the Claws of the Scorpion.
Slide 41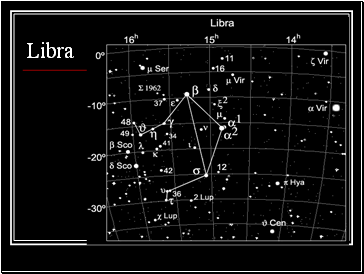 Libra
Slide 42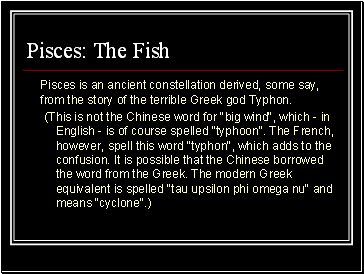 Pisces: The Fish