Acid, bases and salts
Page
4
CuO + H2SO4 ------------- CuSO4 + H2O
These metal oxides tend to be ionic in bonding character with high melting points.
As you move left to right the oxides become less basic and more acidic.
Slide 21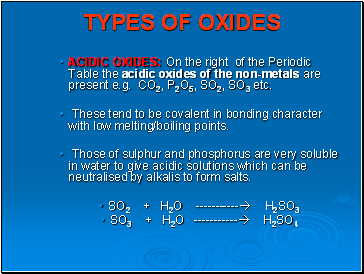 TYPES OF OXIDES
ACIDIC OXIDES: On the right of the Periodic Table the acidic oxides of the non-metals are present e.g. CO2, P2O5, SO2, SO3 etc.
These tend to be covalent in bonding character with low melting/boiling points.
Those of sulphur and phosphorus are very soluble in water to give acidic solutions which can be neutralised by alkalis to form salts.
SO2 + H2O ----------- H2SO3
SO3 + H2O ----------- H2SO4
Slide 22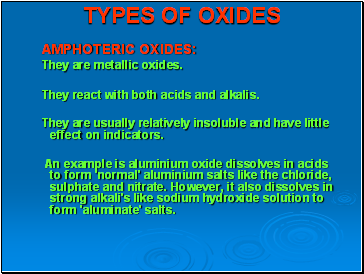 TYPES OF OXIDES
AMPHOTERIC OXIDES:
They are metallic oxides.
They react with both acids and alkalis.
They are usually relatively insoluble and have little effect on indicators.
An example is aluminium oxide dissolves in acids to form 'normal' aluminium salts like the chloride, sulphate and nitrate. However, it also dissolves in strong alkali's like sodium hydroxide solution to form 'aluminate' salts.
Slide 23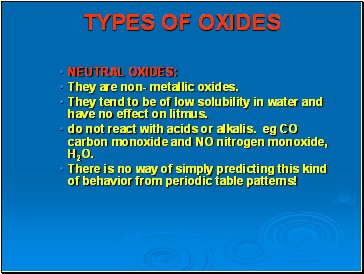 TYPES OF OXIDES
NEUTRAL OXIDES:
They are non- metallic oxides.
They tend to be of low solubility in water and have no effect on litmus.
do not react with acids or alkalis. eg CO carbon monoxide and NO nitrogen monoxide, H2O.
There is no way of simply predicting this kind of behavior from periodic table patterns!
Slide 24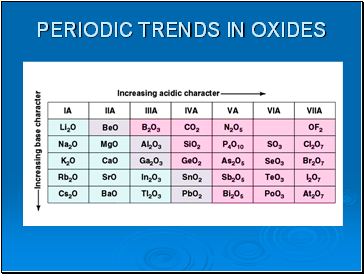 Periodic trends in oxides
Slide 25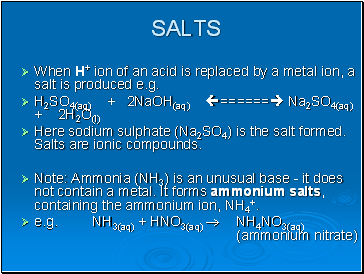 Salts
When H+ ion of an acid is replaced by a metal ion, a salt is produced e.g.
H2SO4(aq) + 2NaOH(aq) ====== Na2SO4(aq) + 2H2O(l)
Here sodium sulphate (Na2SO4) is the salt formed. Salts are ionic compounds.
Note: Ammonia (NH3) is an unusual base - it does not contain a metal. It forms ammonium salts, containing the ammonium ion, NH4+.
e.g. NH3(aq) + HNO3(aq)  NH4NO3(aq) (ammonium nitrate)
Slide 26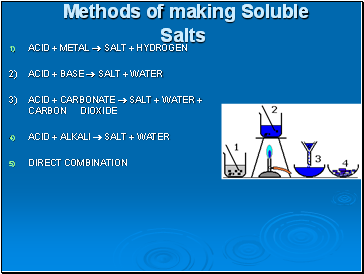 Methods of making Soluble Salts
ACID + METAL  SALT + HYDROGEN
2) ACID + BASE  SALT + WATER
3) ACID + CARBONATE  SALT + WATER + CARBON DIOXIDE
ACID + ALKALI  SALT + WATER
DIRECT COMBINATION
Slide 27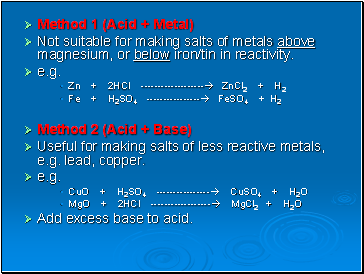 Method 1 (Acid + Metal)
Not suitable for making salts of metals above magnesium, or below iron/tin in reactivity.
e.g.