Women and Medicine
Page
2
Slide 10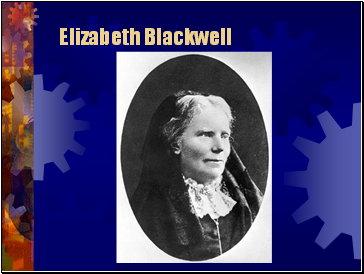 Elizabeth Blackwell
Slide 11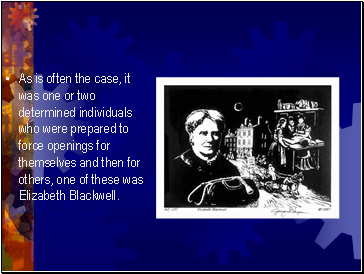 As is often the case, it was one or two determined individuals who were prepared to force openings for themselves and then for others, one of these was Elizabeth Blackwell.
Slide 12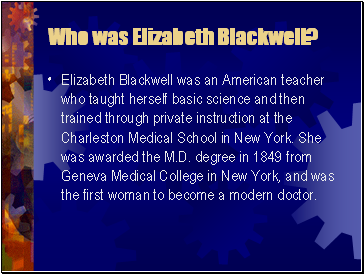 Who was Elizabeth Blackwell?
Elizabeth Blackwell was an American teacher who taught herself basic science and then trained through private instruction at the Charleston Medical School in New York. She was awarded the M.D. degree in 1849 from Geneva Medical College in New York, and was the first woman to become a modern doctor.
Slide 13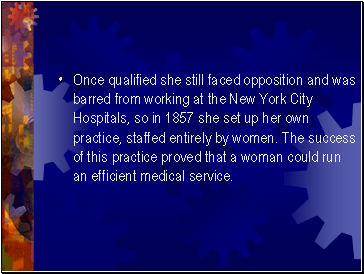 Once qualified she still faced opposition and was barred from working at the New York City Hospitals, so in 1857 she set up her own practice, staffed entirely by women. The success of this practice proved that a woman could run an efficient medical service.
Slide 14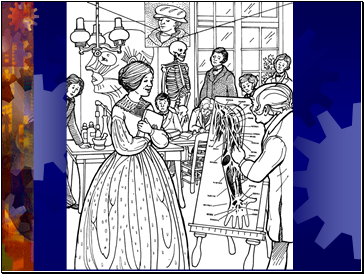 Slide 15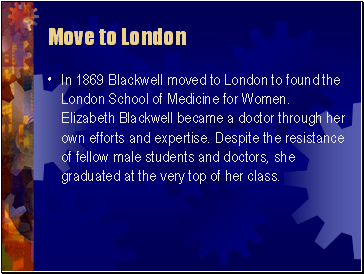 Move to London
In 1869 Blackwell moved to London to found the London School of Medicine for Women. Elizabeth Blackwell became a doctor through her own efforts and expertise. Despite the resistance of fellow male students and doctors, she graduated at the very top of her class.
Slide 16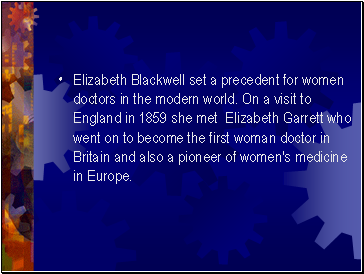 Elizabeth Blackwell set a precedent for women doctors in the modern world. On a visit to England in 1859 she met Elizabeth Garrett who went on to become the first woman doctor in Britain and also a pioneer of women's medicine in Europe.
Slide 17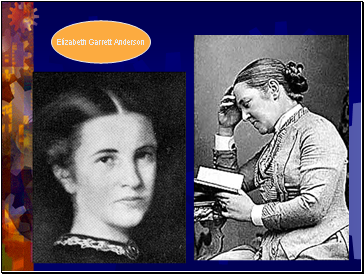 Elizabeth Garrett Anderson
Slide 18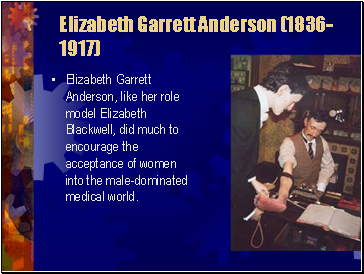 Elizabeth Garrett Anderson (1836-1917)
Elizabeth Garrett Anderson, like her role model Elizabeth Blackwell, did much to encourage the acceptance of women into the male-dominated medical world.
Slide 19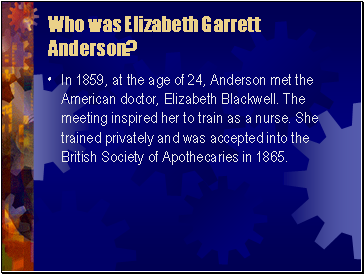 Who was Elizabeth Garrett Anderson?
In 1859, at the age of 24, Anderson met the American doctor, Elizabeth Blackwell. The meeting inspired her to train as a nurse. She trained privately and was accepted into the British Society of Apothecaries in 1865.
Slide 20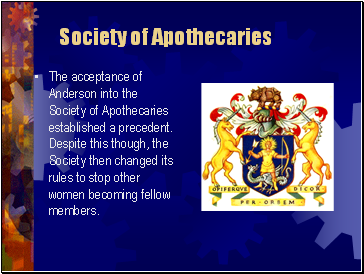 Society of Apothecaries
The acceptance of Anderson into the Society of Apothecaries established a precedent. Despite this though, the Society then changed its rules to stop other women becoming fellow members.