Viruses and HIV
Page
2
In the lysogenic cycle, the virus reproduces by first injecting its genetic material, indicated by the red line, into the host cell's genetic instructions.
Slide 12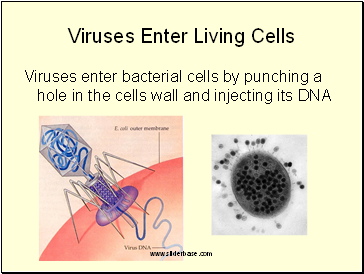 Viruses Enter Living Cells
Viruses enter bacterial cells by punching a hole in the cells wall and injecting its DNA
Slide 13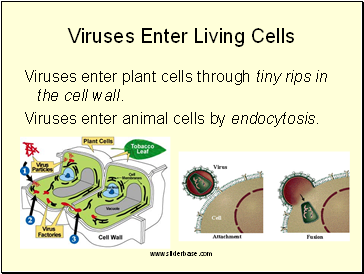 Viruses Enter Living Cells
Viruses enter plant cells through tiny rips in the cell wall.
Viruses enter animal cells by endocytosis.
Slide 14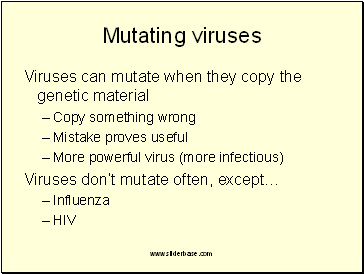 Mutating viruses
Viruses can mutate when they copy the genetic material
Copy something wrong
Mistake proves useful
More powerful virus (more infectious)
Viruses don't mutate often, except…
Influenza
HIV
Slide 15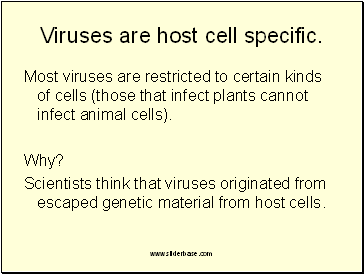 Viruses are host cell specific.
Most viruses are restricted to certain kinds of cells (those that infect plants cannot infect animal cells).
Why?
Scientists think that viruses originated from escaped genetic material from host cells.
Slide 16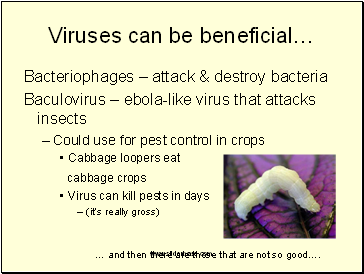 Viruses can be beneficial…
Bacteriophages – attack & destroy bacteria
Baculovirus – ebola-like virus that attacks insects
Could use for pest control in crops
Cabbage loopers eat
cabbage crops
Virus can kill pests in days
(it's really gross)
… and then there are those that are not so good….
Slide 17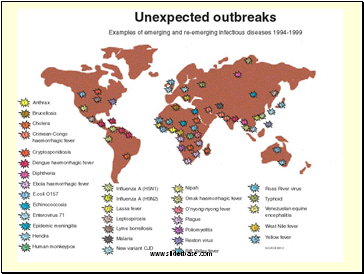 Slide 18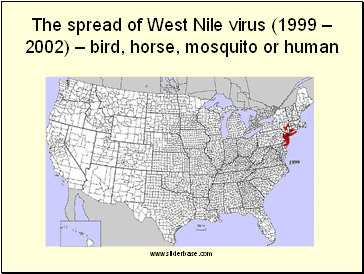 The spread of West Nile virus (1999 – 2002) – bird, horse, mosquito or human
Slide 19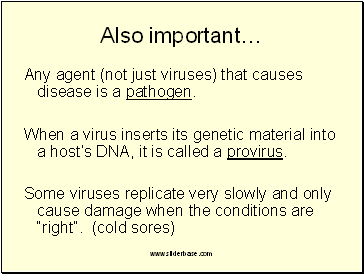 Also important…
Any agent (not just viruses) that causes disease is a pathogen.
When a virus inserts its genetic material into a host's DNA, it is called a provirus.
Some viruses replicate very slowly and only cause damage when the conditions are "right". (cold sores)
Slide 20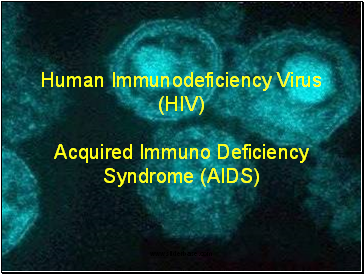 Human Immunodeficiency Virus (HIV) Acquired Immuno Deficiency Syndrome (AIDS)
Slide 21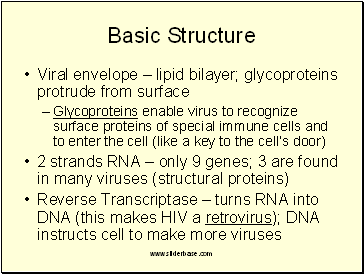 Basic Structure
Viral envelope – lipid bilayer; glycoproteins protrude from surface
Glycoproteins enable virus to recognize surface proteins of special immune cells and to enter the cell (like a key to the cell's door)
2 strands RNA – only 9 genes; 3 are found in many viruses (structural proteins)