Photosynthesis
Page
1
Slide 1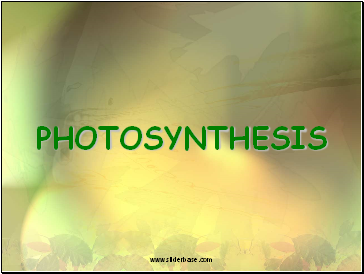 PHOTOSYNTHESIS
Slide 2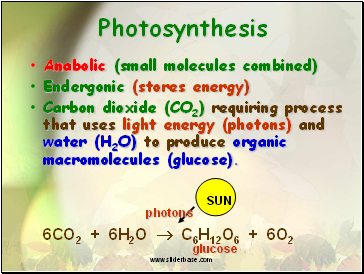 2
Photosynthesis
Anabolic (small molecules combined)
Endergonic (stores energy)
Carbon dioxide (CO2) requiring process that uses light energy (photons) and water (H2O) to produce organic macromolecules (glucose).
6CO2 + 6H2O  C6H12O6 + 6O2
Slide 3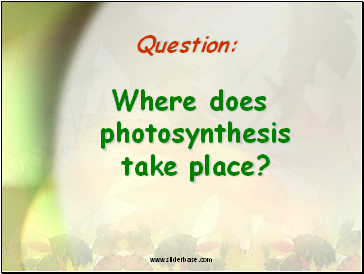 3
Question:
Where does photosynthesis take place?
Slide 4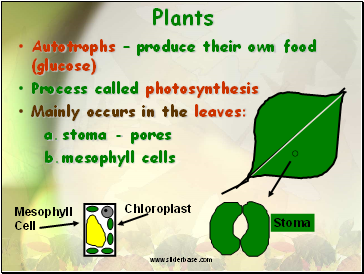 4
Plants
Autotrophs – produce their own food (glucose)
Process called photosynthesis
Mainly occurs in the leaves:
a. stoma - pores
b. mesophyll cells
Slide 5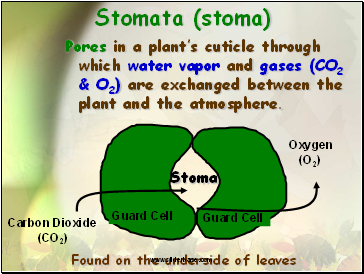 5
Stomata (stoma)
Pores in a plant's cuticle through which water vapor and gases (CO2 & O2) are exchanged between the plant and the atmosphere.
Found on the underside of leaves
Stoma
Slide 6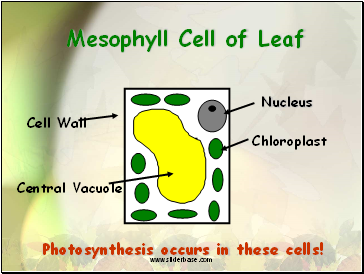 6
Mesophyll Cell of Leaf
Photosynthesis occurs in these cells!
Slide 7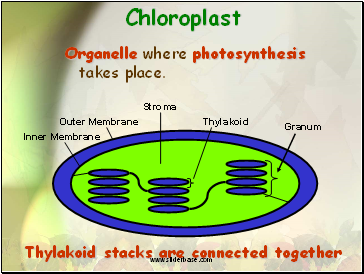 7
Chloroplast
Organelle where photosynthesis takes place.
Thylakoid stacks are connected together
Slide 8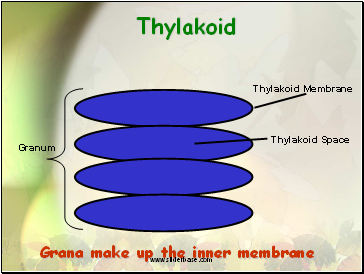 8
Thylakoid
Grana make up the inner membrane
Slide 9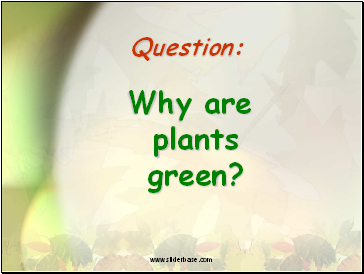 9
Question:
Why are plants green?
Slide 10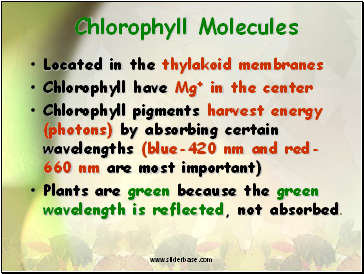 10
Chlorophyll Molecules
Located in the thylakoid membranes
Chlorophyll have Mg+ in the center
Chlorophyll pigments harvest energy (photons) by absorbing certain wavelengths (blue-420 nm and red-660 nm are most important)
Plants are green because the green wavelength is reflected, not absorbed.
Slide 11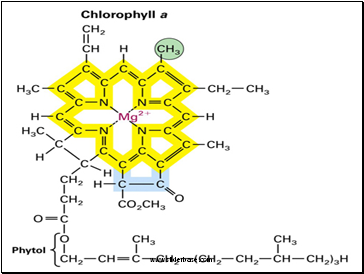 11
Slide 12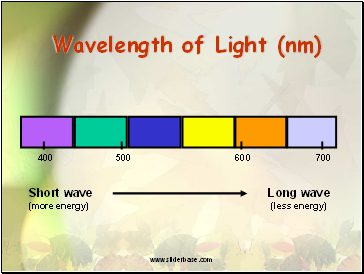 12
Wavelength of Light (nm)
Slide 13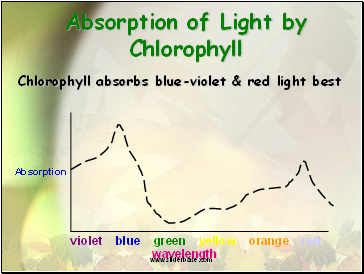 13
Absorption of Light by Chlorophyll
wavelength
Absorption
Chlorophyll absorbs blue-violet & red light best
Slide 14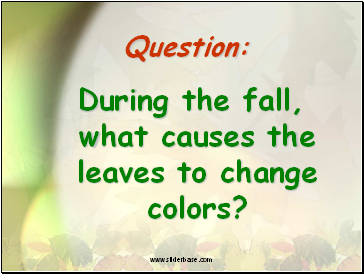 14
Question: