Photosynthesis
Page
3
27
Two Parts of Photosynthesis
Two reactions make up photosynthesis:
1.Light Reaction or Light Dependent Reaction -
Produces energy from solar power (photons) in the form of ATP and NADPH.
SUN
Slide 28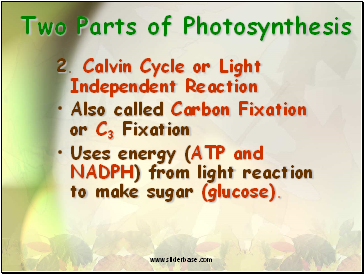 28
Two Parts of Photosynthesis
2. Calvin Cycle or Light Independent Reaction
Also called Carbon Fixation or C3 Fixation
Uses energy (ATP and NADPH) from light reaction to make sugar (glucose).
Slide 29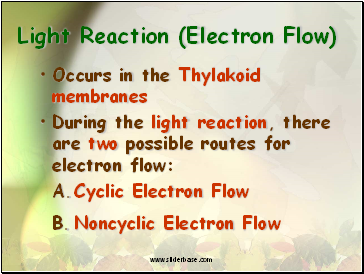 29
Light Reaction (Electron Flow)
Occurs in the Thylakoid membranes
During the light reaction, there are two possible routes for electron flow:
A. Cyclic Electron Flow
B. Noncyclic Electron Flow
Slide 30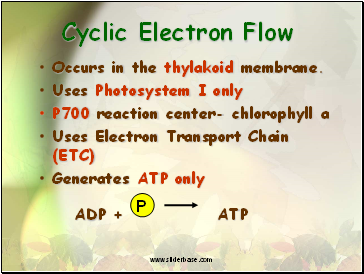 30
Cyclic Electron Flow
Occurs in the thylakoid membrane.
Uses Photosystem I only
P700 reaction center- chlorophyll a
Uses Electron Transport Chain (ETC)
Generates ATP only
ADP + ATP
Slide 31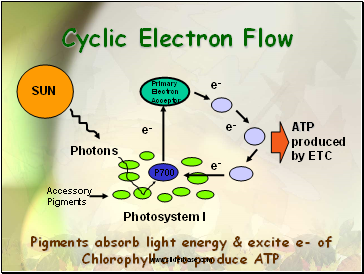 31
Cyclic Electron Flow
Pigments absorb light energy & excite e- of Chlorophyll a to produce ATP
Slide 32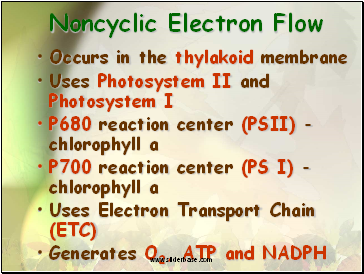 32
Noncyclic Electron Flow
Occurs in the thylakoid membrane
Uses Photosystem II and Photosystem I
P680 reaction center (PSII) - chlorophyll a
P700 reaction center (PS I) - chlorophyll a
Uses Electron Transport Chain (ETC)
Generates O2, ATP and NADPH
Slide 33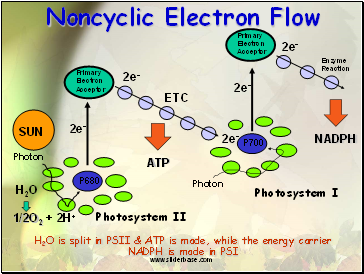 33
Noncyclic Electron Flow
H2O is split in PSII & ATP is made, while the energy carrier NADPH is made in PSI
Slide 34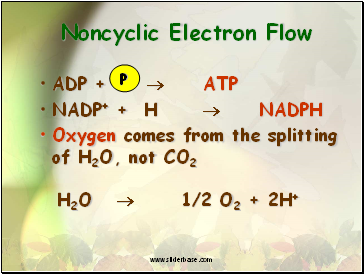 34
Noncyclic Electron Flow
ADP +  ATP
NADP+ + H  NADPH
Oxygen comes from the splitting of H2O, not CO2
H2O  1/2 O2 + 2H+
P
Slide 35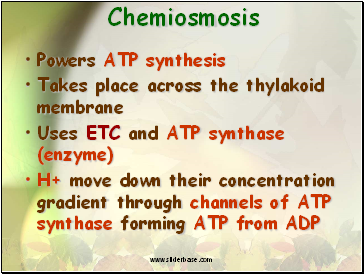 35
Chemiosmosis
Powers ATP synthesis
Takes place across the thylakoid membrane
Uses ETC and ATP synthase (enzyme)
H+ move down their concentration gradient through channels of ATP synthase forming ATP from ADP
Slide 36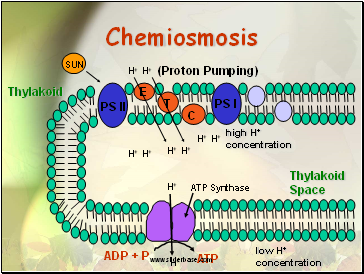 36
Chemiosmosis
Slide 37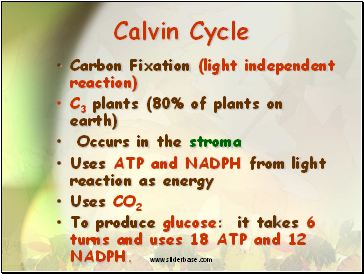 37
Calvin Cycle
Carbon Fixation (light independent reaction)
C3 plants (80% of plants on earth)
Occurs in the stroma