Photosynthesis
Page
2
During the fall, what causes the leaves to change colors?
Slide 15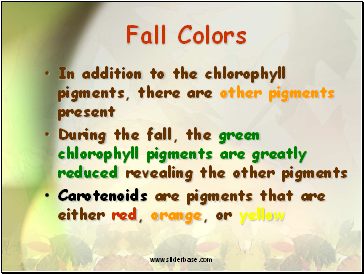 15
Fall Colors
In addition to the chlorophyll pigments, there are other pigments present
During the fall, the green chlorophyll pigments are greatly reduced revealing the other pigments
Carotenoids are pigments that are either red, orange, or yellow
Slide 16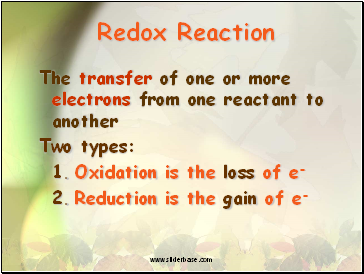 16
Redox Reaction
The transfer of one or more electrons from one reactant to another
Two types:
1. Oxidation is the loss of e-
2. Reduction is the gain of e-
Slide 17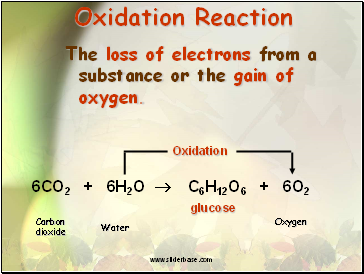 17
Oxidation Reaction
The loss of electrons from a substance or the gain of oxygen.
Carbon dioxide
Water
Oxygen
Slide 18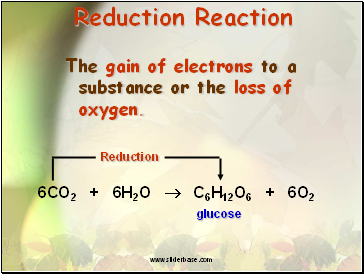 18
Reduction Reaction
The gain of electrons to a substance or the loss of oxygen.
Slide 19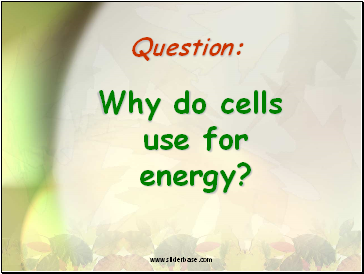 19
Question:
Why do cells use for energy?
Slide 20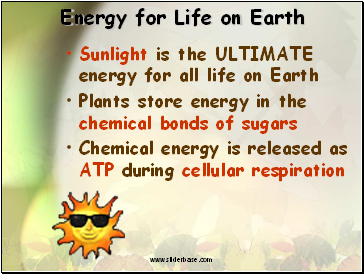 20
Energy for Life on Earth
Sunlight is the ULTIMATE energy for all life on Earth
Plants store energy in the chemical bonds of sugars
Chemical energy is released as ATP during cellular respiration
Slide 21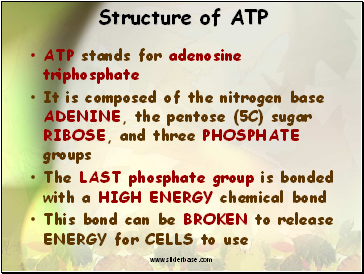 21
Structure of ATP
ATP stands for adenosine triphosphate
It is composed of the nitrogen base ADENINE, the pentose (5C) sugar RIBOSE, and three PHOSPHATE groups
The LAST phosphate group is bonded with a HIGH ENERGY chemical bond
This bond can be BROKEN to release ENERGY for CELLS to use
Slide 22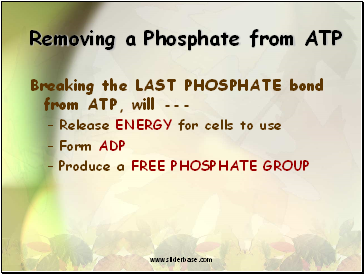 22
Removing a Phosphate from ATP
Breaking the LAST PHOSPHATE bond from ATP, will ---
Release ENERGY for cells to use
Form ADP
Produce a FREE PHOSPHATE GROUP
Slide 23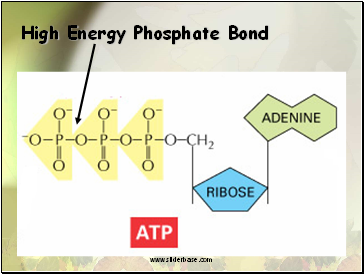 23
High Energy Phosphate Bond
Slide 24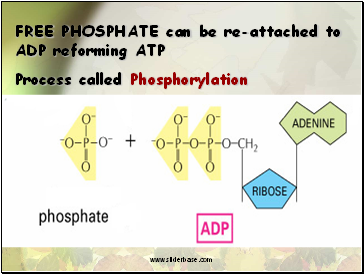 24
FREE PHOSPHATE can be re-attached to ADP reforming ATP
Process called Phosphorylation
Slide 25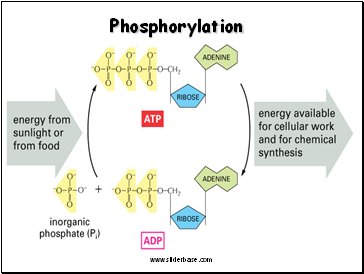 25
Phosphorylation
Slide 26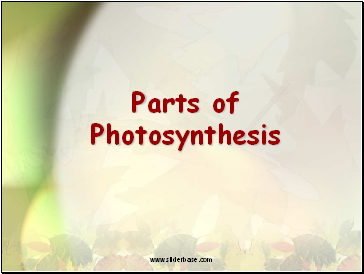 26
Parts of Photosynthesis
Slide 27