Cellular Division
Page
6
Two meiotic divisions --- Meiosis I and Meiosis II
Called Reduction- division
Original cell is diploid (2n)
Four daughter cells produced that are monoploid (1n)
Slide 68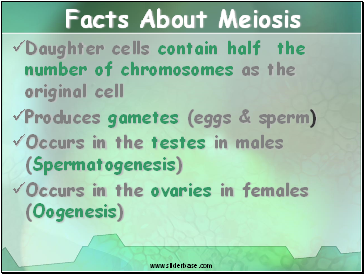 Facts About Meiosis
Daughter cells contain half the number of chromosomes as the original cell
Produces gametes (eggs & sperm)
Occurs in the testes in males (Spermatogenesis)
Occurs in the ovaries in females (Oogenesis)
Slide 69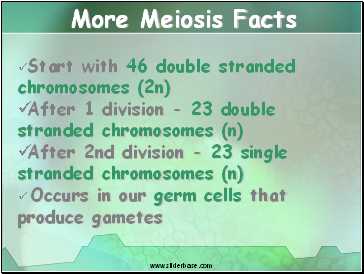 Start with 46 double stranded chromosomes (2n)
After 1 division - 23 double stranded chromosomes (n)
After 2nd division - 23 single stranded chromosomes (n)
Occurs in our germ cells that produce gametes
More Meiosis Facts
Slide 70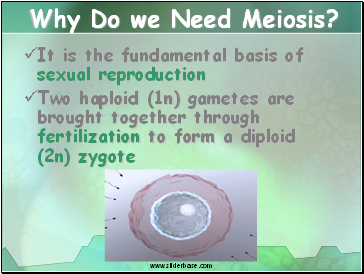 Why Do we Need Meiosis?
It is the fundamental basis of sexual reproduction
Two haploid (1n) gametes are brought together through fertilization to form a diploid (2n) zygote
Slide 71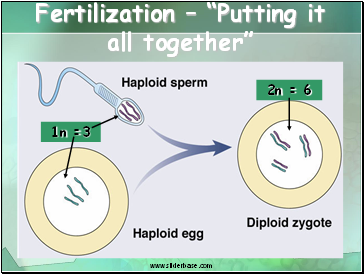 Fertilization – "Putting it all together"
1n =3
2n = 6
Slide 72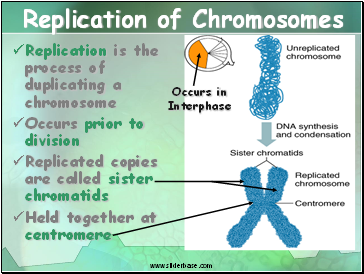 Replication of Chromosomes
Replication is the process of duplicating a chromosome
Occurs prior to division
Replicated copies are called sister chromatids
Held together at centromere
Occurs in Interphase
Slide 73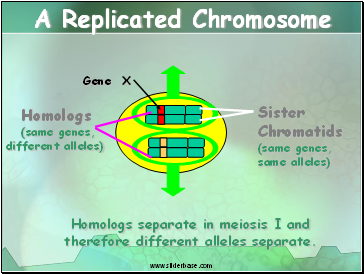 A Replicated Chromosome
Gene X
Homologs separate in meiosis I and therefore different alleles separate.
Slide 74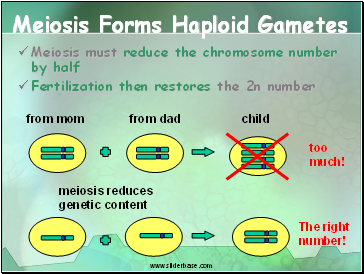 Meiosis Forms Haploid Gametes
Meiosis must reduce the chromosome number by half
Fertilization then restores the 2n number
The right number!
Slide 75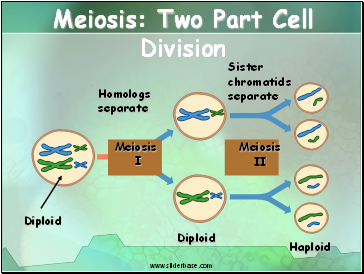 Meiosis: Two Part Cell Division
Homologs
separate
Sister
chromatids
separate
Diploid
Diploid
Haploid
Slide 76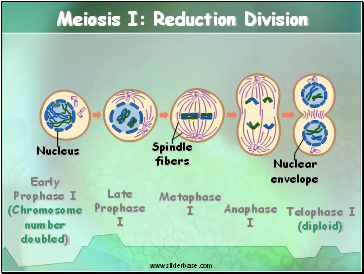 Meiosis I: Reduction Division
Early Prophase I
(Chromosome number doubled)
Late Prophase I
Metaphase I
Anaphase I
Telophase I (diploid)
Slide 77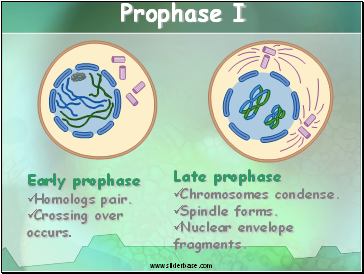 Prophase I
Early prophase
Homologs pair.
Crossing over occurs.
Late prophase
Chromosomes condense.
Spindle forms.
Nuclear envelope fragments.
Slide 78