Acids, Bases, & Salts
Page
1
Slide 1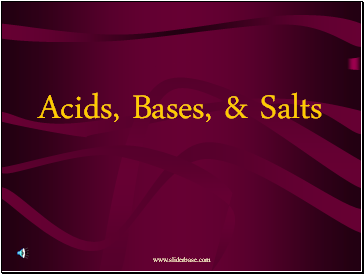 Acids, Bases, & Salts
Slide 2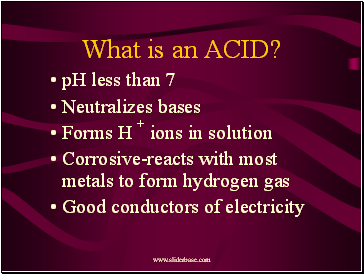 What is an ACID?
pH less than 7
Neutralizes bases
Forms H + ions in solution
Corrosive-reacts with most metals to form hydrogen gas
Good conductors of electricity
Slide 3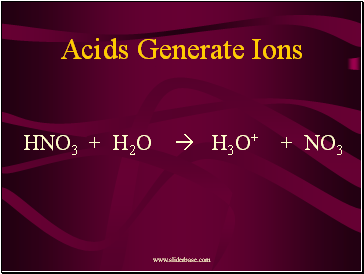 Acids Generate Ions
HNO3 + H2O  H3O+ + NO3
Slide 4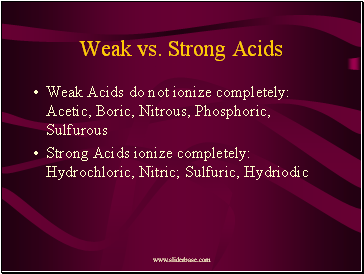 Weak vs. Strong Acids
Weak Acids do not ionize completely: Acetic, Boric, Nitrous, Phosphoric, Sulfurous
Strong Acids ionize completely: Hydrochloric, Nitric; Sulfuric, Hydriodic
Slide 5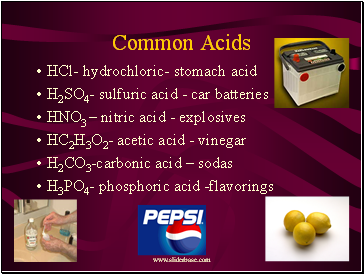 Common Acids
HCl- hydrochloric- stomach acid
H2SO4- sulfuric acid - car batteries
HNO3 – nitric acid - explosives
HC2H3O2- acetic acid - vinegar
H2CO3-carbonic acid – sodas
H3PO4- phosphoric acid -flavorings
Slide 6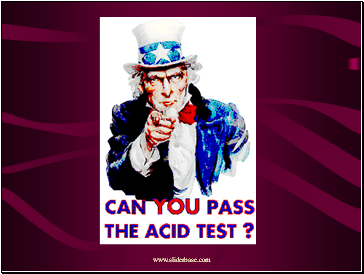 Slide 7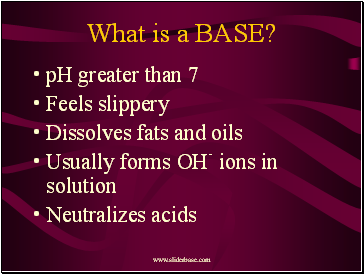 What is a BASE?
pH greater than 7
Feels slippery
Dissolves fats and oils
Usually forms OH- ions in solution
Neutralizes acids
Slide 8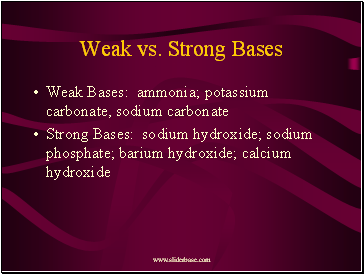 Weak vs. Strong Bases
Weak Bases: ammonia; potassium carbonate, sodium carbonate
Strong Bases: sodium hydroxide; sodium phosphate; barium hydroxide; calcium hydroxide
Slide 9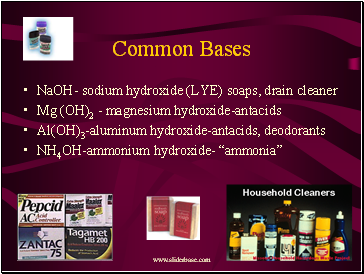 Common Bases
NaOH- sodium hydroxide (LYE) soaps, drain cleaner
Mg (OH)2 - magnesium hydroxide-antacids
Al(OH)3-aluminum hydroxide-antacids, deodorants
NH4OH-ammonium hydroxide- "ammonia"
Slide 10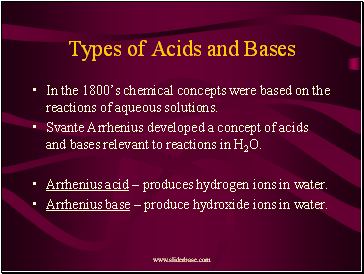 Types of Acids and Bases
In the 1800's chemical concepts were based on the reactions of aqueous solutions.
Svante Arrhenius developed a concept of acids and bases relevant to reactions in H2O.
Arrhenius acid – produces hydrogen ions in water.
Arrhenius base – produce hydroxide ions in water.
Slide 11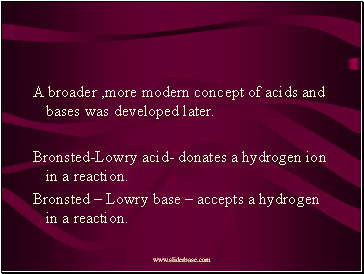 A broader ,more modern concept of acids and bases was developed later.
Bronsted-Lowry acid- donates a hydrogen ion in a reaction.
Bronsted – Lowry base – accepts a hydrogen in a reaction.
Slide 12