Solar System
Page
3
Gravitational collapse of a cloud of gas and dust
Centrifugal effect gathers material into a disk
Particles collide and clump together, eventually forming planets, etc.
Slide 17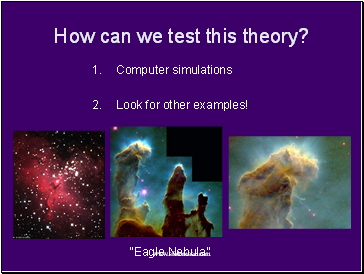 How can we test this theory?
Computer simulations
Look for other examples!
"Eagle Nebula"
Slide 18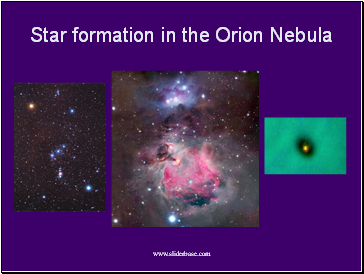 Star formation in the Orion Nebula
Slide 19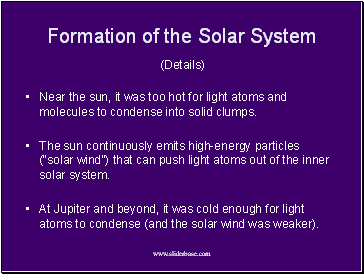 Formation of the Solar System
Near the sun, it was too hot for light atoms and molecules to condense into solid clumps.
The sun continuously emits high-energy particles ("solar wind") that can push light atoms out of the inner solar system.
At Jupiter and beyond, it was cold enough for light atoms to condense (and the solar wind was weaker).
(Details)
Slide 20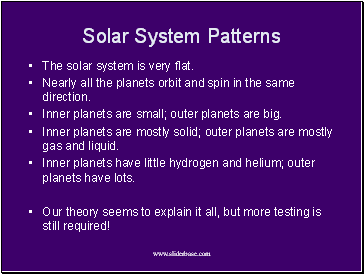 Solar System Patterns
The solar system is very flat.
Nearly all the planets orbit and spin in the same direction.
Inner planets are small; outer planets are big.
Inner planets are mostly solid; outer planets are mostly gas and liquid.
Inner planets have little hydrogen and helium; outer planets have lots.
Our theory seems to explain it all, but more testing is still required!
Slide 21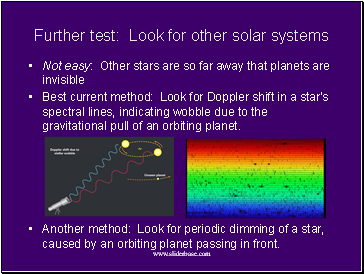 Further test: Look for other solar systems
Not easy: Other stars are so far away that planets are invisible
Best current method: Look for Doppler shift in a star's spectral lines, indicating wobble due to the gravitational pull of an orbiting planet.
Another method: Look for periodic dimming of a star, caused by an orbiting planet passing in front.
Slide 22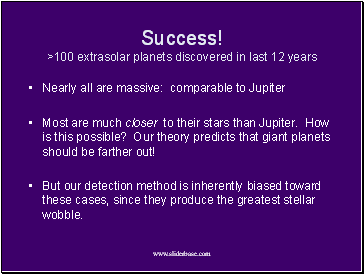 Success! >100 extrasolar planets discovered in last 12 years
Nearly all are massive: comparable to Jupiter
Most are much closer to their stars than Jupiter. How is this possible? Our theory predicts that giant planets should be farther out!
But our detection method is inherently biased toward these cases, since they produce the greatest stellar wobble.
Slide 23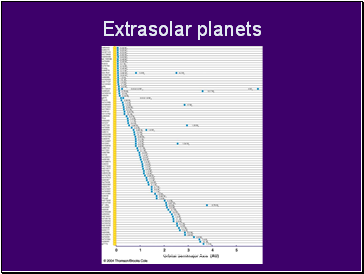 Extrasolar planets
Slide 24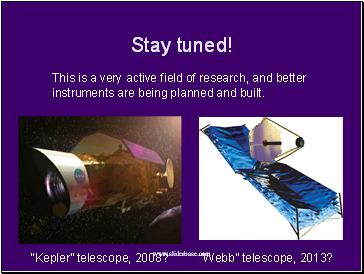 Stay tuned!
This is a very active field of research, and better instruments are being planned and built.
"Kepler" telescope, 2008?
"Webb" telescope, 2013?