Magellan and Coronado
Page
1
Slide 1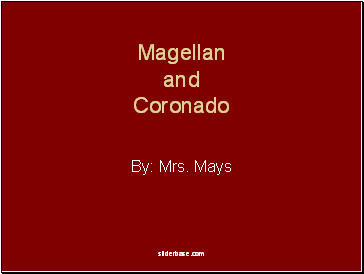 Magellan and Coronado
By: Mrs. Mays
Slide 2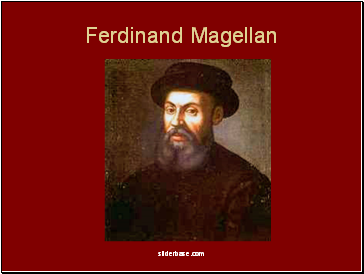 Ferdinand Magellan
Slide 3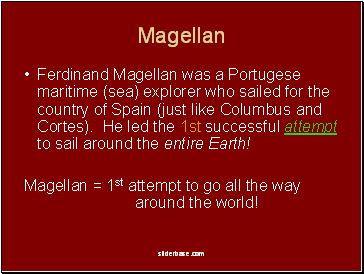 Magellan
Ferdinand Magellan was a Portugese maritime (sea) explorer who sailed for the country of Spain (just like Columbus and Cortes). He led the 1st successful attempt to sail around the entire Earth!
Magellan = 1st attempt to go all the way around the world!
Slide 4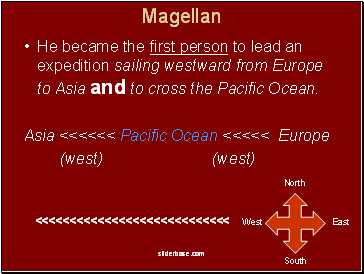 Magellan
He became the first person to lead an expedition sailing westward from Europe to Asia and to cross the Pacific Ocean.
Asia <<<<<< Pacific Ocean <<<<< Europe
(west) (west)
North
West
East
South
<<<<<<<<<<<<<<<<<<<<<<<<<<<<
Slide 5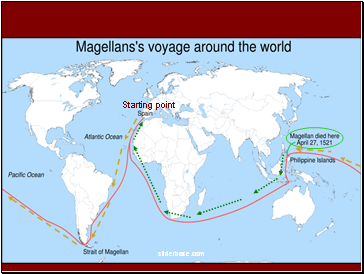 Starting point
Slide 6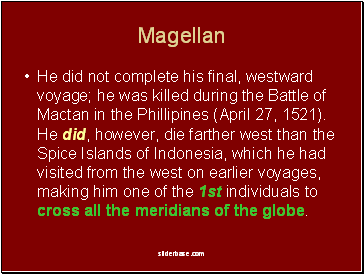 Magellan
He did not complete his final, westward voyage; he was killed during the Battle of Mactan in the Phillipines (April 27, 1521). He did, however, die farther west than the Spice Islands of Indonesia, which he had visited from the west on earlier voyages, making him one of the 1st individuals to cross all the meridians of the globe.
Slide 7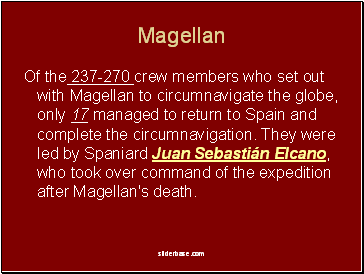 Magellan
Of the 237-270 crew members who set out with Magellan to circumnavigate the globe, only 17 managed to return to Spain and complete the circumnavigation. They were led by Spaniard Juan Sebastián Elcano, who took over command of the expedition after Magellan's death.
Slide 8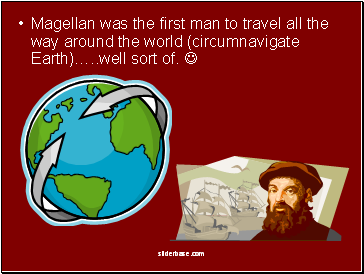 Magellan was the first man to travel all the way around the world (circumnavigate Earth)… well sort of. 
Slide 9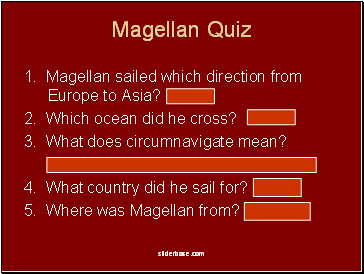 Magellan Quiz
1. Magellan sailed which direction from Europe to Asia? West
2. Which ocean did he cross? Pacific
3. What does circumnavigate mean?
To travel all the way around the world.
4. What country did he sail for? Spain
5. Where was Magellan from? Portugal
Slide 10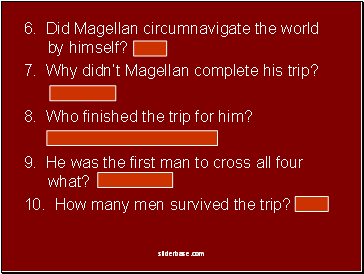 6. Did Magellan circumnavigate the world by himself? No
7. Why didn't Magellan complete his trip?
He died.
8. Who finished the trip for him?
Juan Sebastian Elcano