Native Americans
Page
1
Slide 1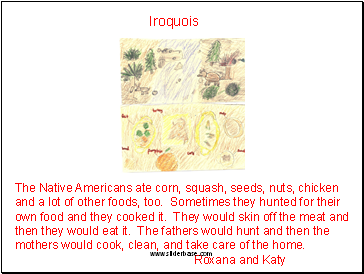 Iroquois
The Native Americans ate corn, squash, seeds, nuts, chicken
and a lot of other foods, too. Sometimes they hunted for their
own food and they cooked it. They would skin off the meat and
then they would eat it. The fathers would hunt and then the
mothers would cook, clean, and take care of the home.
Roxana and Katy
www.sliderbase.com
Slide 2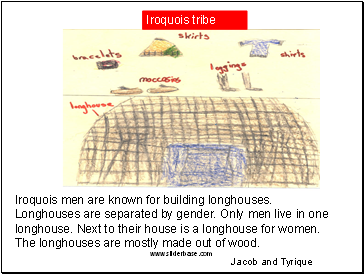 Iroquois tribe
Iroquois men are known for building longhouses. Longhouses are separated by gender. Only men live in one longhouse. Next to their house is a longhouse for women. The longhouses are mostly made out of wood.
Jacob and Tyrique
www.sliderbase.com
Slide 3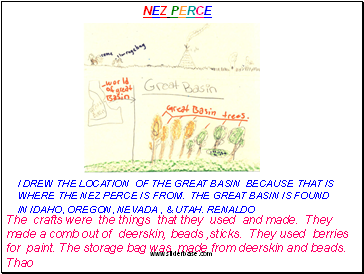 NEZ PERCE
I DREW THE LOCATION OF THE GREAT BASIN BECAUSE THAT IS WHERE THE NEZ PERCE IS FROM. THE GREAT BASIN IS FOUND IN IDAHO, OREGON, NEVADA , & UTAH. RENALDO
The crafts were the things that they used and made. They made a comb out of deerskin, beads ,sticks. They used berries for paint. The storage bag was made from deerskin and beads. Thao
www.sliderbase.com
Slide 4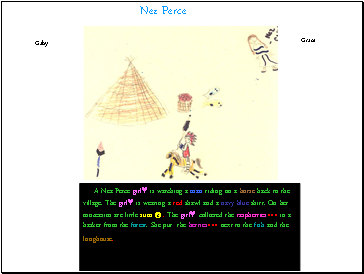 Nez Perce
A Nez Perce girl♥ is watching a man riding on a horse back to the village. The girl♥ is wearing a red shawl and a navy blue shirt. On her moccasins are little suns☻. The girl♥ collected the raspberries••• in a basket from the forest. She put the berries••• next to the fish and the longhouse.
Gaby
Grace
www.sliderbase.com
Slide 5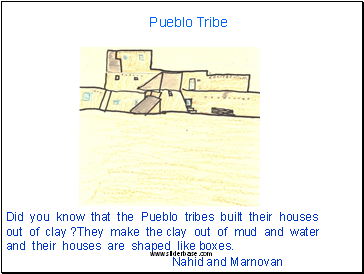 Pueblo Tribe
Did you know that the Pueblo tribes built their houses
out of clay ?They make the clay out of mud and water
and their houses are shaped like boxes.
Nahid and Marnovan
www.sliderbase.com
Slide 6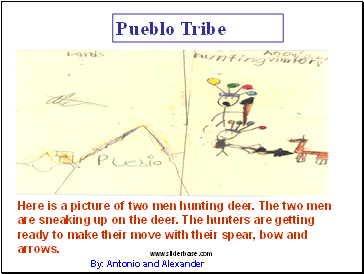 Pueblo Tribe
Here is a picture of two men hunting deer. The two men are sneaking up on the deer. The hunters are getting ready to make their move with their spear, bow and arrows.
By: Antonio and Alexander
www.sliderbase.com
Slide 7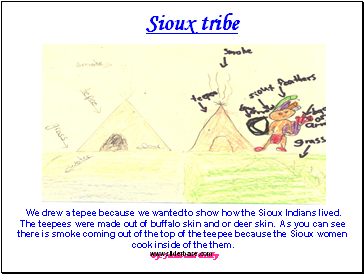 Sioux tribe
We drew a tepee because we wanted to show how the Sioux Indians lived. The teepees were made out of buffalo skin and or deer skin. As you can see there is smoke coming out of the top of the teepee because the Sioux women cook inside of the them.
By: Jamie and Emily
www.sliderbase.com
Slide 8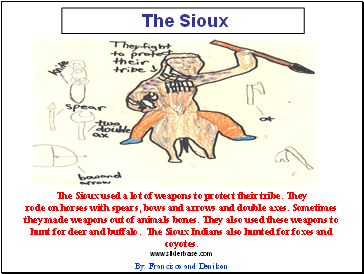 The Sioux