Buffalo Bill and the Wild West
Page
2
Buffalo Bill's show was exceptionally popular, performing all over the U.S.A and in Europe. He even performed the show twice for Queen Victoria.
Why was it so popular?
It began in 1882 as part of a 4th July celebration in Cody's hometown of North Platte, Nebraska. The basic elements of the show were displays of cowboy skills (riding, shooting, racing etc). To these over the years were added scenes of 'typical' western life, and narratives such as the Attack on the Deadwood Stage. Therefore, the public were presented with a miniature picture of the American West.
It was obviously entertaining. The show was a spectacle, unlike anything in the theatre. It appealed to the lower classes especially, as seats were cheap and there were a variety of sideshows. Most importantly, it gave people in the cities and opportunity to experience the Wild West.
www.sliderbase.com
Slide 6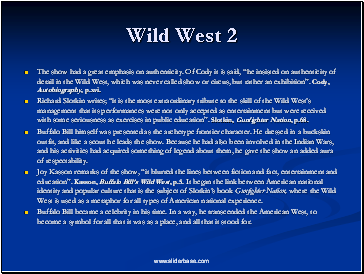 Wild West 2
The show had a great emphasis on authenticity. Of Cody it is said, "he insisted on authenticity of detail in the Wild West, which was never called show or circus, but rather an exhibition". Cody, Autobiography, p.xvi.
Richard Slotkin writes; "it is the most extraordinary tribute to the skill of the Wild West's management that its performances were not only accepted as entertainment but were received with some seriousness as exercises in public education". Slotkin, Gunfighter Nation, p.68.
Buffalo Bill himself was presented as the archetype frontier character. He dressed in a buckskin outfit, and like a scout he leads the show. Because he had also been involved in the Indian Wars, and his activities had acquired something of legend about them, he gave the show an added aura of respectability.
Joy Kasson remarks of the show, "it blurred the lines between fiction and fact, entertainment and education". Kasson, Buffalo Bill's Wild West, p.5. It began the link between American national identity and popular culture that is the subject of Slotkin's book Gunfighter Nation, where the Wild West is used as a metaphor for all types of American national experience.
Buffalo Bill became a celebrity in his time. In a way, he transcended the American West, to become a symbol for all that it was as a place, and all that it stood for.
www.sliderbase.com
Slide 7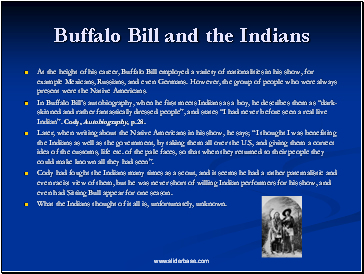 Buffalo Bill and the Indians
At the height of his career, Buffalo Bill employed a variety of nationalities in his show, for example Mexicans, Russians, and even Germans. However, the group of people who were always present were the Native Americans.
In Buffalo Bill's autobiography, when he first meets Indians as a boy, he describes them as "dark-skinned and rather fantastically dressed people", and states "I had never before seen a real live Indian". Cody, Autobiography, p.28.
Later, when writing about the Native Americans in his show, he says; "I thought I was benefiting the Indians as well as the government, by taking them all over the U.S, and giving them a correct idea of the customs, life etc. of the pale faces, so that when they returned to their people they could make known all they had seen".