Basic Principles of Animal Form and Function
Page
1
Slide 1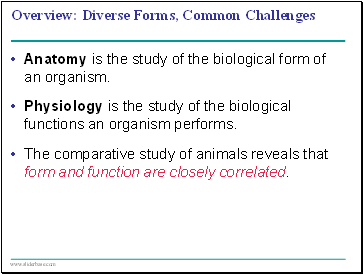 Diverse Forms, Common Challenges
Anatomy is the study of the biological form of an organism.
Physiology is the study of the biological functions an organism performs.
The comparative study of animals reveals that form and function are closely correlated.
Slide 2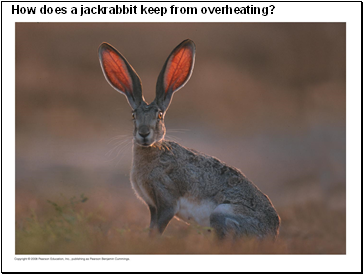 How does a jackrabbit keep from overheating?
Slide 3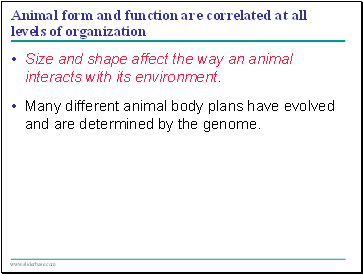 Animal form and function are correlated at all levels of organization
Size and shape affect the way an animal interacts with its environment.
Many different animal body plans have evolved and are determined by the genome.
Slide 4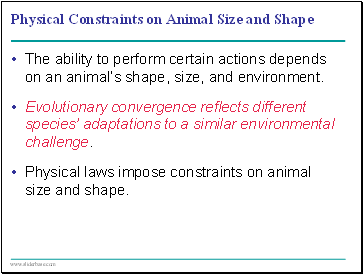 Physical Constraints on Animal Size and Shape
The ability to perform certain actions depends on an animalís shape, size, and environment.
Evolutionary convergence reflects different speciesí adaptations to a similar environmental challenge.
Physical laws impose constraints on animal size and shape.
Slide 5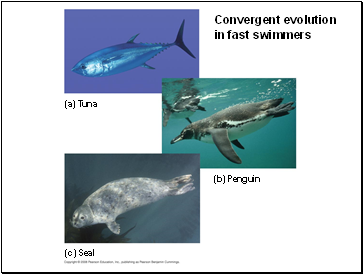 Convergent evolution in fast swimmers
(a) Tuna
(b) Penguin
(c) Seal
Slide 6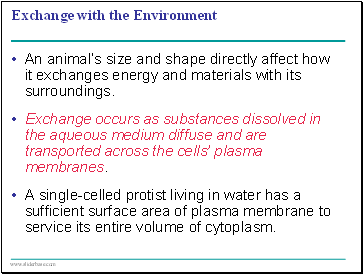 Exchange with the Environment
An animalís size and shape directly affect how it exchanges energy and materials with its surroundings.
Exchange occurs as substances dissolved in the aqueous medium diffuse and are transported across the cellsí plasma membranes.
A single-celled protist living in water has a sufficient surface area of plasma membrane to service its entire volume of cytoplasm.
Slide 7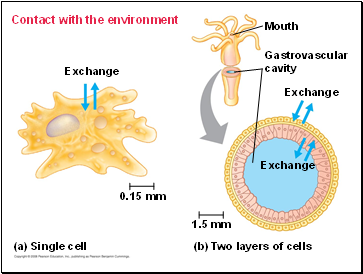 Contact with the environment
Exchange
0.15 mm
(a) Single cell
1.5 mm
(b) Two layers of cells
Exchange
Exchange
Mouth
Gastrovascular
cavity
Slide 8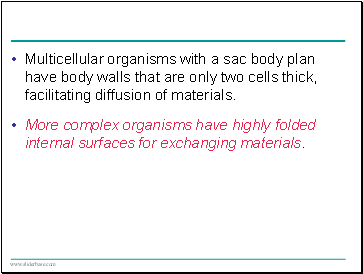 Multicellular organisms with a sac body plan have body walls that are only two cells thick, facilitating diffusion of materials.
More complex organisms have highly folded internal surfaces for exchanging materials.
Slide 9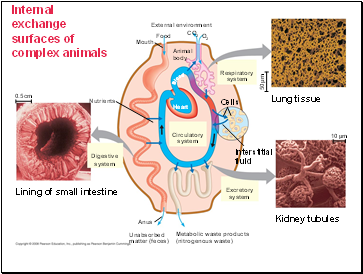 Internal exchange surfaces of complex animals
0.5 cm
Nutrients
Digestive
system
Lining of small intestine
Mouth
Food
External environment
Animal
body
CO2
O2
Circulatory
system
Heart
Respiratory
system
Cells
Interstitial