Fungi
Page
5
All of these relationships have profound ecological effects.
Slide 30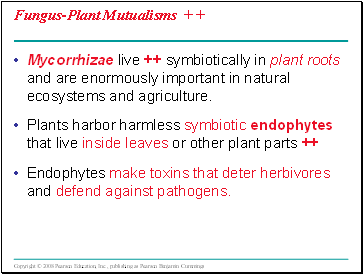 Fungus-Plant Mutualisms + +
Mycorrhizae live ++ symbiotically in plant roots and are enormously important in natural ecosystems and agriculture.
Plants harbor harmless symbiotic endophytes that live inside leaves or other plant parts ++
Endophytes make toxins that deter herbivores and defend against pathogens.
Slide 31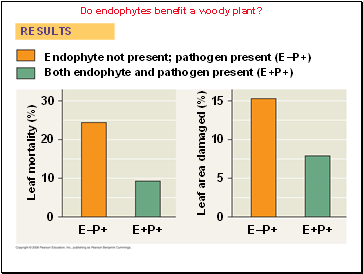 Do endophytes benefit a woody plant?
Both endophyte and pathogen present (E+P+)
Endophyte not present; pathogen present (E–P+)
Leaf area damaged (%)
Leaf mortality (%)
30
10
20
10
15
5
0
0
E+P+
E–P+
E–P+
E+P+
RESULTS
Slide 32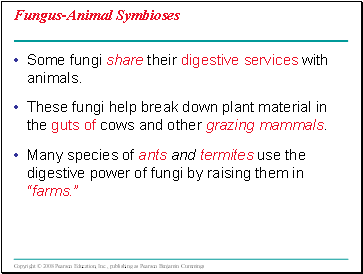 Fungus-Animal Symbioses
Some fungi share their digestive services with animals.
These fungi help break down plant material in the guts of cows and other grazing mammals.
Many species of ants and termites use the digestive power of fungi by raising them in "farms."
Slide 33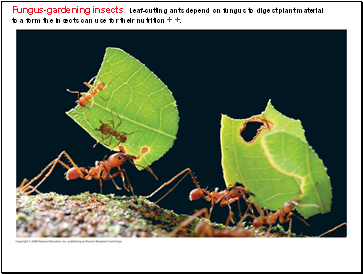 Fungus-gardening insects: Leaf-cutting ants depend on fungus to digest plant material to a form the insects can use for their nutrition + +.
Slide 34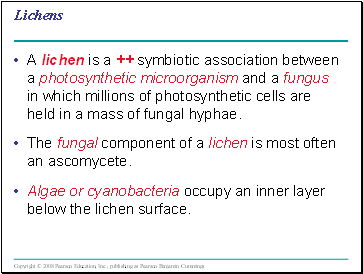 Lichens
A lichen is a ++ symbiotic association between a photosynthetic microorganism and a fungus in which millions of photosynthetic cells are held in a mass of fungal hyphae.
The fungal component of a lichen is most often an ascomycete.
Algae or cyanobacteria occupy an inner layer below the lichen surface.
Slide 35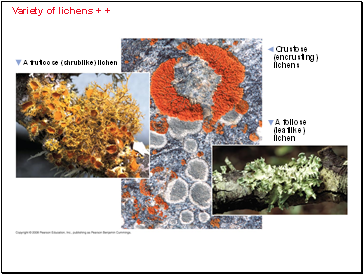 Variety of lichens + +
A foliose
(leaflike)
lichen
A fruticose (shrublike) lichen
Crustose
(encrusting)
lichens
Slide 36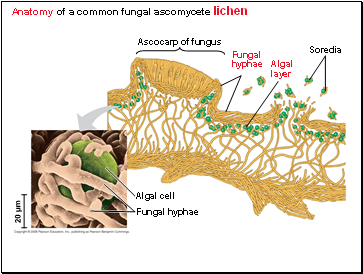 Anatomy of a common fungal ascomycete lichen
Algal cell
Ascocarp of fungus
Soredia
Fungal hyphae
Fungal
hyphae
Algal
layer
20 µm
Slide 37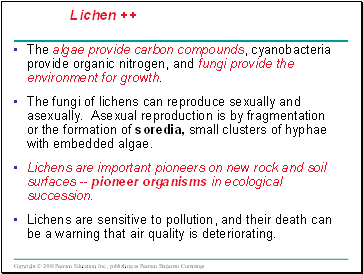 The algae provide carbon compounds, cyanobacteria provide organic nitrogen, and fungi provide the environment for growth.
The fungi of lichens can reproduce sexually and asexually. Asexual reproduction is by fragmentation or the formation of soredia, small clusters of hyphae with embedded algae.
Lichens are important pioneers on new rock and soil surfaces -- pioneer organisms in ecological succession.