Invertebrates
Page
1
Slide 1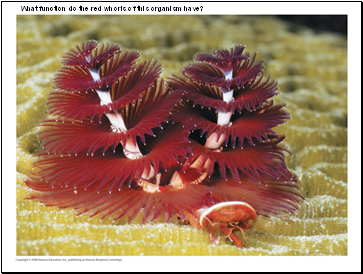 What function do the red whorls of this organism have?
Slide 2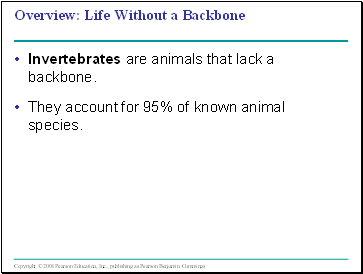 Life Without a Backbone
Invertebrates are animals that lack a backbone.
They account for 95% of known animal species.
Slide 3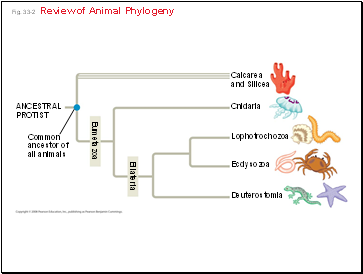 Fig. 33-2 Review of Animal Phylogeny
ANCESTRAL
PROTIST
Common
ancestor of
all animals
Calcarea
and Silicea
Eumetazoa
Bilateria
Cnidaria
Lophotrochozoa
Ecdysozoa
Deuterostomia
Slide 4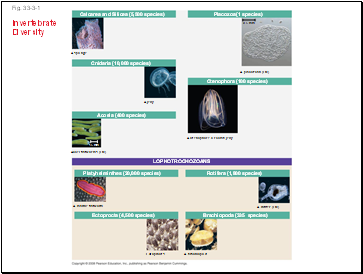 Fig. 33-3-1 Invertebrate Diversity
Calcarea and Silicea (5,500 species)
A sponge
Cnidaria (10,000 species)
A jelly
Acoela (400 species)
Acoel flatworms (LM)
1.5 mm
LOPHOTROCHOZOANS
Platyhelminthes (20,000 species)
A marine flatworm
Ectoprocta (4,500 species)
Ectoprocts
A brachiopod
Brachiopoda (335 species)
Rotifera (1,800 species)
A rotifer (LM)
A ctenophore, or comb jelly
Ctenophora (100 species)
A placozoan (LM)
0.5 mm
Placozoa (1 species)
Slide 5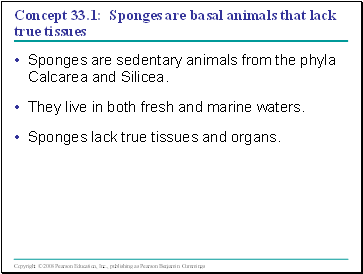 Concept 33.1: Sponges are basal animals that lack true tissues
Sponges are sedentary animals from the phyla Calcarea and Silicea.
They live in both fresh and marine waters.
Sponges lack true tissues and organs.
Slide 6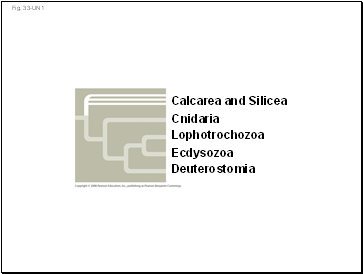 Fig. 33-UN1
Calcarea and Silicea
Cnidaria
Lophotrochozoa
Ecdysozoa
Deuterostomia
Slide 7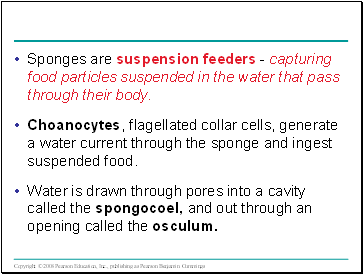 Sponges are suspension feeders - capturing food particles suspended in the water that pass through their body.
Choanocytes, flagellated collar cells, generate a water current through the sponge and ingest suspended food.
Water is drawn through pores into a cavity called the spongocoel, and out through an opening called the osculum.
Slide 8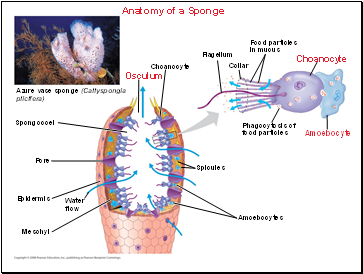 Anatomy of a Sponge
Azure vase sponge (Callyspongia
plicifera)
Spongocoel
Osculum
Pore
Epidermis
Water
flow
Mesohyl
Choanocyte
Flagellum
Collar
Food particles
in mucus
Choanocyte
Amoebocyte
Phagocytosis of
food particles
Spicules
Amoebocytes
Slide 9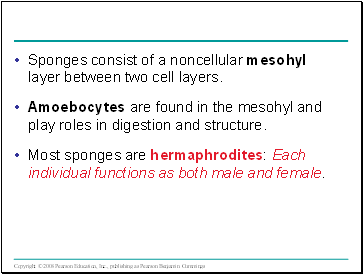 Sponges consist of a noncellular mesohyl layer between two cell layers.
Amoebocytes are found in the mesohyl and play roles in digestion and structure.