The Origin of Species
Page
1
Slide 1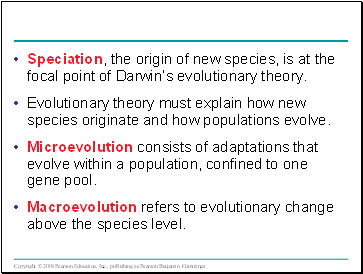 The Origin of Species
Speciation, the origin of new species, is at the focal point of Darwin's evolutionary theory.
Evolutionary theory must explain how new species originate and how populations evolve.
Microevolution consists of adaptations that evolve within a population, confined to one gene pool.
Macroevolution refers to evolutionary change above the species level.
Slide 2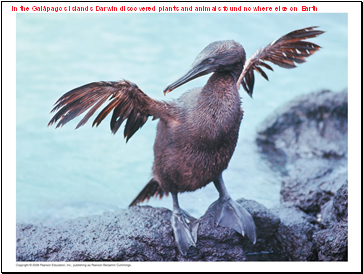 In the Galápagos Islands Darwin discovered plants and animals found nowhere else on Earth
Slide 3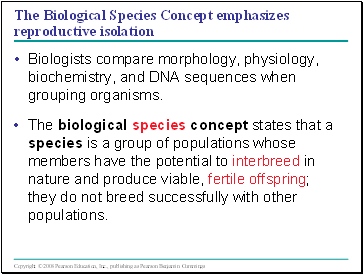 The Biological Species Concept emphasizes reproductive isolation
Biologists compare morphology, physiology, biochemistry, and DNA sequences when grouping organisms.
The biological species concept states that a species is a group of populations whose members have the potential to interbreed in nature and produce viable, fertile offspring; they do not breed successfully with other populations.
Slide 4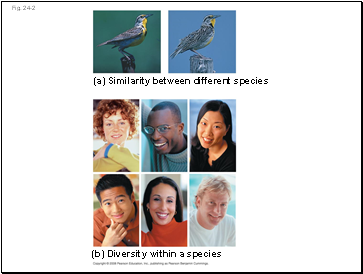 Fig. 24-2
(a) Similarity between different species
(b) Diversity within a species
Slide 5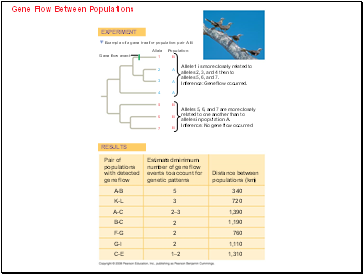 Gene Flow Between Populations
EXPERIMENT
RESULTS
Example of a gene tree for population pair A-B
Allele
Population
Gene flow event
1
B
B
B
B
5
6
7
2
3
4
A
A
A
Allele 1 is more closely related to
alleles 2, 3, and 4 than to
alleles 5, 6, and 7.
Inference: Gene flow occurred.
Alleles 5, 6, and 7 are more closely
related to one another than to
alleles in population A.
Inference: No gene flow occurred.
Pair of
populations
with detected
gene flow
Estimated minimum
number of gene flow
events to account for
genetic patterns
Distance between
populations (km)
A-B
K-L
A-C
B-C
F-G
G-I
C-E
5
3
2–3
2
2
2
1–2
340
720
1,390
1,190
1,110
760
1,310
Slide 6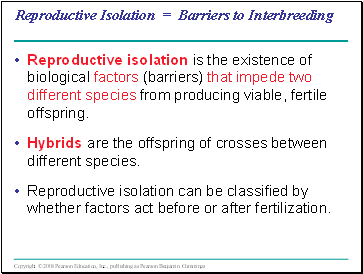 Reproductive Isolation = Barriers to Interbreeding
Reproductive isolation is the existence of biological factors (barriers) that impede two different species from producing viable, fertile offspring.
Hybrids are the offspring of crosses between different species.
Reproductive isolation can be classified by whether factors act before or after fertilization.
Slide 7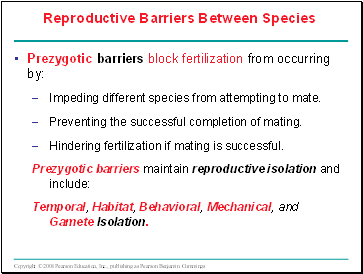 Prezygotic barriers block fertilization from occurring by: