Organic Chemistry
Page
1
Slide 1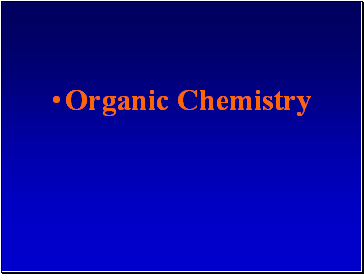 Organic Chemistry
Slide 2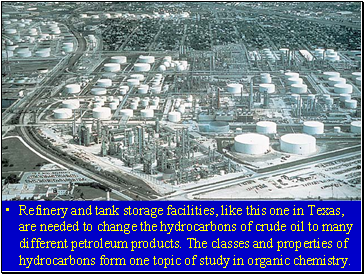 Refinery and tank storage facilities, like this one in Texas, are needed to change the hydrocarbons of crude oil to many different petroleum products. The classes and properties of hydrocarbons form one topic of study in organic chemistry.
Slide 3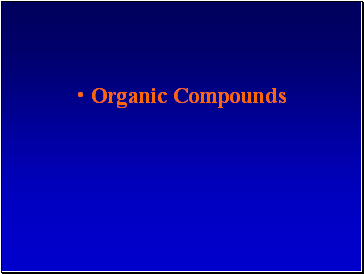 Organic Compounds
Slide 4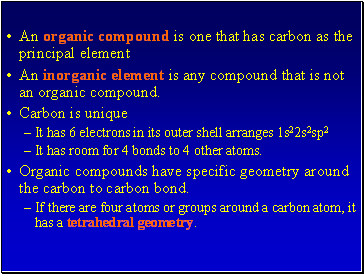 An organic compound is one that has carbon as the principal element
An inorganic element is any compound that is not an organic compound.
Carbon is unique
It has 6 electrons in its outer shell arranges 1s22s2sp2
It has room for 4 bonds to 4 other atoms.
Organic compounds have specific geometry around the carbon to carbon bond.
If there are four atoms or groups around a carbon atom, it has a tetrahedral geometry.
Slide 5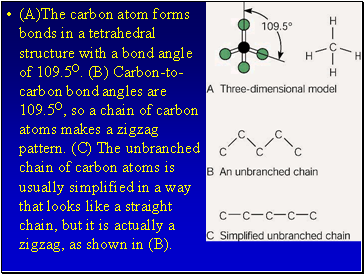 (A)The carbon atom forms bonds in a tetrahedral structure with a bond angle of 109.5O. (B) Carbon-to-carbon bond angles are 109.5O, so a chain of carbon atoms makes a zigzag pattern. (C) The unbranched chain of carbon atoms is usually simplified in a way that looks like a straight chain, but it is actually a zigzag, as shown in (B).
Slide 6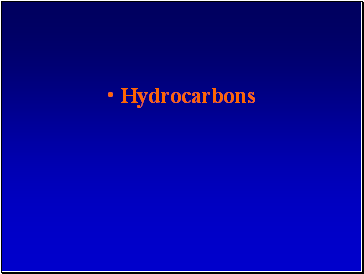 Hydrocarbons
Slide 7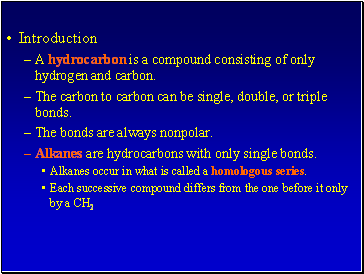 Introduction
A hydrocarbon is a compound consisting of only hydrogen and carbon.
The carbon to carbon can be single, double, or triple bonds.
The bonds are always nonpolar.
Alkanes are hydrocarbons with only single bonds.
Alkanes occur in what is called a homologous series.
Each successive compound differs from the one before it only by a CH2
Slide 8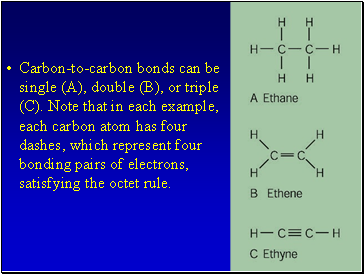 Carbon-to-carbon bonds can be single (A), double (B), or triple (C). Note that in each example, each carbon atom has four dashes, which represent four bonding pairs of electrons, satisfying the octet rule.
Slide 9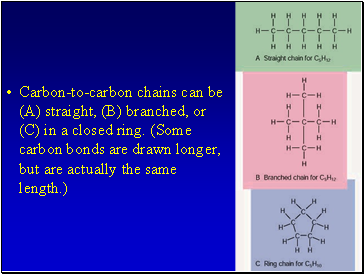 Carbon-to-carbon chains can be (A) straight, (B) branched, or (C) in a closed ring. (Some carbon bonds are drawn longer, but are actually the same length.)
Slide 10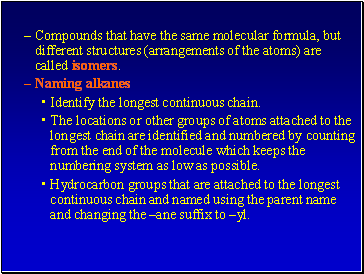 Compounds that have the same molecular formula, but different structures (arrangements of the atoms) are called isomers.
Naming alkanes
Identify the longest continuous chain.