Optics - Filter Properties & manipulation of light in flow cytometry
Page
3
Slide 18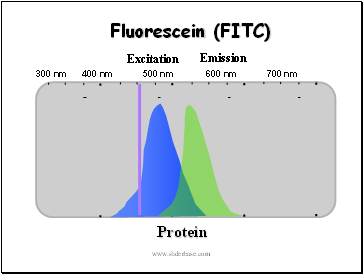 Fluorescein (FITC)
400 nm
500 nm
600 nm
700 nm
Wavelength
Protein
Excitation
Emission
300 nm 400 nm 500 nm 600 nm 700 nm
Slide 19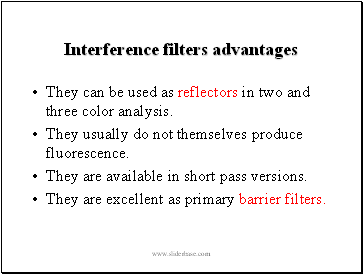 Interference filters advantages
They can be used as reflectors in two and three color analysis.
They usually do not themselves produce fluorescence.
They are available in short pass versions.
They are excellent as primary barrier filters.
Slide 20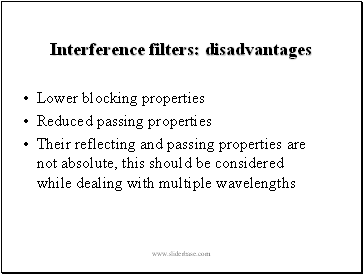 Interference filters: disadvantages
Lower blocking properties
Reduced passing properties
Their reflecting and passing properties are not absolute, this should be considered while dealing with multiple wavelengths
Slide 21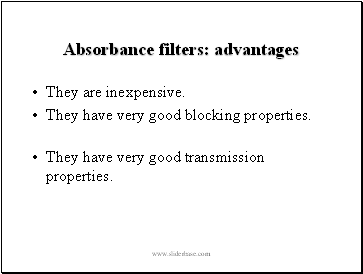 Absorbance filters: advantages
They are inexpensive.
They have very good blocking properties.
They have very good transmission properties.
Slide 22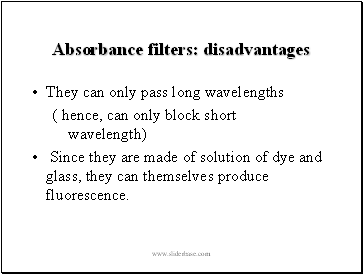 Absorbance filters: disadvantages
They can only pass long wavelengths
( hence, can only block short wavelength)
Since they are made of solution of dye and glass, they can themselves produce fluorescence.
Slide 23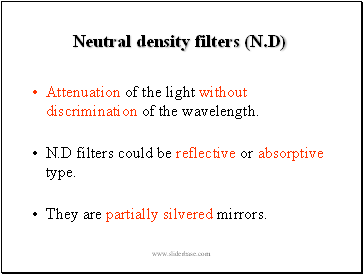 Neutral density filters (N.D)
Attenuation of the light without discrimination of the wavelength.
N.D filters could be reflective or absorptive type.
They are partially silvered mirrors.
Slide 24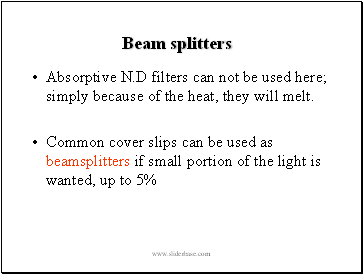 Beam splitters
Absorptive N.D filters can not be used here; simply because of the heat, they will melt.
Common cover slips can be used as beamsplitters if small portion of the light is wanted, up to 5%
Slide 25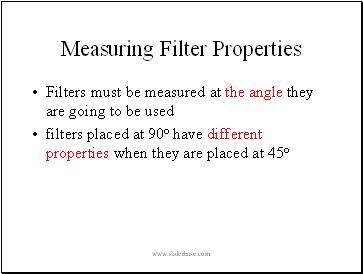 Measuring Filter Properties
Filters must be measured at the angle they are going to be used
filters placed at 90o have different properties when they are placed at 45o
Slide 26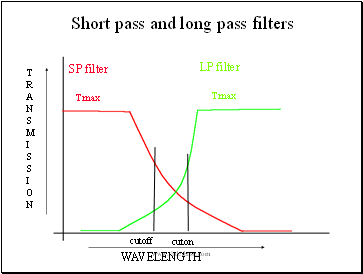 Short pass and long pass filters
T
R
A
N
S
M
I
S
S
I
O
N
WAVELENGTH
SP filter
LP filter
cutoff
cuton
T max
T max
Slide 27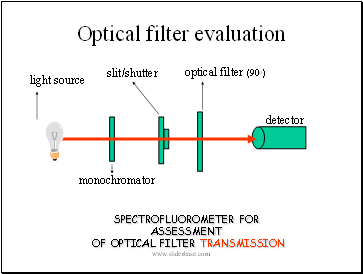 Optical filter evaluation
Slide 28