Light and Telescopes
Page
5
Slide 54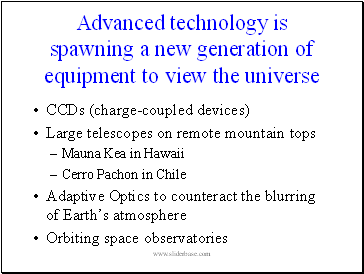 Advanced technology is spawning a new generation of equipment to view the universe
CCDs (charge-coupled devices)
Large telescopes on remote mountain tops
Mauna Kea in Hawaii
Cerro Pachon in Chile
Adaptive Optics to counteract the blurring of Earthís atmosphere
Orbiting space observatories
Slide 55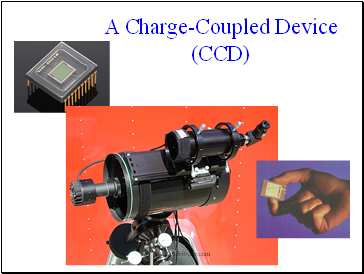 A Charge-Coupled Device (CCD)
Slide 56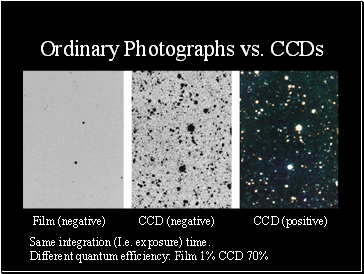 Ordinary Photographs vs. CCDs
Film (negative) CCD (negative) CCD (positive)
Same integration (I.e. exposure) time.
Different quantum efficiency: Film 1% CCD 70%
Slide 57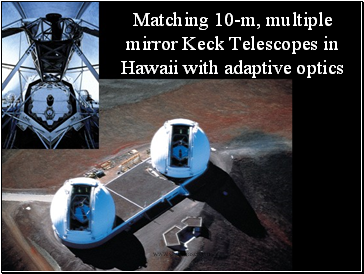 Matching 10-m, multiple mirror Keck Telescopes in Hawaii with adaptive optics
Slide 58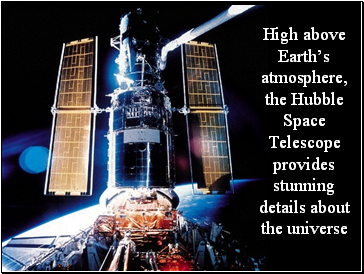 High above Earthís atmosphere, the Hubble Space Telescope provides stunning details about the universe
Slide 59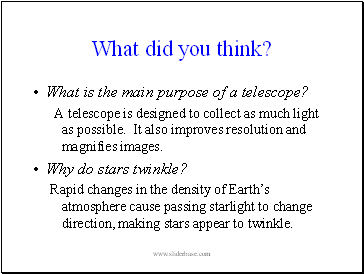 What did you think?
What is the main purpose of a telescope?
A telescope is designed to collect as much light as possible. It also improves resolution and magnifies images.
Why do stars twinkle?
Rapid changes in the density of Earthís atmosphere cause passing starlight to change direction, making stars appear to twinkle.