The Milky Way Galaxy
Page
1
Slide 1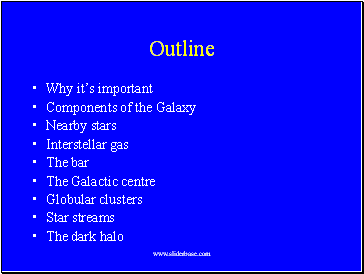 Outline
Why itís important
Components of the Galaxy
Nearby stars
Interstellar gas
The bar
The Galactic centre
Globular clusters
Star streams
The dark halo
Slide 2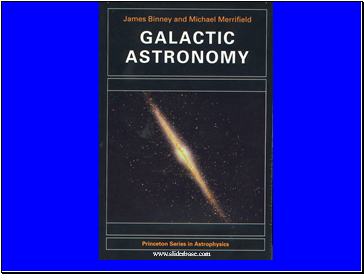 Slide 3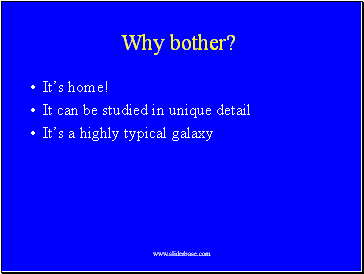 Why bother?
Itís home!
It can be studied in unique detail
Itís a highly typical galaxy
Slide 4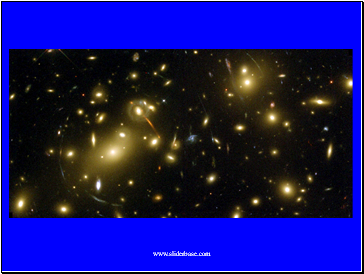 Slide 5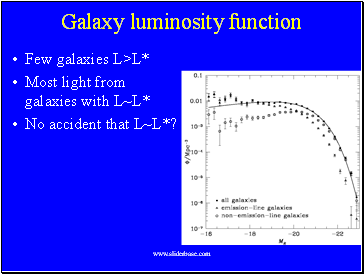 Galaxy luminosity function
Few galaxies L>L*
Most light from galaxies with L~L*
No accident that L~L*?
Slide 6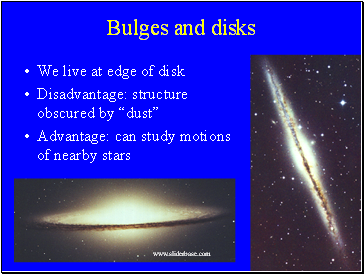 Bulges and disks
We live at edge of disk
Disadvantage: structure obscured by ďdustĒ
Advantage: can study motions of nearby stars
Slide 7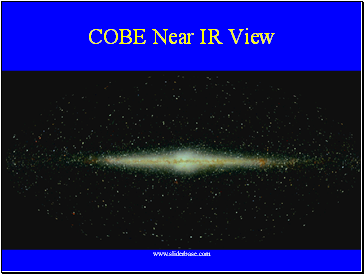 COBE Near IR View
Slide 8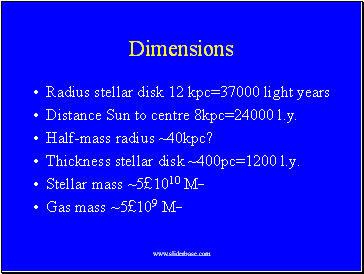 Dimensions
Radius stellar disk 12 kpc=37000 light years
Distance Sun to centre 8kpc=24000 l.y.
Half-mass radius ~40kpc?
Thickness stellar disk ~400pc=1200 l.y.
Stellar mass ~5£1010 M¯
Gas mass ~5£109 M¯
Slide 9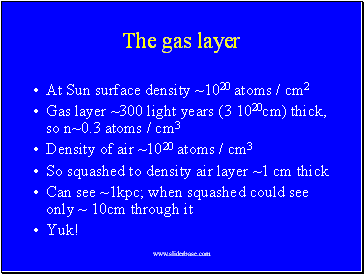 The gas layer
At Sun surface density ~1020 atoms / cm2
Gas layer ~300 light years (3 1020cm) thick, so n~0.3 atoms / cm3
Density of air ~1020 atoms / cm3
So squashed to density air layer ~1 cm thick
Can see ~1kpc; when squashed could see only ~ 10cm through it
Yuk!
Slide 10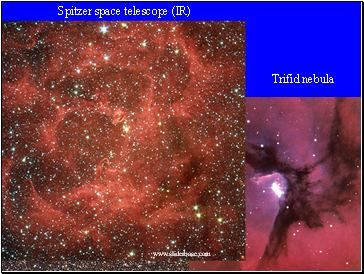 Star formation
Stars form at rate few / yr
Trifid nebula
Spitzer space telescope (IR)
Slide 11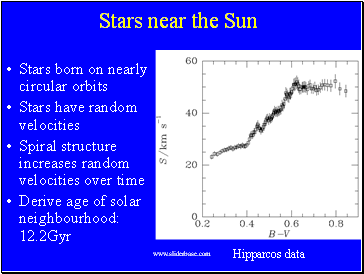 Stars near the Sun
Stars born on nearly circular orbits
Stars have random velocities
Spiral structure increases random velocities over time
Derive age of solar neighbourhood: 12.2Gyr
Hipparcos data
Slide 12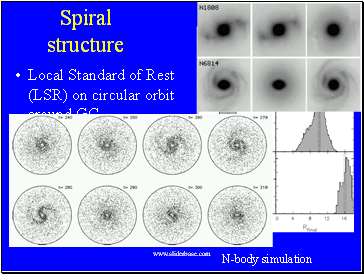 Spiral structure
Local Standard of Rest (LSR) on circular orbit around GC
Shifts stars radially
Sun may have shifted ~2kpc
N-body simulation
Slide 13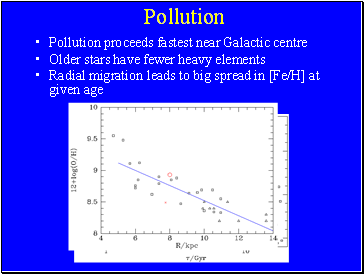 Pollution