Greek Gods
Page
1
Slide 1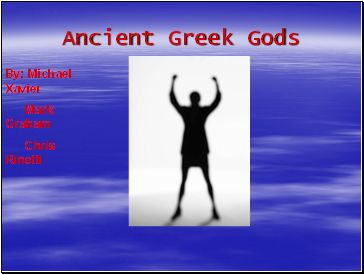 Ancient Greek Gods
By: Michael Xavier
Mark Graham
Chris Rinetti
Slide 2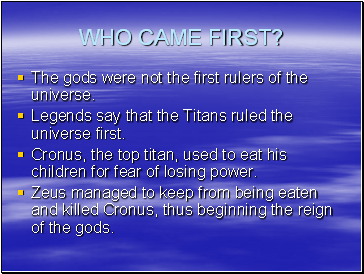 Who came first?
The gods were not the first rulers of the universe.
Legends say that the Titans ruled the universe first.
Cronus, the top titan, used to eat his children for fear of losing power.
Zeus managed to keep from being eaten and killed Cronus, thus beginning the reign of the gods.
Slide 3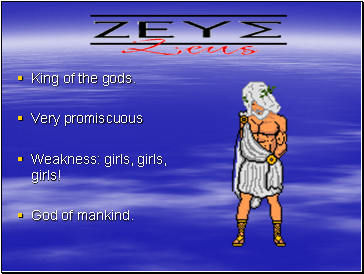 Zeus
King of the gods.
Very promiscuous
Weakness: girls, girls, girls!
God of mankind.
Slide 4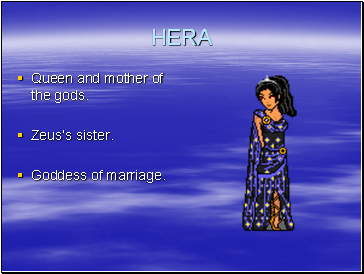 Hera
Queen and mother of the gods.
Zeusís sister.
Goddess of marriage.
Slide 5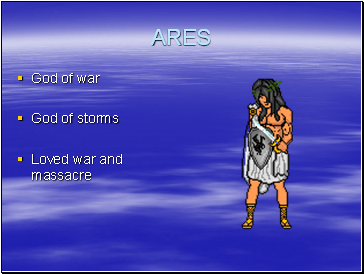 Ares
God of war
God of storms
Loved war and massacre
Slide 6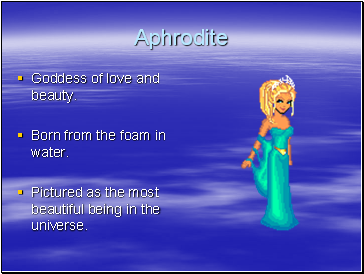 Aphrodite
Goddess of love and beauty.
Born from the foam in water.
Pictured as the most beautiful being in the universe.
Slide 7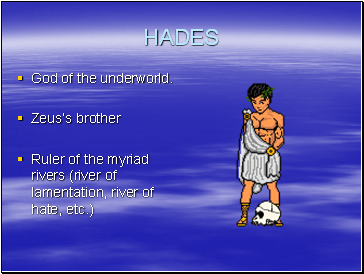 Hades
God of the underworld.
Zeusís brother
Ruler of the myriad rivers (river of lamentation, river of hate, etc.)
Slide 8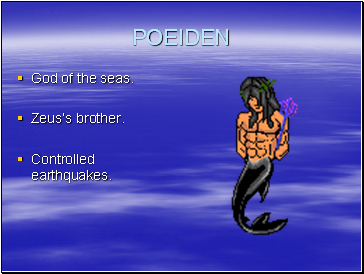 Poeiden
God of the seas.
Zeusís brother.
Controlled earthquakes.
Slide 9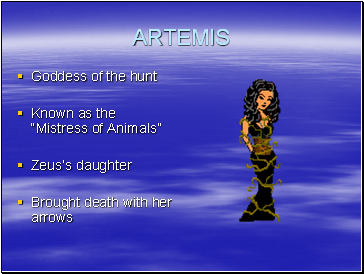 Artemis
Goddess of the hunt
Known as the ďMistress of AnimalsĒ
Zeusís daughter
Brought death with her arrows
Slide 10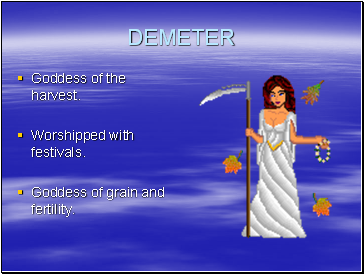 Demeter
Goddess of the harvest.
Worshipped with festivals.
Goddess of grain and fertility.
Slide 11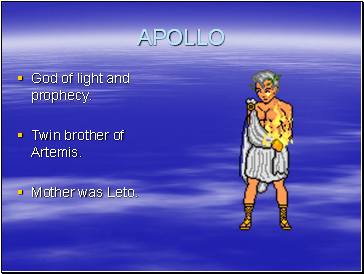 Apollo
God of light and prophecy.
Twin brother of Artemis.
Mother was Leto.
Slide 12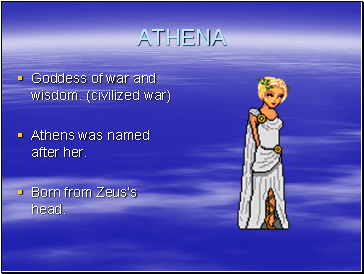 Athena
Goddess of war and wisdom. (civilized war)
Athens was named after her.
Born from Zeusís head.