Banneker Blast From The Past
Page
1
Slide 1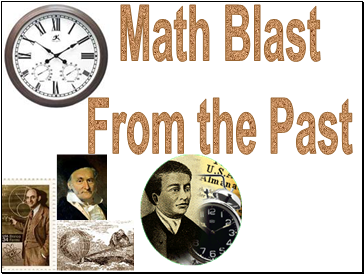 Math Blast
From the Past
Slide 2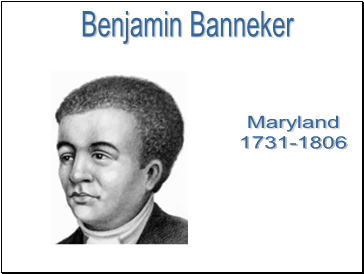 Benjamin Banneker
Maryland
1731-1806
Slide 3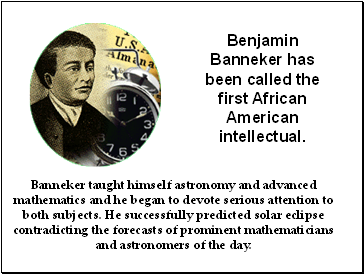 Banneker taught himself astronomy and advanced mathematics and he began to devote serious attention to both subjects. He successfully predicted solar eclipse contradicting the forecasts of prominent mathematicians and astronomers of the day.
Benjamin Banneker has been called the first African American intellectual.
Slide 4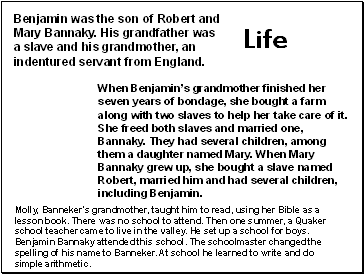 Life
Benjamin was the son of Robert and Mary Bannaky. His grandfather was a slave and his grandmother, an indentured servant from England.
When Benjamin's grandmother finished her seven years of bondage, she bought a farm along with two slaves to help her take care of it. She freed both slaves and married one, Bannaky. They had several children, among them a daughter named Mary. When Mary Bannaky grew up, she bought a slave named Robert, married him and had several children, including Benjamin.
Molly, Banneker's grandmother, taught him to read, using her Bible as a lesson book. There was no school to attend. Then one summer, a Quaker school teacher came to live in the valley. He set up a school for boys. Benjamin Bannaky attended this school. The schoolmaster changed the spelling of his name to Banneker. At school he learned to write and do simple arithetic.
Slide 5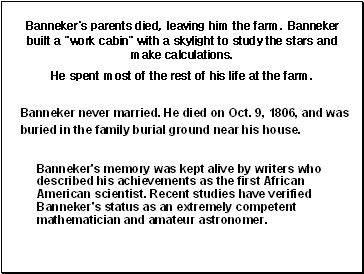 Banneker's parents died, leaving him the farm. Banneker built a "work cabin" with a skylight to study the stars and make calculations. He spent most of the rest of his life at the farm.
Banneker's memory was kept alive by writers who described his achievements as the first African American scientist. Recent studies have verified Banneker's status as an extremely competent mathematician and amateur astronomer.
Banneker never married. He died on Oct. 9, 1806, and was
buried in the family burial ground near his house.
Slide 6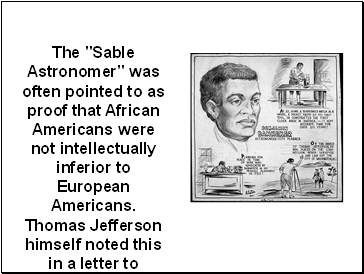 The "Sable Astronomer" was often pointed to as proof that African Americans were not intellectually inferior to European Americans. Thomas Jefferson himself noted this in a letter to Banneker.
Slide 7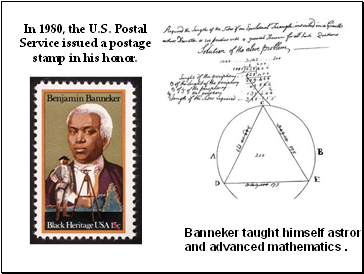 In 1980, the U.S. Postal
Service issued a postage
stamp in his honor.
Banneker taught himself astronomy
and advanced mathematics .
Slide 8