Crime and Deviance
Page
1
Slide 1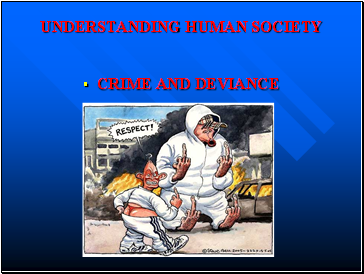 UNDERSTANDING HUMAN SOCIETY
CRIME AND DEVIANCE
Slide 2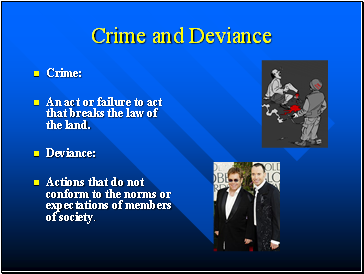 Crime and Deviance
Crime:
An act or failure to act that breaks the law of the land.
Deviance:
Actions that do not conform to the norms or expectations of members of society.
Slide 3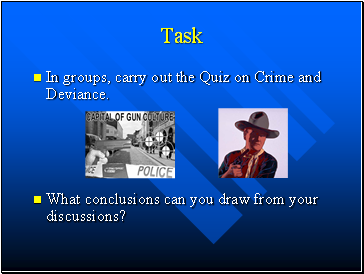 Task
In groups, carry out the Quiz on Crime and Deviance.
What conclusions can you draw from your discussions?
Slide 4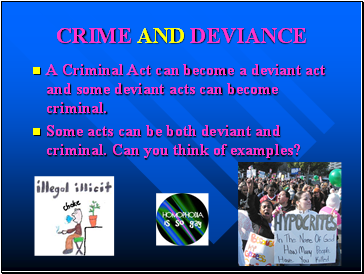 Crime and deviance
A Criminal Act can become a deviant act and some deviant acts can become criminal.
Some acts can be both deviant and criminal. Can you think of examples?
Slide 5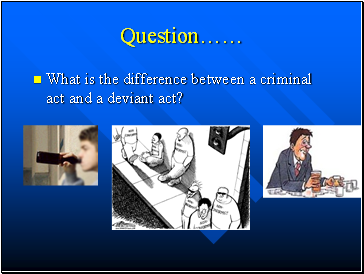 Question……
What is the difference between a criminal act and a deviant act?
Slide 6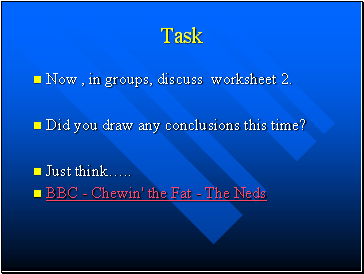 Task
Now , in groups, discuss worksheet 2.
Did you draw any conclusions this time?
Just think…
BBC - Chewin' the Fat - The Neds
Slide 7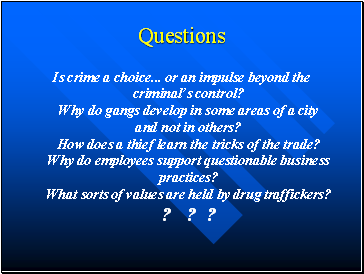 Questions
Is crime a choice . or an impulse beyond the criminal's control? Why do gangs develop in some areas of a city and not in others? How does a thief learn the tricks of the trade? Why do employees support questionable business practices? What sorts of values are held by drug traffickers? ? ? ?
Slide 8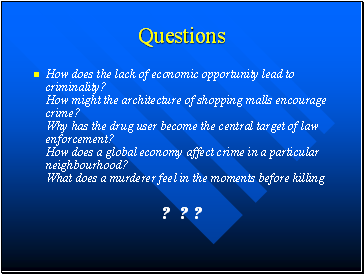 Questions
How does the lack of economic opportunity lead to criminality? How might the architecture of shopping malls encourage crime? Why has the drug user become the central target of law enforcement? How does a global economy affect crime in a particular neighbourhood? What does a murderer feel in the moments before killing
? ? ?
Slide 9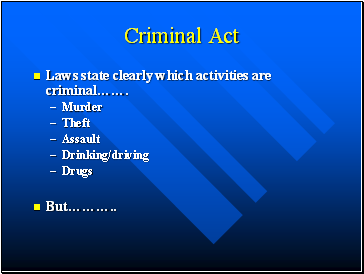 Criminal Act
Laws state clearly which activities are criminal…….
Murder
Theft
Assault
Drinking/driving
Drugs
But………
Slide 10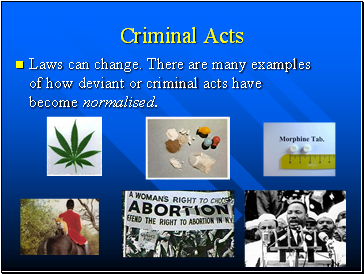 Criminal Acts
Laws can change. There are many examples of how deviant or criminal acts have become normalised.
Slide 11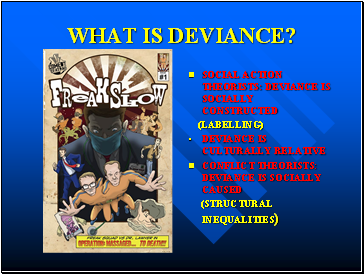 What is deviance?
SOCIAL ACTION THEORISTS: DEVIANCE IS SOCIALLY CONSTRUCTED
(LABELLING)
DEVIANCE IS CULTURALLY RELATIVE
CONFLICT THEORISTS: DEVIANCE IS SOCIALLY CAUSED