Acids and alkalis
Page
2
The most recognisable and common weak alkali is ammonia.
Slide 10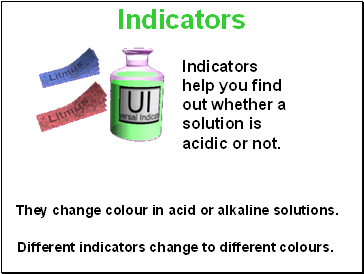 Indicators
They change colour in acid or alkaline solutions.
Different indicators change to different colours.
Indicators help you find out whether a solution is acidic or not.
Slide 11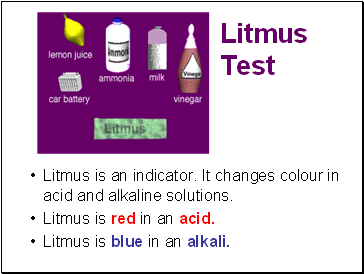 Litmus Test
Litmus is an indicator. It changes colour in acid and alkaline solutions.
Litmus is red in an acid.
Litmus is blue in an alkali.
Slide 12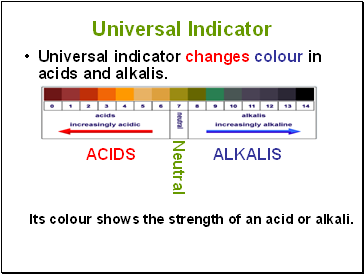 Universal Indicator
Universal indicator changes colour in acids and alkalis.
Its colour shows the strength of an acid or alkali.
ACIDS
ALKALIS
Neutral
Slide 13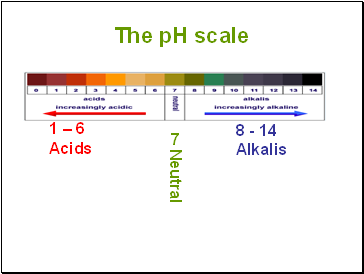 The pH scale
1 – 6
8 - 14
Alkalis
7
Neutral
Acids
Slide 14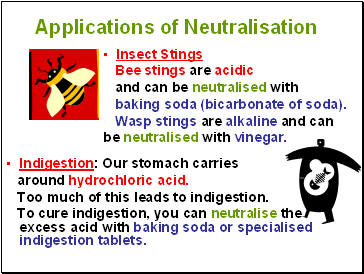 Applications of Neutralisation
Indigestion: Our stomach carries
around hydrochloric acid.
Too much of this leads to indigestion.
To cure indigestion, you can neutralise the excess acid with baking soda or specialised indigestion tablets.
Insect Stings
Bee stings are acidic
and can be neutralised with
baking soda (bicarbonate of soda).
Wasp stings are alkaline and can be neutralised with vinegar.
Slide 15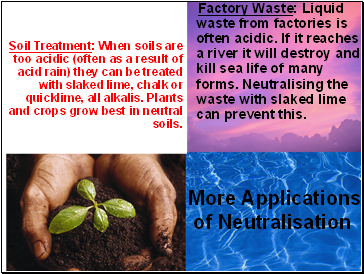 More Applications of Neutralisation
Factory Waste: Liquid waste from factories is often acidic. If it reaches a river it will destroy and kill sea life of many forms. Neutralising the waste with slaked lime can prevent this.
Soil Treatment: When soils are too acidic (often as a result of acid rain) they can be treated with slaked lime, chalk or quicklime, all alkalis. Plants and crops grow best in neutral soils.