Feminism- Cure or Curse
Page
2
Malala Yousufzai Factor (Pakistan)
Slide 11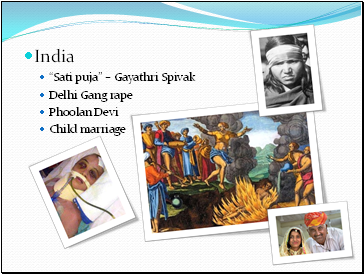 India
"Sati puja" – Gayathri Spivak
Delhi Gang rape
Phoolan Devi
Child marriage
Slide 12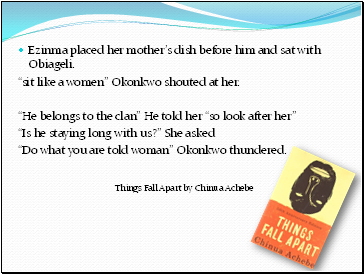 Ezinma placed her mother's dish before him and sat with Obiageli.
"sit like a women" Okonkwo shouted at her.
"He belongs to the clan" He told her "so look after her"
"Is he staying long with us?" She asked
"Do what you are told woman" Okonkwo thundered.
Things Fall Apart by Chinua Achebe
Slide 13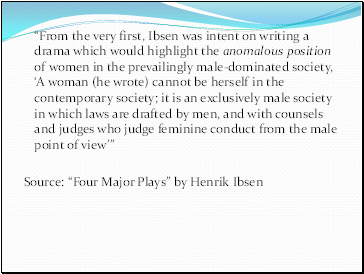 "From the very first, Ibsen was intent on writing a drama which would highlight the anomalous position of women in the prevailingly male-dominated society, 'A woman (he wrote) cannot be herself in the contemporary society; it is an exclusively male society in which laws are drafted by men, and with counsels and judges who judge feminine conduct from the male point of view'"
Source: "Four Major Plays" by Henrik Ibsen
Slide 14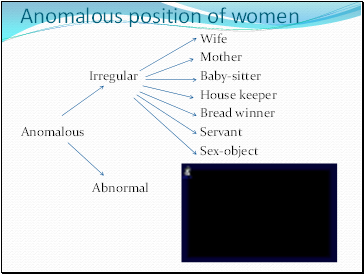 Anomalous position of women
Wife
Mother
Irregular Baby-sitter
House keeper
Bread winner
Anomalous Servant
Sex-object
Abnormal
Slide 15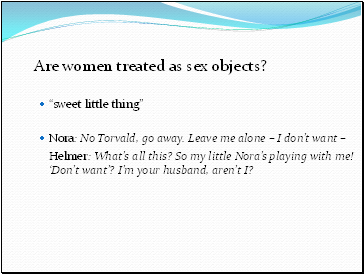 Are women treated as sex objects?
"sweet little thing"
Nora: No Torvald, go away. Leave me alone – I don't want –
Helmer: What's all this? So my little Nora's playing with me! 'Don't want'? I'm your husband, aren't I?
Slide 16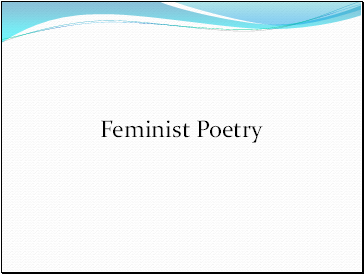 Feminist Poetry
Slide 17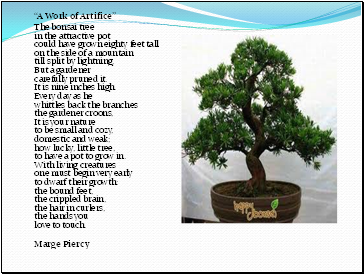 "A Work of Artifice"
The bonsai tree in the attractive pot could have grown eighty feet tall on the side of a mountain till split by lightning. But a gardener carefully pruned it. It is nine inches high. Every day as he whittles back the branches the gardener croons, It is your nature to be small and cozy, domestic and weak; how lucky, little tree, to have a pot to grow in. With living creatures one must begin very early to dwarf their growth: the bound feet, the crippled brain, the hair in curlers, the hands you love to touch.
Marge Piercy
Slide 18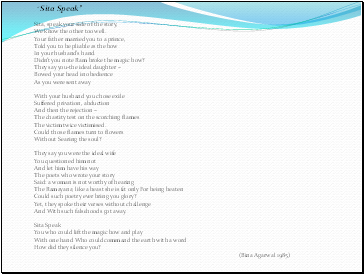 " Sita Speak"
Sita, speak your side of the story, We know the other too well. Your father married you to a prince, Told you to be pliable as the bow In your husband's hand. Didn't you note Ram broke the magic bow? They say you-the ideal daughter – Bowed your head in obedience As you were sent away