General Studies. What good are the arts
Page
2
2. Does a book provide better value for money?
3. Are books more accessible?
4. Is painting more immediate?
5. Is sculpture more accessible?
Give a response and supporting statement
Slide 11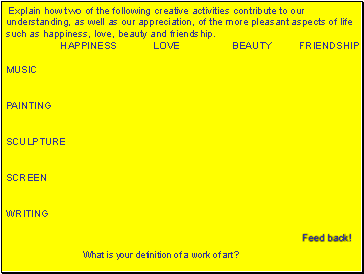 Explain how two of the following creative activities contribute to our understanding, as well as our appreciation, of the more pleasant aspects of life such as happiness, love, beauty and friendship.
HAPPINESS LOVE BEAUTY FRIENDSHIP
MUSIC
PAINTING
SCULPTURE
SCREEN
WRITING
Feed back!
What is your definition of a work of art?
Slide 12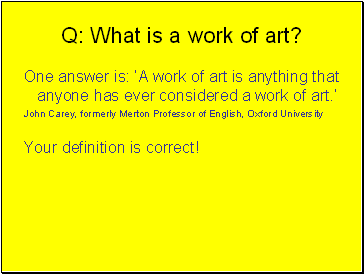 Q: What is a work of art?
One answer is: 'A work of art is anything that anyone has ever considered a work of art.'
John Carey, formerly Merton Professor of English, Oxford University
Your definition is correct!