Character Education Self-discipline
Page
2
control, and courageous by performing
acts of courage."
-Aristotle
Slide 15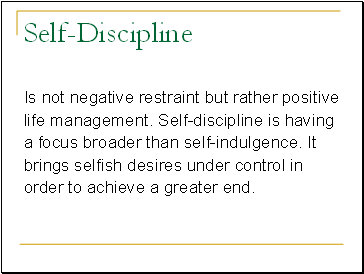 Self-Discipline
Is not negative restraint but rather positive
life management. Self-discipline is having
a focus broader than self-indulgence. It
brings selfish desires under control in
order to achieve a greater end.
Slide 16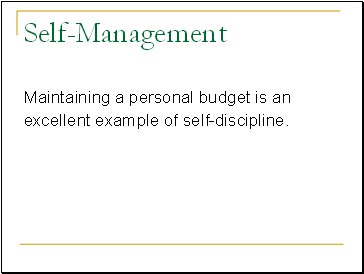 Self-Management
Maintaining a personal budget is an
excellent example of self-discipline.
Slide 17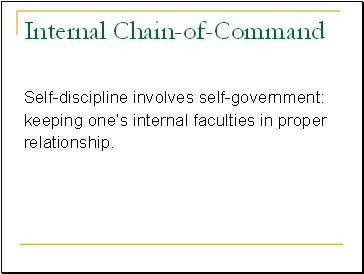 Internal Chain-of-Command
Self-discipline involves self-government:
keeping one's internal faculties in proper
relationship.
Slide 18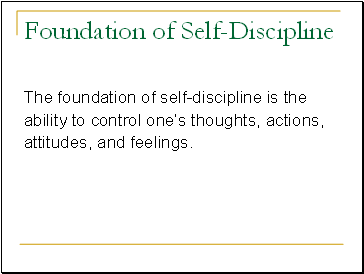 Foundation of Self-Discipline
The foundation of self-discipline is the
ability to control one's thoughts, actions,
attitudes, and feelings.
Slide 19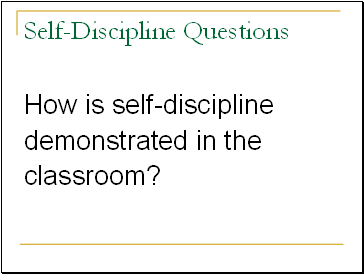 Self-Discipline Questions
How is self-discipline
demonstrated in the
classroom?
Slide 20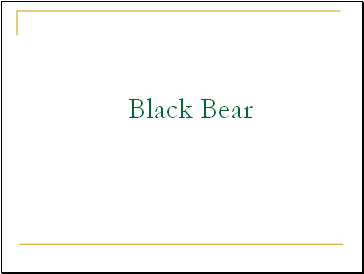 Black Bear
Slide 21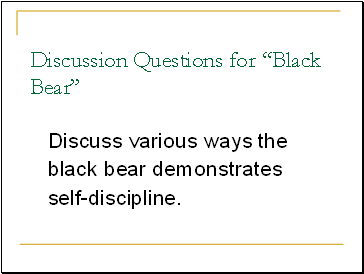 Discussion Questions for "Black Bear"
Discuss various ways the
black bear demonstrates
self-discipline.
Slide 22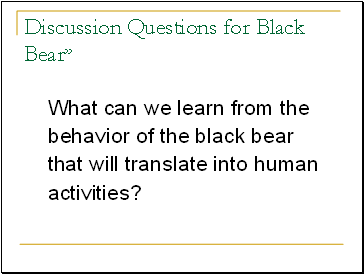 Discussion Questions for Black Bear"
What can we learn from the
behavior of the black bear
that will translate into human
activities?
Slide 23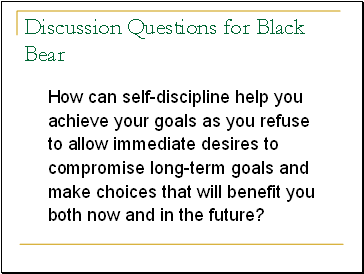 Discussion Questions for Black Bear
How can self-discipline help you
achieve your goals as you refuse
to allow immediate desires to
compromise long-term goals and
make choices that will benefit you
both now and in the future?
Slide 24

Slide 25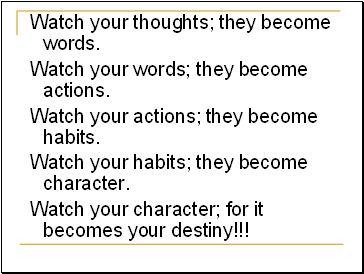 Watch your thoughts; they become words.
Watch your words; they become actions.
Watch your actions; they become habits.
Watch your habits; they become character.
Watch your character; for it becomes your destiny!!!
Slide 26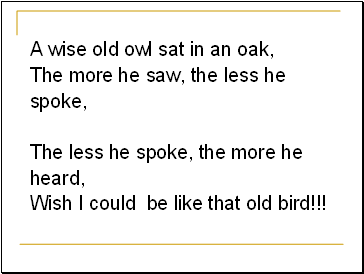 A wise old owl sat in an oak,
The more he saw, the less he
spoke,
The less he spoke, the more he
heard,
Wish I could be like that old bird!!!