Exam paper- English GCSE paper2
Page
2
Slide 11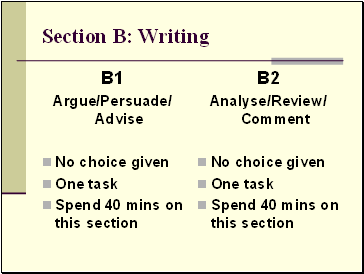 Section B: Writing
B1
Argue/Persuade/ Advise
No choice given
One task
Spend 40 mins on this section
B2
Analyse/Review/ Comment
No choice given
One task
Spend 40 mins on this section
Slide 12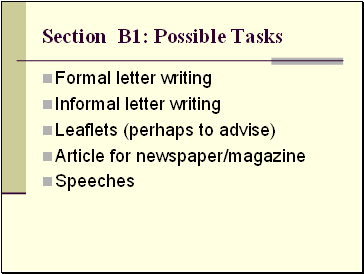 Section B1: Possible Tasks
Formal letter writing
Informal letter writing
Leaflets (perhaps to advise)
Article for newspaper/magazine
Speeches
Slide 13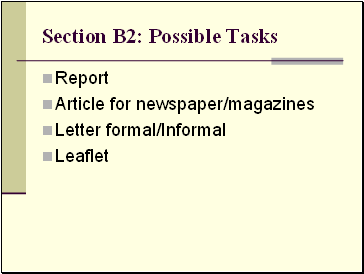 Section B2: Possible Tasks
Report
Article for newspaper/magazines
Letter formal/Informal
Leaflet
Slide 14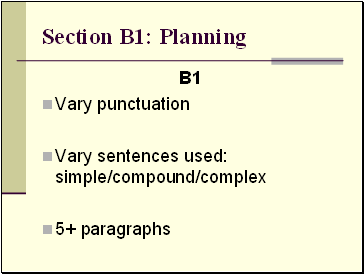 Section B1: Planning
B1
Vary punctuation
Vary sentences used: simple/compound/complex
5+ paragraphs
Slide 15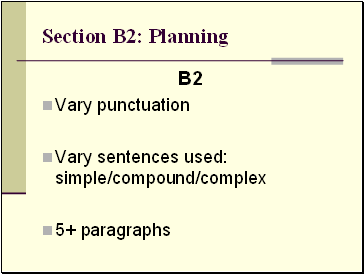 Section B2: Planning
B2
Vary punctuation
Vary sentences used: simple/compound/complex
5+ paragraphs
Slide 16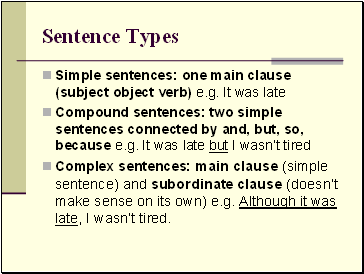 Sentence Types
Simple sentences: one main clause (subject object verb) e.g. It was late
Compound sentences: two simple sentences connected by and, but, so, because e.g. It was late but I wasnít tired
Complex sentences: main clause (simple sentence) and subordinate clause (doesnít make sense on its own) e.g. Although it was late, I wasnít tired.
Slide 17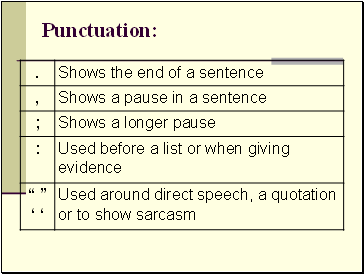 Punctuation
Slide 18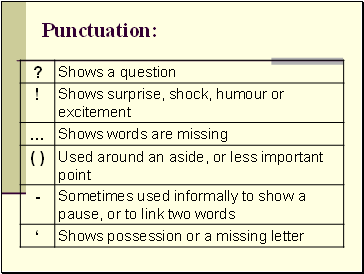 Punctuation:
Slide 19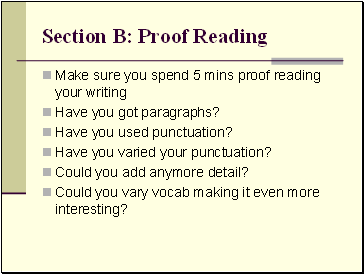 Section B: Proof Reading
Make sure you spend 5 mins proof reading your writing
Have you got paragraphs?
Have you used punctuation?
Have you varied your punctuation?
Could you add anymore detail?
Could you vary vocab making it even more interesting?
Slide 20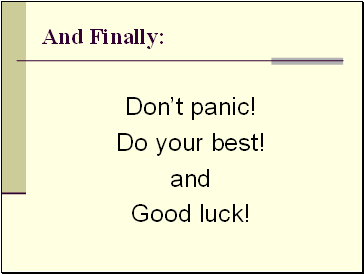 And Finally:
Donít panic!
Do your best!
and
Good luck!