Exam paper- English SATS writing
Page
1
Slide 1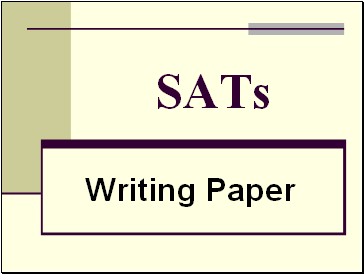 SATs
Writing Paper
Slide 2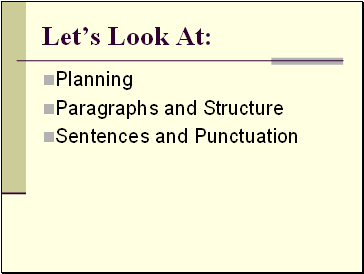 Let's Look At:
Planning
Paragraphs and Structure
Sentences and Punctuation
Slide 3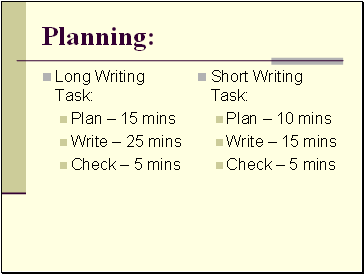 Planning
Long Writing Task:
Plan – 15 mins
Write – 25 mins
Check – 5 mins
Short Writing Task:
Plan – 10 mins
Write – 15 mins
Check – 5 mins
Slide 4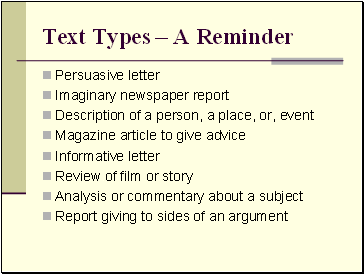 Text Types – A Reminder
Persuasive letter
Imaginary newspaper report
Description of a person, a place, or, event
Magazine article to give advice
Informative letter
Review of film or story
Analysis or commentary about a subject
Report giving to sides of an argument
Slide 5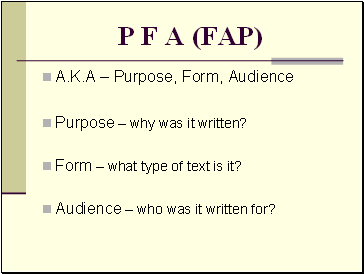 P F A (FAP)
A.K.A – Purpose, Form, Audience
Purpose – why was it written?
Form – what type of text is it?
Audience – who was it written for?
Slide 6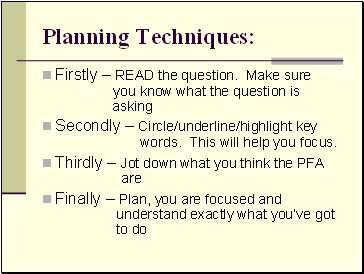 Planning Techniques
Firstly – READ the question. Make sure you know what the question is asking
Secondly – Circle/underline/highlight key words. This will help you focus.
Thirdly – Jot down what you think the PFA are
Finally – Plan, you are focused and understand exactly what you've got to do
Slide 7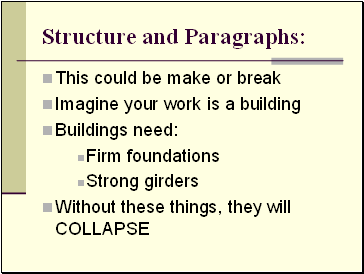 Structure and Paragraphs
This could be make or break
Imagine your work is a building
Buildings need:
Firm foundations
Strong girders
Without these things, they will COLLAPSE
Slide 8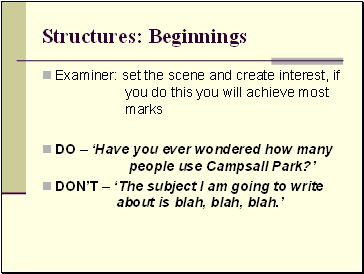 Structures: Beginnings
Examiner: set the scene and create interest, if you do this you will achieve most marks
DO – 'Have you ever wondered how many people use Campsall Park?'
DON'T – 'The subject I am going to write about is blah, blah, blah.'
Slide 9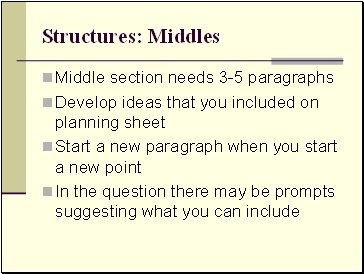 Structures: Middles
Middle section needs 3-5 paragraphs
Develop ideas that you included on planning sheet
Start a new paragraph when you start a new point
In the question there may be prompts suggesting what you can include
Slide 10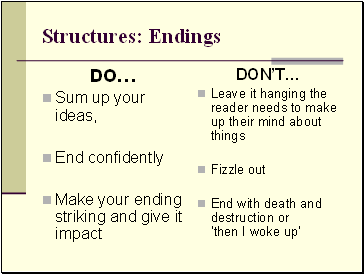 Structures: Endings
DO…
Sum up your ideas,
End confidently
Make your ending striking and give it impact
DON'T…
Leave it hanging the reader needs to make up their mind about things