Exam paper- English SATS writing
Page
2
Fizzle out
End with death and destruction or 'then I woke up'
Slide 11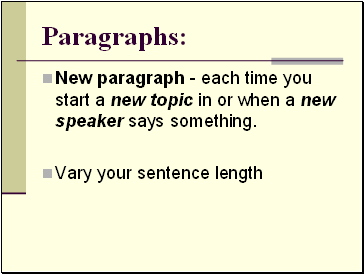 Paragraphs
New paragraph - each time you start a new topic in or when a new speaker says something.
Vary your sentence length
Slide 12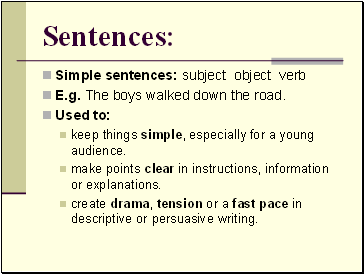 Sentences
Simple sentences: subject object verb
E.g. The boys walked down the road.
Used to:
keep things simple, especially for a young audience.
make points clear in instructions, information or explanations.
create drama, tension or a fast pace in descriptive or persuasive writing.
Slide 13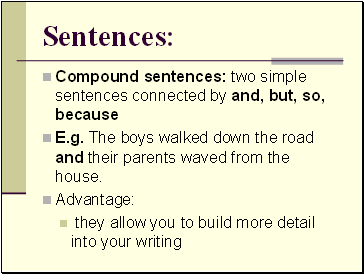 Sentences
Compound sentences: two simple sentences connected by and, but, so, because
E.g. The boys walked down the road and their parents waved from the house.
Advantage:
they allow you to build more detail into your writing
Slide 14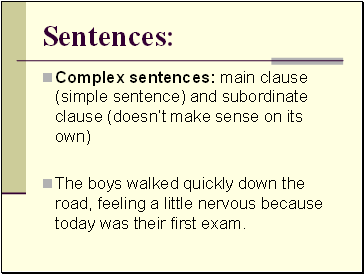 Sentences:
Complex sentences: main clause (simple sentence) and subordinate clause (doesn't make sense on its own)
The boys walked quickly down the road, feeling a little nervous because today was their first exam.
Slide 15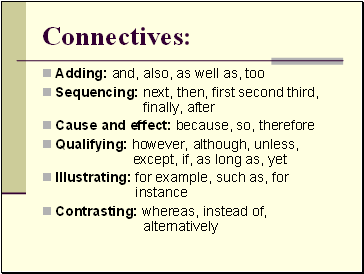 Connectives
Adding: and, also, as well as, too
Sequencing: next, then, first second third, finally, after
Cause and effect: because, so, therefore
Qualifying: however, although, unless, except, if, as long as, yet
Illustrating: for example, such as, for instance
Contrasting: whereas, instead of, alternatively
Slide 16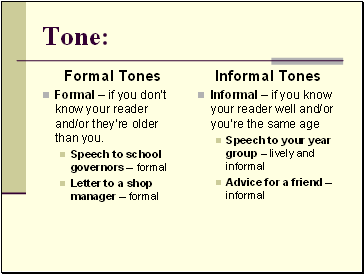 Tone
Formal Tones
Formal – if you don't know your reader and/or they're older than you.
Speech to school governors – formal
Letter to a shop manager – formal
Informal Tones
Informal – if you know your reader well and/or you're the same age
Speech to your year group – lively and informal
Advice for a friend – informal
Slide 17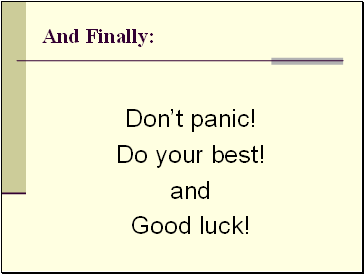 And Finally:
Don't panic!
Do your best!
and
Good luck!