Simple Verb Tenses
Page
3
It _closes _at 9:00 in the evening.
Bad driving causes many accidents.
My parents lives in a very small flat.
The Olympic Games take _ place every four years.
They are good students. They always _do _ their homework.
My students speak a little English.
Slide 14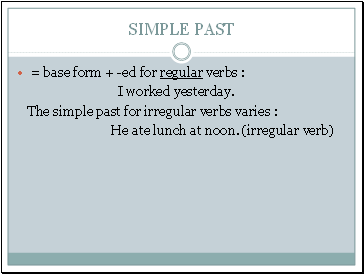 Simple past
= base form + -ed for regular verbs :
I worked yesterday.
The simple past for irregular verbs varies :
He ate lunch at noon. (irregular verb)
Slide 15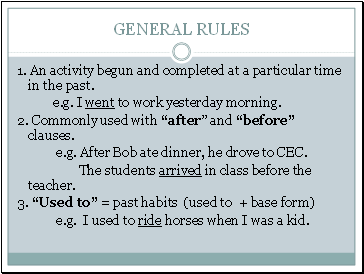 General rules
1. An activity begun and completed at a particular time in the past.
e.g. I went to work yesterday morning.
2. Commonly used with "after" and "before" clauses.
e.g. After Bob ate dinner, he drove to CEC.
The students arrived in class before the teacher.
3. "Used to" = past habits (used to + base form)
e.g. I used to ride horses when I was a kid.
Slide 16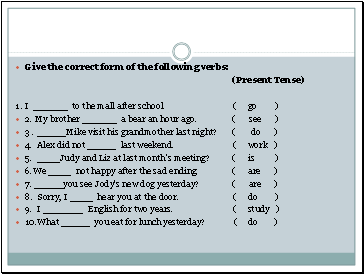 Give the correct form of the following verbs:
(Present Tense)
1 . I to the mall after school. ( go )
2. My brother a bear an hour ago. ( see )
3 . _Mike visit his grandmother last night? ( do )
4. Alex did not _ last weekend. ( work )
5. Judy and Liz at last month's meeting? ( is )
6.We not happy after the sad ending. ( are )
7. _you see Jody's new dog yesterday? ( are )
8. Sorry, I hear you at the door. ( do )
9. I _ English for two years. ( study )
10.What _ you eat for lunch yesterday? ( do )
Slide 17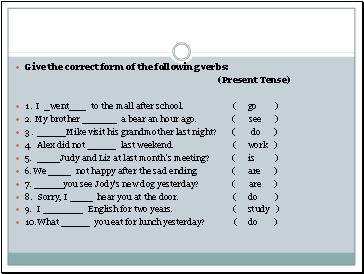 Give the correct form of the following verbs:
(Present Tense)
1 . I _went _ to the mall after school. ( go )
2. My brother a bear an hour ago. ( see )
3 . _Mike visit his grandmother last night? ( do )
4. Alex did not _ last weekend. ( work )
5. Judy and Liz at last month's meeting? ( is )
6.We not happy after the sad ending. ( are )
7. _you see Jody's new dog yesterday? ( are )
8. Sorry, I hear you at the door. ( do )
9. I _ English for two years. ( study )
10.What _ you eat for lunch yesterday? ( do )
Slide 18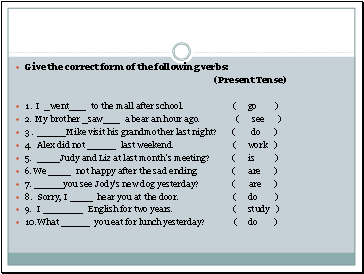 Give the correct form of the following verbs:
(Present Tense)
1 . I _went _ to the mall after school. ( go )
2. My brother _saw _ a bear an hour ago. ( see )
3 . _Mike visit his grandmother last night? ( do )
4. Alex did not _ last weekend. ( work )
5. Judy and Liz at last month's meeting? ( is )
6.We not happy after the sad ending. ( are )
7. _you see Jody's new dog yesterday? ( are )
8. Sorry, I hear you at the door. ( do )
9. I _ English for two years. ( study )
10.What _ you eat for lunch yesterday? ( do )