Of Mice and Men. Themes-violence
Page
1
Slide 1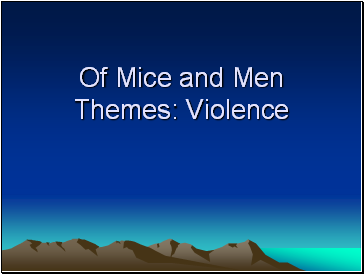 Of Mice and Men Themes: Violence
Slide 2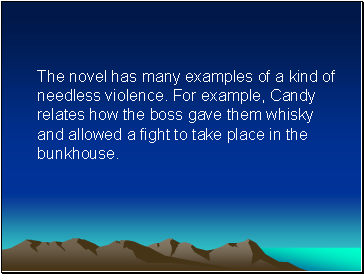 The novel has many examples of a kind of needless violence. For example, Candy relates how the boss gave them whisky and allowed a fight to take place in the bunkhouse.
Slide 3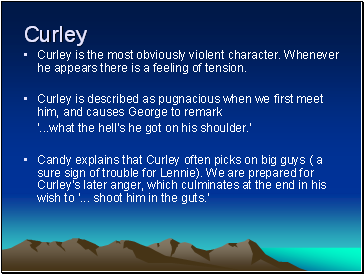 Curley
Curley is the most obviously violent character. Whenever he appears there is a feeling of tension.
Curley is described as pugnacious when we first meet him, and causes George to remark
' .what the hell's he got on his shoulder.'
Candy explains that Curley often picks on big guys ( a sure sign of trouble for Lennie). We are prepared for Curley's later anger, which culminates at the end in his wish to ' . shoot him in the guts.'
Slide 4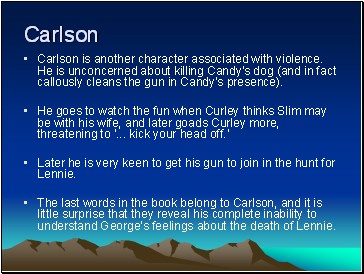 Carlson
Carlson is another character associated with violence. He is unconcerned about killing Candy's dog (and in fact callously cleans the gun in Candy's presence).
He goes to watch the fun when Curley thinks Slim may be with his wife, and later goads Curley more, threatening to ' . kick your head off.'
Later he is very keen to get his gun to join in the hunt for Lennie.
The last words in the book belong to Carlson, and it is little surprise that they reveal his complete inability to understand George's feelings about the death of Lennie.
Slide 5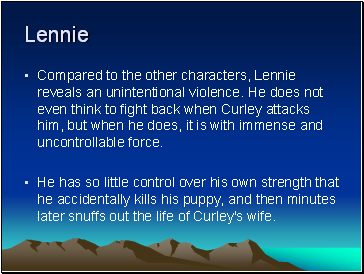 Lennie
Compared to the other characters, Lennie reveals an unintentional violence. He does not even think to fight back when Curley attacks him, but when he does, it is with immense and uncontrollable force.
He has so little control over his own strength that he accidentally kills his puppy, and then minutes later snuffs out the life of Curley's wife.
Slide 6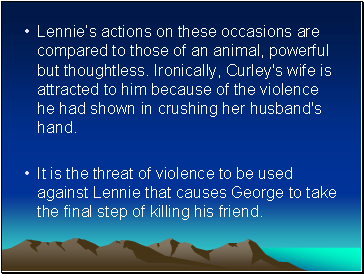 Lennie's actions on these occasions are compared to those of an animal, powerful but thoughtless. Ironically, Curley's wife is attracted to him because of the violence he had shown in crushing her husband's hand.
It is the threat of violence to be used against Lennie that causes George to take the final step of killing his friend.
Slide 7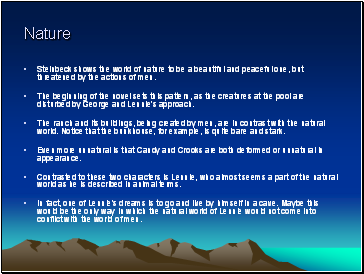 Nature
Steinbeck shows the world of nature to be a beautiful and peaceful one, but threatened by the actions of men.
The beginning of the novel sets this pattern, as the creatures at the pool are disturbed by George and Lennie's approach.
The ranch and its buildings, being created by men, are in contrast with the natural world. Notice that the bunkhouse, for example, is quite bare and stark.