Of Mice and Men
Page
1
Slide 1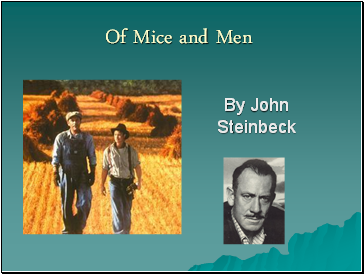 Of Mice and Men
By John Steinbeck
Slide 2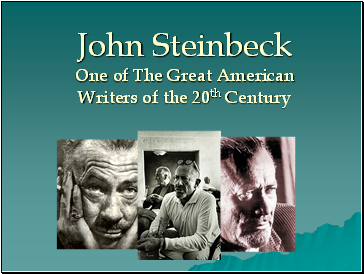 John Steinbeck One of The Great American Writers of the 20th Century
Slide 3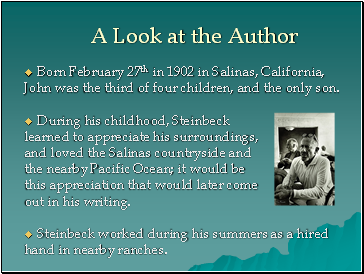 A Look at the Author
Born February 27th in 1902 in Salinas, California,
John was the third of four children, and the only son.
During his childhood, Steinbeck
learned to appreciate his surroundings,
and loved the Salinas countryside and
the nearby Pacific Ocean; it would be
this appreciation that would later come
out in his writing.
Steinbeck worked during his summers as a hired
hand in nearby ranches.
Slide 4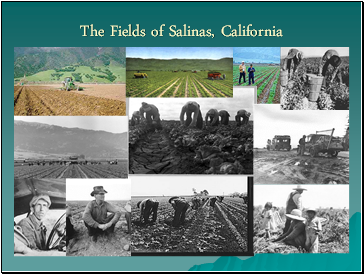 The Fields of Salinas, California
Slide 5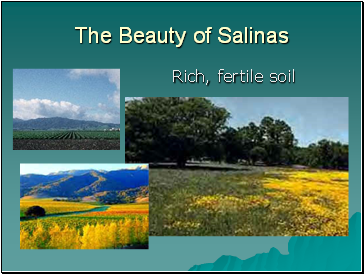 The Beauty of Salinas
Rich, fertile soil
Slide 6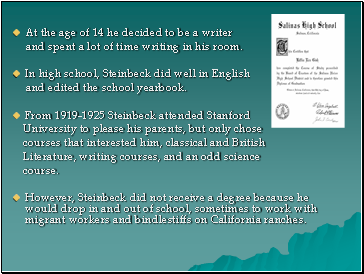 At the age of 14 he decided to be a writer
and spent a lot of time writing in his room.
In high school, Steinbeck did well in English
and edited the school yearbook.
From 1919-1925 Steinbeck attended Stanford
University to please his parents, but only chose
courses that interested him, classical and British
Literature, writing courses, and an odd science
course.
However, Steinbeck did not receive a degree because he would drop in and out of school, sometimes to work with migrant workers and bindlestiffs on California ranches.
Slide 7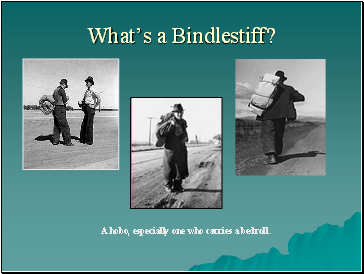 What's a Bindlestiff?
A hobo, especially one who carries a bedroll.
Slide 8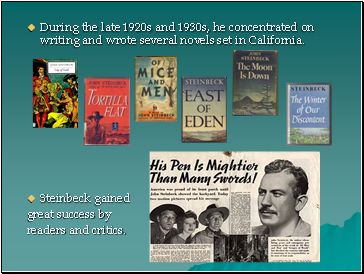 During the late 1920s and 1930s, he concentrated on writing and wrote several novels set in California.
Steinbeck gained
great success by
readers and critics.
Slide 9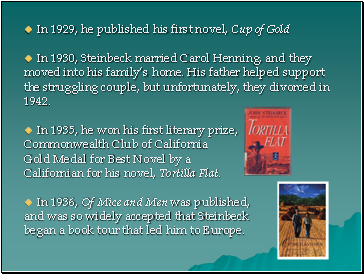 In 1929, he published his first novel, Cup of Gold
In 1930, Steinbeck married Carol Henning, and they
moved into his family's home. His father helped support
the struggling couple, but unfortunately, they divorced in
1942.
In 1935, he won his first literary prize,
Commonwealth Club of California
Gold Medal for Best Novel by a
Californian for his novel, Tortilla Flat.
In 1936, Of Mice and Men was published,
and was so widely accepted that Steinbeck
began a book tour that led him to Europe.
Slide 10