To Kill a Mockingbird
Page
1
Slide 1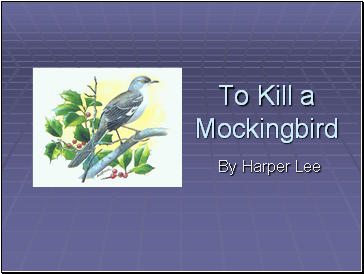 To Kill a Mockingbird
By Harper Lee
Slide 2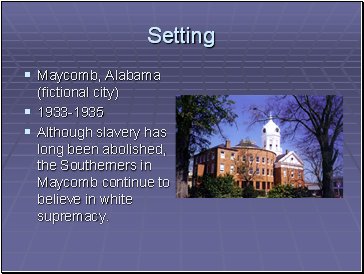 Setting
Maycomb, Alabama (fictional city)
1933-1935
Although slavery has long been abolished, the Southerners in Maycomb continue to believe in white supremacy.
Slide 3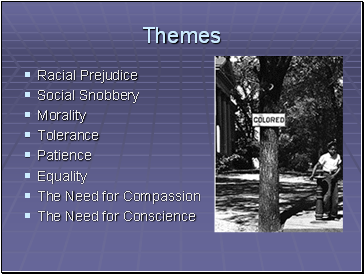 Themes
Racial Prejudice
Social Snobbery
Morality
Tolerance
Patience
Equality
The Need for Compassion
The Need for Conscience
Slide 4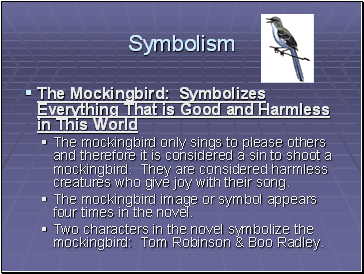 Symbolism
The Mockingbird: Symbolizes Everything That is Good and Harmless in This World
The mockingbird only sings to please others and therefore it is considered a sin to shoot a mockingbird. They are considered harmless creatures who give joy with their song.
The mockingbird image or symbol appears four times in the novel.
Two characters in the novel symbolize the mockingbird: Tom Robinson & Boo Radley.
Slide 5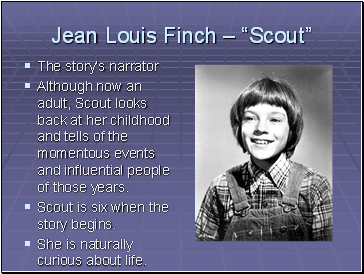 Jean Louis Finch – "Scout"
The story's narrator
Although now an adult, Scout looks back at her childhood and tells of the momentous events and influential people of those years.
Scout is six when the story begins.
She is naturally curious about life.
Slide 6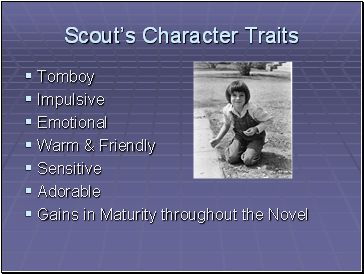 Scout's Character Traits
Tomboy
Impulsive
Emotional
Warm & Friendly
Sensitive
Adorable
Gains in Maturity throughout the Novel
Slide 7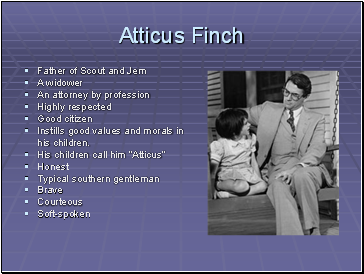 Atticus Finch
Father of Scout and Jem
A widower
An attorney by profession
Highly respected
Good citizen
Instills good values and morals in
his children.
His children call him "Atticus"
Honest
Typical southern gentleman
Brave
Courteous
Soft-spoken
Slide 8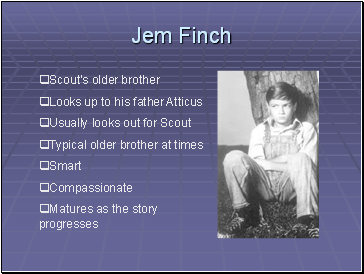 Jem Finch
Scout's older brother
Looks up to his father Atticus
Usually looks out for Scout
Typical older brother at times
Smart
Compassionate
Matures as the story progresses
Slide 9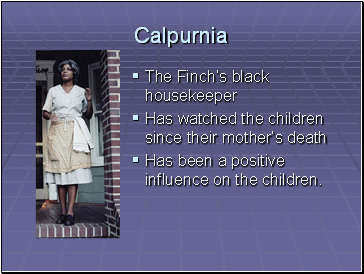 Calpurnia
The Finch's black housekeeper
Has watched the children since their mother's death
Has been a positive influence on the children.
Slide 10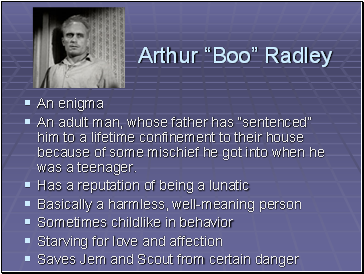 Arthur "Boo" Radley
An enigma