Rocks
Page
1
Slide 1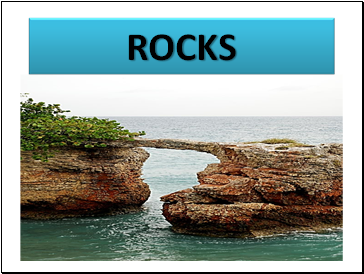 ROCKS
Slide 2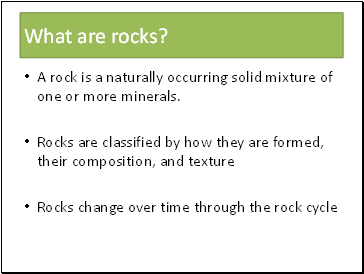 What are rocks?
A rock is a naturally occurring solid mixture of one or more minerals.
Rocks are classified by how they are formed, their composition, and texture
Rocks change over time through the rock cycle
Slide 3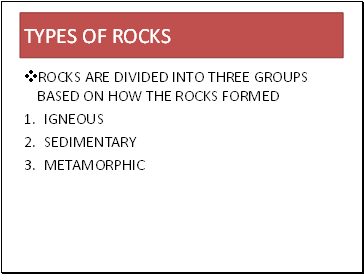 Types of rocks
ROCKS ARE DIVIDED INTO THREE GROUPS BASED ON HOW THE ROCKS FORMED
IGNEOUS
SEDIMENTARY
METAMORPHIC
Slide 4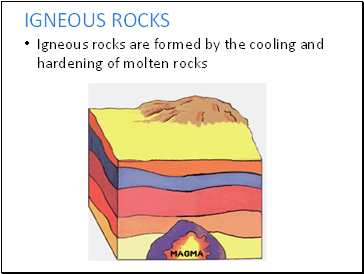 Igneous rocks
Igneous rocks are formed by the cooling and hardening of molten rocks
Slide 5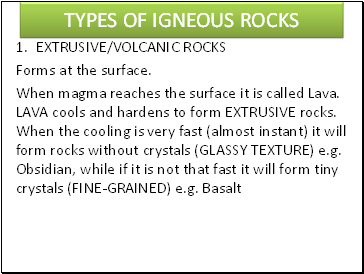 Types of igneous rocks
EXTRUSIVE/VOLCANIC ROCKS
Forms at the surface.
When magma reaches the surface it is called Lava. LAVA cools and hardens to form EXTRUSIVE rocks. When the cooling is very fast (almost instant) it will form rocks without crystals (GLASSY TEXTURE) e.g. Obsidian, while if it is not that fast it will form tiny crystals (FINE-GRAINED) e.g. Basalt
Slide 6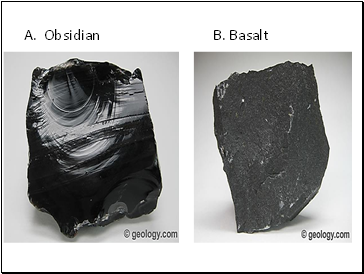 Obsidian B. Basalt
Slide 7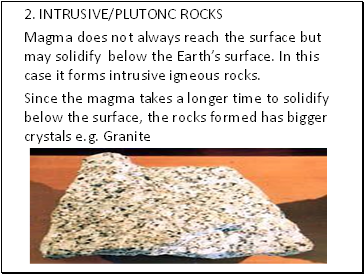 2. INTRUSIVE/PLUTONC ROCKS
Magma does not always reach the surface but may solidify below the Earth's surface. In this case it forms intrusive igneous rocks.
Since the magma takes a longer time to solidify below the surface, the rocks formed has bigger crystals e.g. Granite
Slide 8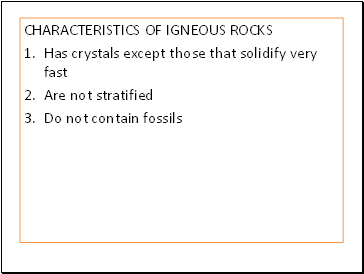 Characteristics of igneous rocks
Has crystals except those that solidify very fast
Are not stratified
Do not contain fossils
Slide 9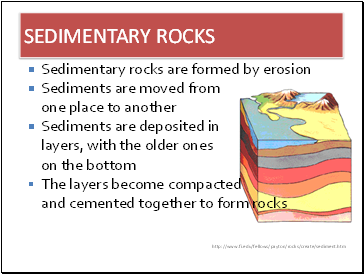 Sedimentary rocks
http://www.fi.edu/fellows/payton/rocks/create/sediment.htm
Sedimentary rocks are formed by erosion
Sediments are moved from one place to another
Sediments are deposited in layers, with the older ones
on the bottom
The layers become compacted and cemented together to form rocks
Slide 10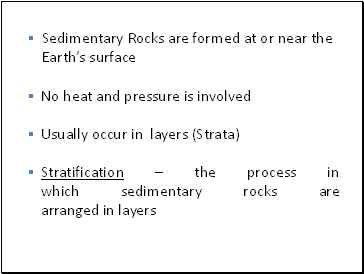 Sedimentary Rocks are formed at or near the Earth's surface
No heat and pressure is involved
Usually occur in layers (Strata)
Stratification – the process in which sedimentary rocks are arranged in layers
Slide 11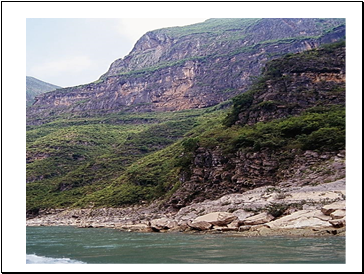 Slide 12