Classical Greece
Page
1
Slide 1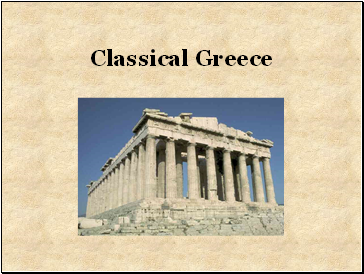 Classical Greece
Slide 2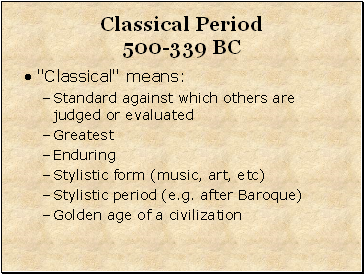 Classical Period 500-339 BC
"Classical" means:
Standard against which others are judged or evaluated
Greatest
Enduring
Stylistic form (music, art, etc)
Stylistic period (e.g. after Baroque)
Golden age of a civilization
Slide 3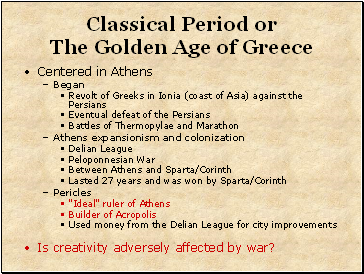 Classical Period or The Golden Age of Greece
Centered in Athens
Began
Revolt of Greeks in Ionia (coast of Asia) against the Persians
Eventual defeat of the Persians
Battles of Thermopylae and Marathon
Athens expansionism and colonization
Delian League
Peloponnesian War
Between Athens and Sparta/Corinth
Lasted 27 years and was won by Sparta/Corinth
Pericles
"Ideal" ruler of Athens
Builder of Acropolis
Used money from the Delian League for city improvements
Is creativity adversely affected by war?
Slide 4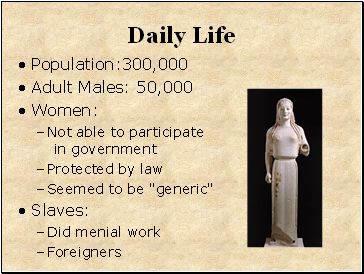 Daily Life
Population:300,000
Adult Males: 50,000
Women:
Not able to participate in government
Protected by law
Seemed to be "generic"
Slaves:
Did menial work
Foreigners
Slide 5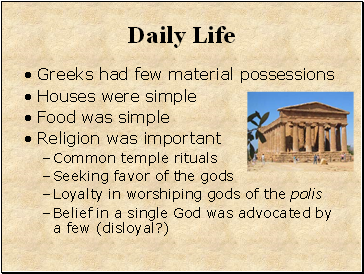 Daily Life
Greeks had few material possessions
Houses were simple
Food was simple
Religion was important
Common temple rituals
Seeking favor of the gods
Loyalty in worshiping gods of the polis
Belief in a single God was advocated by a few (disloyal?)
Slide 6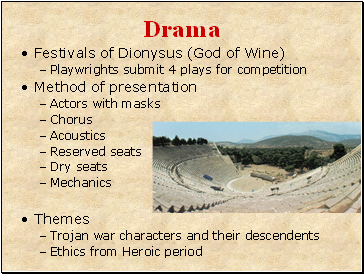 Drama
Festivals of Dionysus (God of Wine)
Playwrights submit 4 plays for competition
Method of presentation
Actors with masks
Chorus
Acoustics
Reserved seats
Dry seats
Mechanics
Themes
Trojan war characters and their descendents
Ethics from Heroic period
Slide 7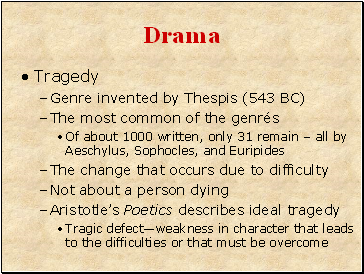 Drama
Tragedy
Genre invented by Thespis (543 BC)
The most common of the genrés
Of about 1000 written, only 31 remain – all by Aeschylus, Sophocles, and Euripides
The change that occurs due to difficulty
Not about a person dying
Aristotle's Poetics describes ideal tragedy
Tragic defect—weakness in character that leads to the difficulties or that must be overcome
Slide 8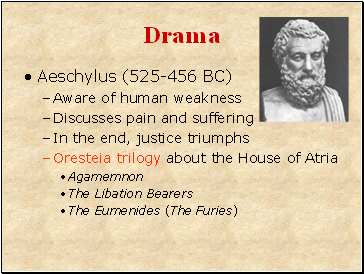 Drama
Aeschylus (525-456 BC)
Aware of human weakness
Discusses pain and suffering