Second world war
Page
1
Slide 1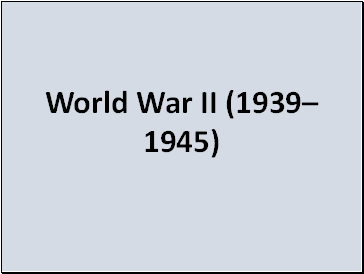 World War II (1939–1945)
Slide 2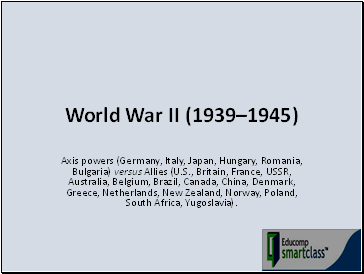 World War II (1939–1945)
Axis powers (Germany, Italy, Japan, Hungary, Romania, Bulgaria) versus Allies (U.S., Britain, France, USSR, Australia, Belgium, Brazil, Canada, China, Denmark, Greece, Netherlands, New Zealand, Norway, Poland, South Africa, Yugoslavia).
Slide 3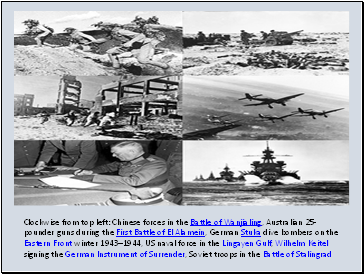 Clockwise from top left: Chinese forces in the Battle of Wanjialing, Australian 25-pounder guns during the First Battle of El Alamein, German Stuka dive bombers on the Eastern Front winter 1943–1944, US naval force in the Lingayen Gulf, Wilhelm Keitel signing the German Instrument of Surrender, Soviet troops in the Battle of Stalingrad
Slide 4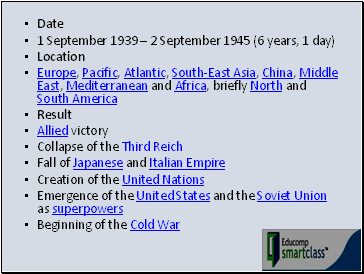 Date
1 September 1939 – 2 September 1945 (6 years, 1 day)
Location
Europe, Pacific, Atlantic, South-East Asia, China, Middle East, Mediterranean and Africa, briefly North and South America
Result
Allied victory
Collapse of the Third Reich
Fall of Japanese and Italian Empire
Creation of the United Nations
Emergence of the United States and the Soviet Union as superpowers
Beginning of the Cold War
Slide 5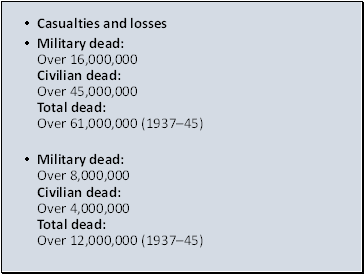 Casualties and losses
Military dead: Over 16,000,000 Civilian dead: Over 45,000,000 Total dead: Over 61,000,000 (1937–45)
Military dead: Over 8,000,000 Civilian dead: Over 4,000,000 Total dead: Over 12,000,000 (1937–45)
Slide 6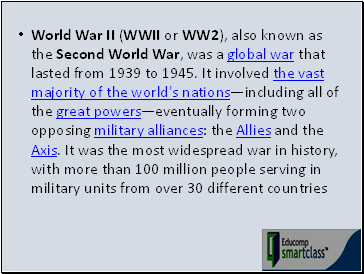 World War II (WWII or WW2), also known as the Second World War, was a global war that lasted from 1939 to 1945. It involved the vast majority of the world's nations—including all of the great powers—eventually forming two opposing military alliances: the Allies and the Axis. It was the most widespread war in history, with more than 100 million people serving in military units from over 30 different countries
Slide 7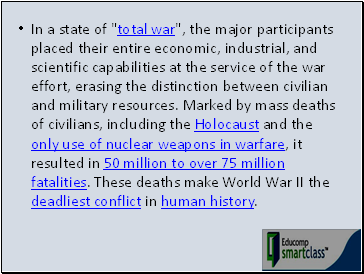 In a state of "total war", the major participants placed their entire economic, industrial, and scientific capabilities at the service of the war effort, erasing the distinction between civilian and military resources. Marked by mass deaths of civilians, including the Holocaust and the only use of nuclear weapons in warfare, it resulted in 50 million to over 75 million fatalities. These deaths make World War II the deadliest conflict in human history.
Slide 8