Transplantation Immunology
Page
4
Lung Transplantation :
First attempt in 1963 by Hardy and Co - workers.
First successful transplantation by Toronto group in 1983.
In conjunction with heart transplantation, to treat diseases such as cystic fibrosis and emphysema or acute damage to lungs.
First year survival rate is about 60%.
Slide 25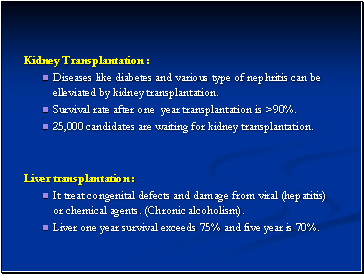 Kidney Transplantation :
Diseases like diabetes and various type of nephritis can be elleviated by kidney transplantation.
Survival rate after one year transplantation is >90%.
25,000 candidates are waiting for kidney transplantation.
Liver transplantation :
It treat congenital defects and damage from viral (hepatitis) or chemical agents. (Chronic alcoholism).
Liver one year survival exceeds 75% and five year is 70%.
Slide 26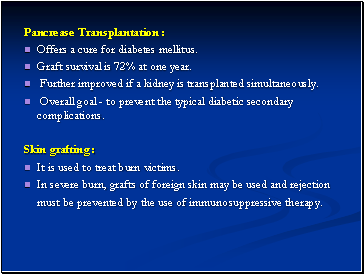 Pancrease Transplantation :
Offers a cure for diabetes mellitus.
Graft survival is 72% at one year.
Further improved if a kidney is transplanted simultaneously.
Overall goal - to prevent the typical diabetic secondary complications.
Skin grafting :
It is used to treat burn victims.
In severe burn, grafts of foreign skin may be used and rejection must be prevented by the use of immunosuppressive therapy.
Slide 27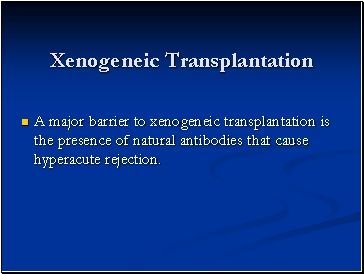 Xenogeneic Transplantation
A major barrier to xenogeneic transplantation is the presence of natural antibodies that cause hyperacute rejection.
Slide 28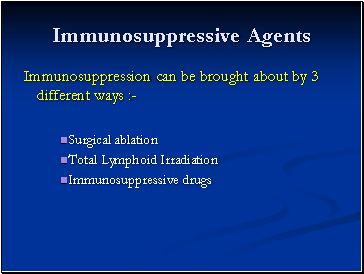 Immunosuppressive Agents
Immunosuppression can be brought about by 3 different ways :-
Surgical ablation
Total Lymphoid Irradiation
Immunosuppressive drugs
Slide 29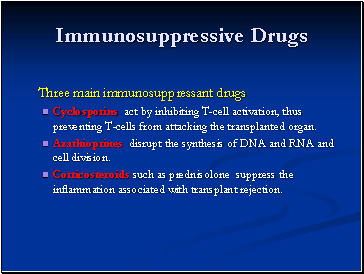 Immunosuppressive Drugs
Three main immunosuppressant drugs
Cyclosporins act by inhibiting T-cell activation, thus preventing T-cells from attacking the transplanted organ.
Azathioprines disrupt the synthesis of DNA and RNA and cell division.
Corticosteroids such as prednisolone suppress the inflammation associated with transplant rejection.
Slide 30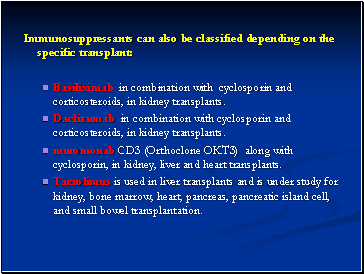 Immunosuppressants can also be classified depending on the specific transplant:
Basiliximab in combination with cyclosporin and corticosteroids, in kidney transplants.
Daclizumab in combination with cyclosporin and corticosteroids, in kidney transplants.
muromonab CD3 (Orthoclone OKT3) along with cyclosporin, in kidney, liver and heart transplants.
Tacrolimus is used in liver transplants and is under study for kidney, bone marrow, heart, pancreas, pancreatic island cell, and small bowel transplantation.