Electric Motor
Page
1
Slide 1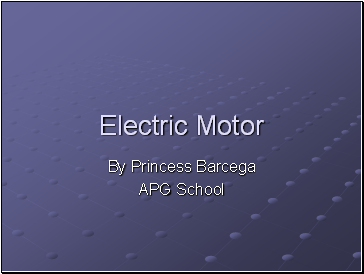 Electric Motor
By Princess Barcega
APG School
Slide 2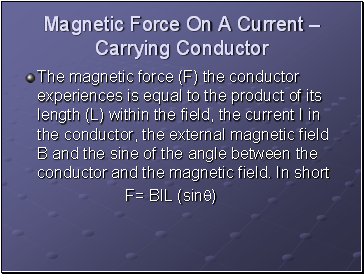 Magnetic Force On A Current – Carrying Conductor
The magnetic force (F) the conductor experiences is equal to the product of its length (L) within the field, the current I in the conductor, the external magnetic field B and the sine of the angle between the conductor and the magnetic field. In short
F= BIL (sin)
Slide 3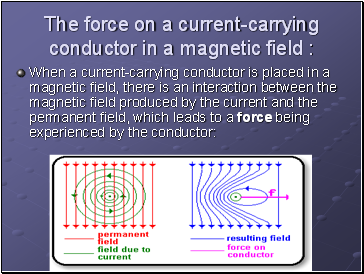 The force on a current-carrying conductor in a magnetic field:
When a current-carrying conductor is placed in a magnetic field, there is an interaction between the magnetic field produced by the current and the permanent field, which leads to a force being experienced by the conductor:
Slide 4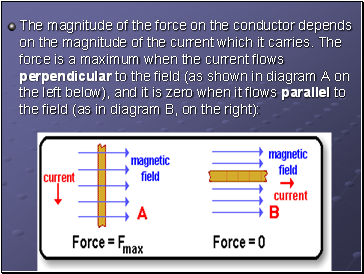 The magnitude of the force on the conductor depends on the magnitude of the current which it carries. The force is a maximum when the current flows perpendicular to the field (as shown in diagram A on the left below), and it is zero when it flows parallel to the field (as in diagram B, on the right):
Slide 5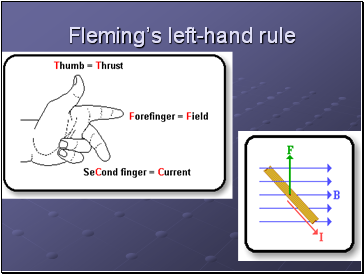 Fleming's left-hand rule
Slide 6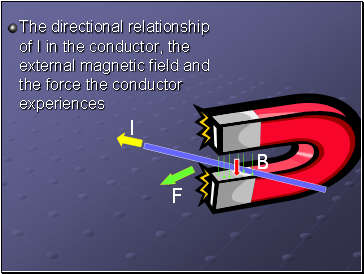 The directional relationship of I in the conductor, the external magnetic field and the force the conductor experiences
I
F
B
Slide 7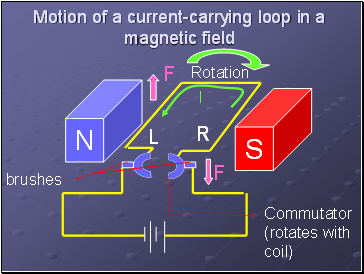 Motion of a current-carrying loop in a magnetic field
N
S
L
R
I
F
F
Rotation
Commutator (rotates with coil)
brushes
Slide 8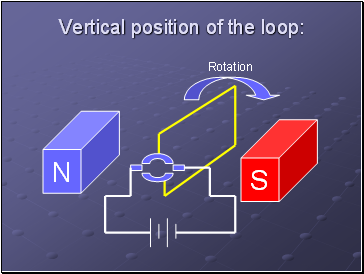 Vertical position of the loop:
N
S
Rotation
Slide 9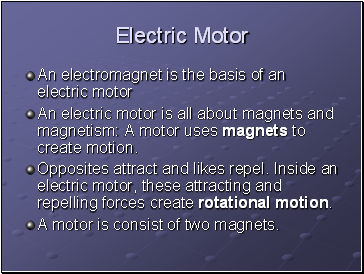 Electric Motor
An electromagnet is the basis of an electric motor
An electric motor is all about magnets and magnetism: A motor uses magnets to create motion.
Opposites attract and likes repel. Inside an electric motor, these attracting and repelling forces create rotational motion.
A motor is consist of two magnets.
Slide 10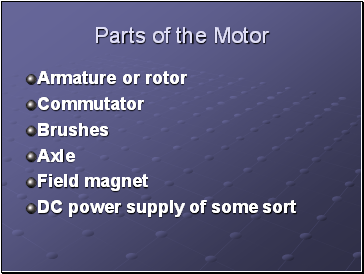 Parts of the Motor
Armature or rotor
Commutator
Brushes
Axle
Field magnet
DC power supply of some sort
Slide 11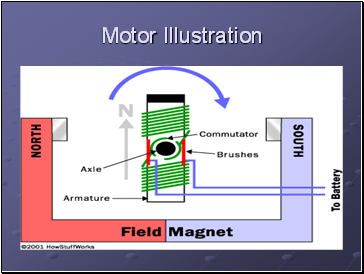 Motor Illustration