Magnetism
Page
1
Slide 1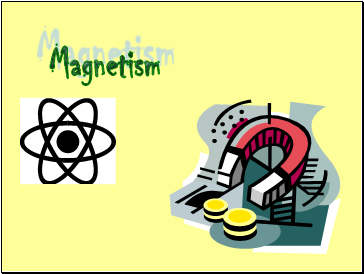 Magnetism
Slide 2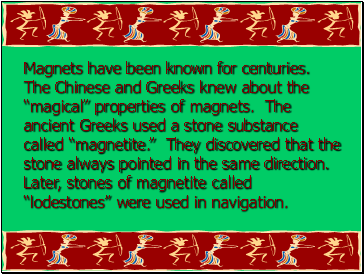 Magnets have been known for centuries.
The Chinese and Greeks knew about the "magical" properties of magnets. The ancient Greeks used a stone substance called "magnetite." They discovered that the stone always pointed in the same direction. Later, stones of magnetite called "lodestones" were used in navigation.
Slide 3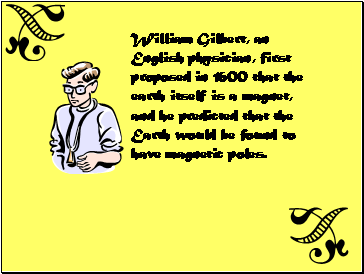 William Gilbert, an English physician, first proposed in 1600 that the earth itself is a magnet, and he predicted that the Earth would be found to have magnetic poles.
Slide 4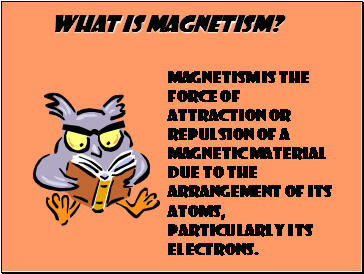 What is Magnetism?
Magnetism is the force of attraction or repulsion of a magnetic material due to the arrangement of its atoms, particularly its electrons.
Slide 5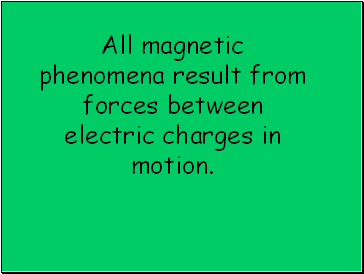 All magnetic phenomena result from forces between electric charges in motion.
Slide 6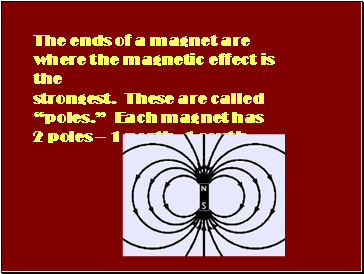 The ends of a magnet are where the magnetic effect is the
strongest. These are called "poles." Each magnet has
2 poles – 1 north, 1 south.
Slide 7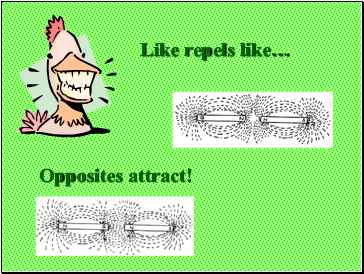 Like repels like…
Opposites attract!
Slide 8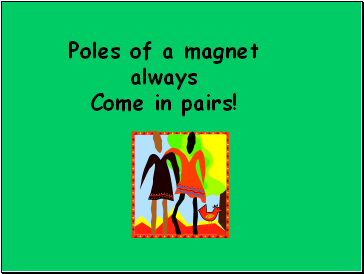 Poles of a magnet always
Come in pairs!
Slide 9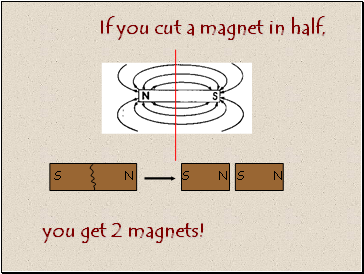 If you cut a magnet in half,
you get 2 magnets!
S
N
S
N
S
N
Slide 10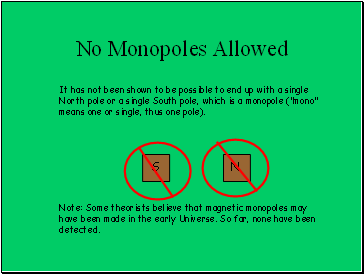 No Monopoles Allowed
It has not been shown to be possible to end up with a single North pole or a single South pole, which is a monopole ("mono" means one or single, thus one pole).
Note: Some theorists believe that magnetic monopoles may have been made in the early Universe. So far, none have been detected.
S
N
Slide 11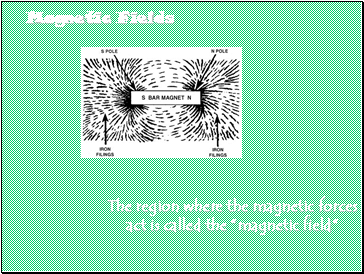 Magnetic Fields
The region where the magnetic forces
act is called the "magnetic field"
Slide 12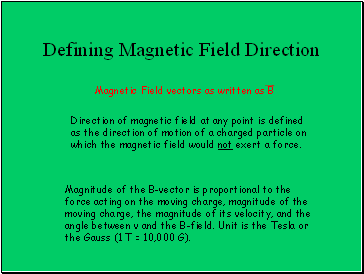 Defining Magnetic Field Direction
Magnetic Field vectors as written as B
Direction of magnetic field at any point is defined as the direction of motion of a charged particle on which the magnetic field would not exert a force.