Covalent Bonding (Molecules)
Page
1
Slide 1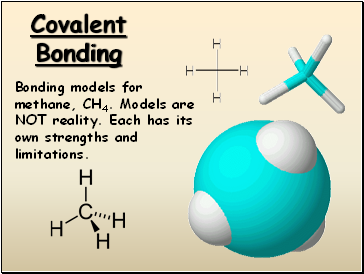 Covalent Bonding
Bonding models for methane, CH4. Models are NOT reality. Each has its own strengths and limitations.
Slide 2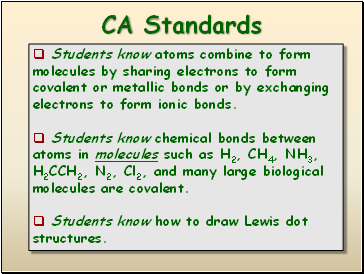 CA Standards
Students know atoms combine to form molecules by sharing electrons to form covalent or metallic bonds or by exchanging electrons to form ionic bonds.
Students know chemical bonds between atoms in molecules such as H2, CH4, NH3, H2CCH2, N2, Cl2, and many large biological molecules are covalent.
Students know how to draw Lewis dot structures.
Slide 3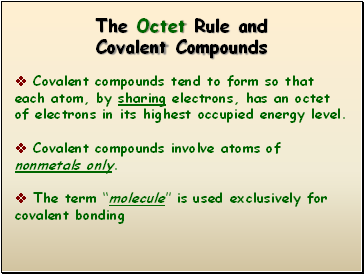 The Octet Rule and Covalent Compounds
Covalent compounds tend to form so that each atom, by sharing electrons, has an octet of electrons in its highest occupied energy level.
Covalent compounds involve atoms of nonmetals only.
The term "molecule" is used exclusively for covalent bonding
Slide 4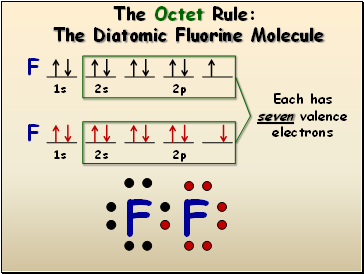 The Octet Rule: The Diatomic Fluorine Molecule
F
F
1s
1s
2s
2s
2p
2p
Each has seven valence electrons
F
F
Slide 5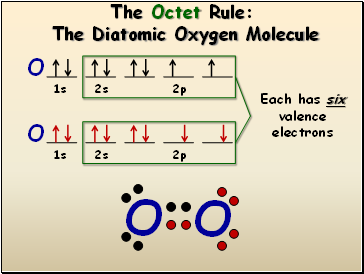 The Octet Rule: The Diatomic Oxygen Molecule
O
O
1s
1s
2s
2s
2p
2p
Each has six valence electrons
O
O
Slide 6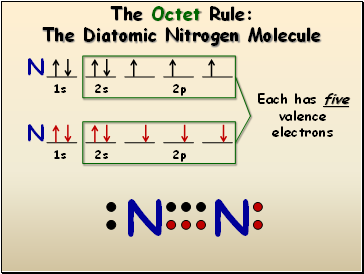 The Octet Rule: The Diatomic Nitrogen Molecule
N
N
1s
1s
2s
2s
2p
2p
Each has five valence electrons
N
N
Slide 7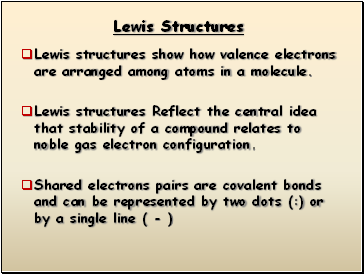 Lewis Structures
Lewis structures show how valence electrons are arranged among atoms in a molecule.
Lewis structures Reflect the central idea that stability of a compound relates to noble gas electron configuration.
Shared electrons pairs are covalent bonds and can be represented by two dots (:) or by a single line ( - )
Slide 8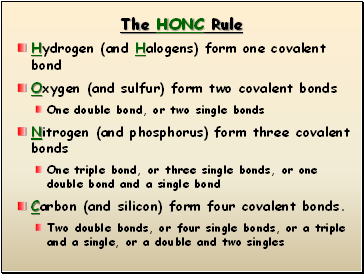 The HONC Rule
Hydrogen (and Halogens) form one covalent bond
Oxygen (and sulfur) form two covalent bonds
One double bond, or two single bonds
Nitrogen (and phosphorus) form three covalent bonds
One triple bond, or three single bonds, or one double bond and a single bond
Carbon (and silicon) form four covalent bonds.
Two double bonds, or four single bonds, or a triple and a single, or a double and two singles
Slide 9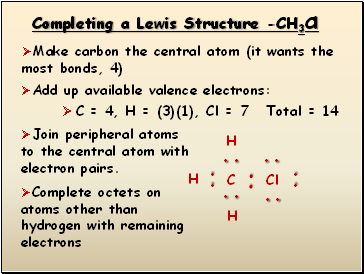 Completing a Lewis Structure -CH3Cl