Satellite Orbits and Uses NIS
Page
1
Slide 1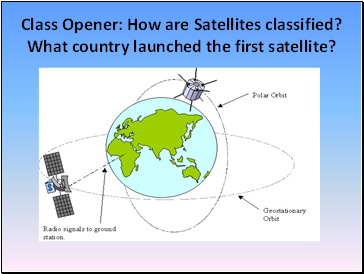 Class Opener: How are Satellites classified? What country launched the first satellite?
Slide 2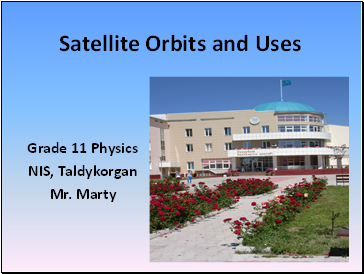 Satellite Orbits and Uses
Grade 11 Physics
NIS, Taldykorgan
Mr. Marty
Slide 3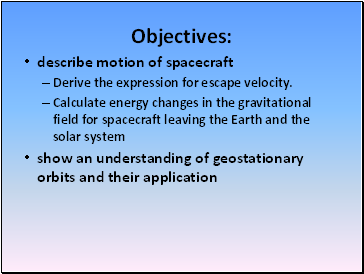 Objectives
describe motion of spacecraft
Derive the expression for escape velocity.
Calculate energy changes in the gravitational field for spacecraft leaving the Earth and the solar system
show an understanding of geostationary orbits and their application
Slide 4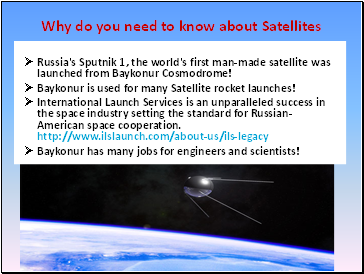 Why do you need to know about Satellites
Russia's Sputnik 1, the world's first man-made satellite was launched from Baykonur Cosmodrome!
Baykonur is used for many Satellite rocket launches!
International Launch Services is an unparalleled success in the space industry setting the standard for Russian-American space cooperation. http://www.ilslaunch.com/about-us/ils-legacy
Baykonur has many jobs for engineers and scientists!
Slide 5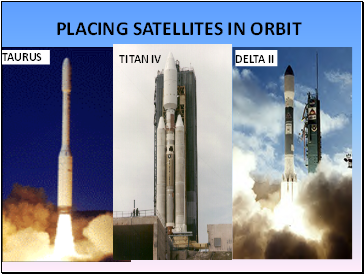 Placing satellites in orbit
DELTA II
TAURUS
TITAN IV
Slide 6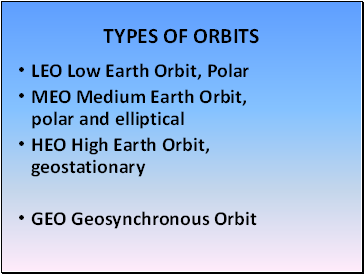 Types of orbits
LEO Low Earth Orbit, Polar
MEO Medium Earth Orbit, polar and elliptical
HEO High Earth Orbit, geostationary
GEO Geosynchronous Orbit
Slide 7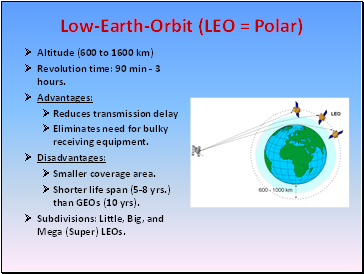 Low-Earth-Orbit (LEO = Polar)
Altitude (600 to 1600 km)
Revolution time: 90 min - 3 hours.
Advantages:
Reduces transmission delay
Eliminates need for bulky receiving equipment.
Disadvantages:
Smaller coverage area.
Shorter life span (5-8 yrs.) than GEOs (10 yrs).
Subdivisions: Little, Big, and Mega (Super) LEOs.
Slide 8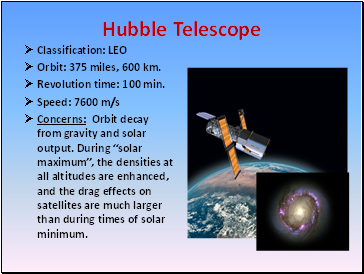 Hubble Telescope
Classification: LEO
Orbit: 375 miles, 600 km.
Revolution time: 100 min.
Speed: 7600 m/s
Concerns: Orbit decay from gravity and solar output. During "solar maximum", the densities at all altitudes are enhanced, and the drag effects on satellites are much larger than during times of solar minimum.
Slide 9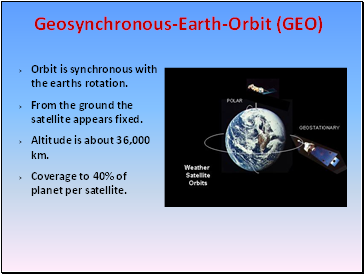 Geosynchronous-Earth-Orbit (GEO)
Orbit is synchronous with the earths rotation.
From the ground the satellite appears fixed.
Altitude is about 36,000 km.
Coverage to 40% of planet per satellite.